3.12 The Tosteson Medical Education Center
3.12 The Tosteson Medical Education Center
The Tosteson Medical Education Center (TMEC), located at 260 Longwood Avenue on the Harvard Medical School Quadrangle, opened in September 1987. In recognition of the late Dr. Daniel C. Tosteson's contributions to medical education during his tenure as Dean (1977-1997), the TMEC was named in his honor in June 1997.
The TMEC was designed to foster problem-based learning and serves as the locus of medical education at HMS. The Center was created by combining significant renovations of Building E, one of the original buildings of the Harvard Medical School Quadrangle constructed in 1906, and a newly constructed wing. Most of the required courses in Years I and II of the MD program (New Pathway and HST) are held in the TMEC, which houses many of the School's instructional areas and student support offices, as well as computer facilities. Many of the classes for the HMS-based PhD programs are also held in TMEC. A media center provides videotaping capabilities in several of the classrooms.
The TMEC houses the five Academic Societies (Section 3.02), which surround a central atrium and commons on the second floor. The Atrium, a large open space used extensively by students as a gathering area, also provides a small café, open for breakfast and lunch during the academic year. The Academic Society spaces include administrative offices for Society Masters, Associate Masters and staff, as well as the Offices of Advising Resources and Scholarship in Medicine. The Offices of Student Affairs and Recruitment and Multicultural Affairs are located just off the Atrium, adjacent to the Castle Society.
The Atrium provides access to the Carl W. Walter Amphitheatre, which serves as a lecture hall for medical, dental, and graduate student courses. A second amphitheatre, located across the quadrangle in the Armenise Building, is also used for lectures. A 90-person tiered classroom designed for interactive teaching—the case method room—is located on the second floor of the TMEC (Room 227). A second 70-person classroom, located diagonally across from the case method room, was built in 1997. Adjacent to the case method room is the techLAB (Room 225) .
The teaching space in the TMEC is divided into five skills areas that include a laboratory/skills area, a 50-person classroom, and tutorial rooms. Each skills area is devoted to a single society and contains student lab benches, individual student microscope cabinets and slide sets (increasingly supplanted by a virtual microscopy application), a 12-headed microscope, four two-headed microscopes, two TV microscopes and six large-screen computer workstations. These computer workstations are employed to serve multimedia applications in a wide range of medical subject areas, including anatomy, neuroanatomy and embryology.
Adjacent to each skills area are tutorial rooms for small-group discussions supporting the problem-based method of teaching.
On the first floor of the TMEC , two 500 square-foot classrooms designed to provide an innovative teaching environment for medical education support a variety of teaching methods, including team-based learning, and serve as pilot spaces for future educational initiatives. Features of the classrooms include: interactive whiteboards; high-resolution flat screens; patient simulation technology; a simulated clinical exam room; and video recording and web- and teleconferencing capabilities. The teleconferencing and patient simulation technologies help to bring the clinic into the classroom. Moveable furniture facilitates the seamless transition between different teaching formats and supports a dynamic and flexible learning environment. The new classrooms are designed to support moderate- and small-group interactive teaching modalities; peer observation of teaching and other faculty development activities; teaching and evaluation of clinical skills; and simulation of clinical situations and pathophysiological processes. These renovations provide Harvard Medical School with classrooms equipped to meet the unique demands of medical education in the 21st century.
A new Clinical Skills Center opened in September 2013 on the first floor of TMEC. The 7,500 square-foot facility includes eighteen exam rooms; three orientation classrooms (one for patients, one for students, one for faculty); a small meeting room; a central control room; and a "touchdown" office for faculty to check e-mail, make phone calls, etc. In addition to standard components (sink, exam table, etc.), each exam room is equipped with central video monitoring and exam scoring technology and an observation booth/workstation. Ten of the exam rooms have movable walls to allow conversion to five larger rooms that accommodate wireless simulation mannequins. These expandable rooms replace five simulation rooms that were in the space before the renovation, yielding the potential for seven simulation rooms on the HMS campus.
The Clinical Skills Center provides a facility for teaching and assessing clinical skills, development of faculty teaching skills in clinical environments, and simulated environments for students to learn about the management of acutely ill patients. Clinical examination rooms are used for both teaching of clinical skills in the Patient-Doctor  and ICM courses and evaluation of students in Objective Structured Clinical Examinations [OSCEs]. Videotaping capabilities in these rooms enable faculty to review student-patient interactions with students and provide feedback. The three classrooms are used for multiple purposes when not in use for clinical skills classes or exams.
Also located in the TMEC are the Center for Evaluation (Section 3.11), the Academy and Academy Center for Teaching and Learning (Section 3.15), Program in Medical Education Administration, the Office of Curriculum Services (Section 3.09), the MD/PhD Program (Section 5.01), and the Division of Medical Sciences (Section 3.18).
Our
Mission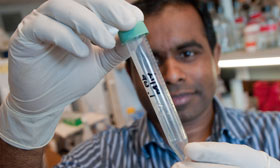 To create and nurture a diverse community of the best people committed to leadership in alleviating human suffering caused by disease