3.02Academic Societies
3.02 Academic Societies
The Academic Societies serve to support HMS's 230-year tradition of fostering and enhancing the interaction between students and faculty. All MD students at Harvard Medical School are members of one of five Academic Societies and remain a member of their society throughout the duration of their HMS experience. While students in the Irving London Society of the Harvard-MIT Division of Health Sciences and Technology (HST) have applied to and been accepted into the HST Program, which has a separate curriculum for Years I and II (See Sections 1.02 and 1.05), the remaining four societies are assigned students at random and pursue a common curriculum (See Sections 1.01 and 1.02). Students in the DMD program at Harvard School of Dental Medicine are also members of one of the Academic Societies.
The Academic Societies are educational social units that are the hub of each student's learning process and serve as the organizational framework for each student's experience in general medical education. The Societies provide a means to monitor the academic progress and professional growth of the individual student; they serve as the resource for the School's advising and mentoring system; and they nurture social interchange and contact between students and faculty. In addition, the Societies provide a venue for students to discuss curricular issues which can then be brought to the attention of the administration.
Under the leadership of the Dean for Medical Education, five senior faculty members serve as Masters of the five Academic Societies. In addition, each Society includes faculty Associate Masters, advisors and mentors, students from all classes, and a program coordinator. The Societies are located around the second-floor atrium of the Tosteson Medical Education Center [TMEC; Section 3.12]. Societies are assigned a common area, tutorial rooms, a skills bay, and a classroom, which are designed to facilitate small and large group learning and to enhance student/faculty meetings and exchanges. Each Society organizes a program of student advising, including advising for scholarly projects and career advising. The core of the Academic Societies program is a four- (or more) year relationship between student and advisors to foster goals of self-assessment and professional development. The Societies maintain ties to students during the Principal Clinical Experience (PCE) through hospital-based faculty advisors involved in the PCE. The Societies also plan paracurricular and social functions that bring faculty and students together.
 
Our
Mission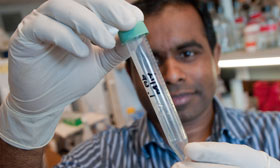 To create and nurture a diverse community
of the best people committed to leadership in alleviating human suffering caused by disease