Multicultural Affairs
The Office of Recruitment and Multicultural Affairs (ORMA) is located in TMEC Suite 244 with the Office of Student Affairs. ORMA recruits and provides supportive services to students underrepresented in medicine and dentistry and the disadvantaged. ORMA fosters an inclusive and respective environment that is supportive to Lesbian, Gay, Bisexual, Transgender students, faculty, and staff.
The Office serves as a liaison to the Office of Admissions. ORMA supports the Poussaint Primary Care Scholars Pre-Matriculation Summer Program, a 6-8 week summer program that exposes incoming minority students to primary care medicine and life at HMS and HSDM. The Faculty Associate Dean for Student Affairs, the Faculty Assistant Dean for Student Affairs and the staff of ORMA are available to students for personal as well as academic counseling.
ORMA coordinates monthly meetings of the Inter-Society Multicultural Fellows Committee (MCFC) which reports to the Dean. The MCFC is composed of faculty and students from all societies charged with facilitating diversity training and awareness in the HMS medical community.
Coming Events
Harold Amos Mentorship Lecture
Thursday, April 16th
12:30-2:00pm       
TMEC Room 227
Can mentorship improve oral health disparities?
Peggy Timothé, DDS, MPH, Director, Office of Diversity Inclusion, Harvard School of Dental Medicine, 2015 recipient of the Michael Shannon, MD, MPH, Excellence in Mentoring award.
~ Lunch will be served
Revisit Weekend Champagne Reception and Mentorship Award Ceremony
Thursday, April 16th
4:30-5:30pm
Modell Immunology Center Atrium, Warren Alpert Building, 200 Longwood Ave
2015 Michael Shannon, MD, MPH, Excellence in Mentoring Award will be given to Peggy Timothé, DDS, MPH, Director, Office of Diversity Inclusion, Harvard School of Dental Medicine
Co-sponsored by the HMS Office of Recruitment & Multicultural Affairs; MGH Multi­cultural Affairs Office; BWH Office for Multicultural Faculty Careers; BIDMC Office of Multicultural Affairs; Boston Children's Hospital Office of Faculty Development and Diversity; Dana-Farber Cancer Institute
~ Business Casual Attire ~
Robert H. Ebert Lecture
Friday, April 17th
12:45 - 2:00 pm 
TMEC Carl Walter Amphitheatre
Pathways Anew:  Advocating for patients, impacting policy, and transforming communities
Tiffany S. McNair, MD, MPH (HMS '08), 2014-2015 White House Fellow
News
Alvin F. Poussaint MD: Memories from the Selma March 1965
On March 2nd, Dr. Poussaint presented his slides of the march from Selma to Montgomery to the students and faculty at Harvard Medical School. He served as Southern Field Director of the Medical Committee for Human Rights and walked the entire march to provide medical care to the marches.
You can watch his presentation here.
Worthy
Choice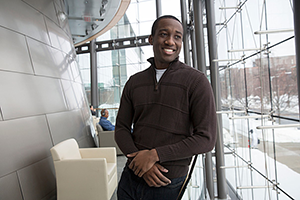 The legacy of Lewis Hayden, who devoted himself to abolitionism and government after escaping slavery, is upheld at HMS through the above-and-beyond ethos of students such as scholarship winner Sean Fletcher.