Frequently Asked Questions
What is Soma Weiss Student Research Day?
Soma Weiss Student Research Day is an annual event, first organized by Harvard students in 1940, to provide a forum for presenting their research to an interested audience and learning about the investigative work of others. The event honors the memory of Soma Weiss, M.D. (1899-1942), an inspiring teacher and physician at HMS and an ardent supporter of student research. The day consists of a poster session and selected student oral presentations.
Who was Soma Weiss?
Soma Weiss, M.D. (1899-1942) was an exceptional physician and leader. After graduating from Cornell Medical College Dr. Weiss came to Harvard Medical School Thorndike Memorial Laboratory in 1925. He demonstrated considerable ability and rose quickly. In 1932, he became Director of fourth year medical students at Boston City Hospital and introduced innovative pathology and therapeutic pharmacology conferences. He was Physician-in-Chief at Peter Bent Brigham Hospital from September 1939 until his death. Soma Weiss had keen powers of observation, and conducted his ward rounds masterfully. Sadly, Dr. Weiss died suddenly in January 1942. He left an indelible impression on the many students he mentored.
Must Students Participate in Soma Weiss Day?
Yes. With the exception of Boston-based community service projects, all Harvard medical students who have received University funds in the previous calendar year for support of a research or international project are required to submit an abstract and a poster at the next Soma Weiss Student Research Day.
Our
Mission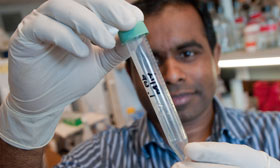 To create and nurture a diverse community of the best people committed to leadership in alleviating human suffering caused by disease