Areas of Scholarship
Scholarly Project Areas
HMS and HSDM students can take advantage of many opportunities to carry out scholarly projects in the United States and abroad. Projects generally can be categorized in the following areas:
Biologic and Translational Research
Focus: Fundamental research involving genes, molecules, microbes, cells or animals. Also patient-oriented research, e.g. GCRC-based clinical studies at the patient level; and translational, bench to bedside studies.
Global and Community Health (including primary care)
Focus: Community service projects and research arising therefrom, global health policy, communicable diseases and chronic disease management, and global health delivery. Also primary care research, primary care systems innovations, and community medicine.
Health Care Policy and Health Services
Focus: Health services research utilizing administrative databases and the like; research and policy studies in systems of care at the state or national levels.
Medical Humanities
Focus: Medical ethics, education, narrative medicine, and the history of medicine.
Outcomes Research, Quality Improvement, and Clinical Epidemiology
Focus: Outcomes research, quality improvement research, clinical improvement programs, clinical epidemiology, clinical trials.
 
Activities for First Year Students
First-year students often participate in summer projects (eight weeks long between years one and two). Students may opt to begin their summer projects early, in the late fall or  spring semester of year one. Community service projects can be carried out part-time January through December, or full-time in the summer.
Activities for Students In Other Years
Students in years two and above can take part in the following activities:
A fifth year for research or study
Year abroad for research or study
Part-time research (from two to nine months)
Clinical electives abroad
Longitudinal community-based service projects
1st Year Students
Make an Impact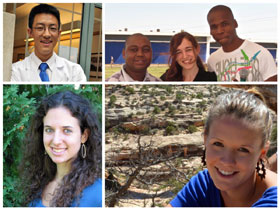 Debut Scholars in Medicine master medical research basics.
Read about their experiences here.
Our
Mission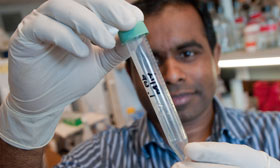 To create and nurture a diverse community of the best people committed to leadership in alleviating human suffering caused by disease