New Pathway (NP)
The curriculum of Harvard Medical School integrates the biological, social, behavioral, and clinical sciences over a four-year period. During the first two years, emphasis is placed upon the biological sciences, which are closely correlated with the social and behavioral sciences. As the student progresses, the clinical sciences come to the fore, and the venue of education transfers from the School's Tosteson Medical Education Center (TMEC) to the multiple hospitals, clinics, and medical care facilities affiliated with the School.
In the summer of 2006, HMS began the implementation of the New Integrated Curriculum (NIC), representing a major reform of the MD program with the following goals: 1) to increase the rigor of the teaching of basic biologic and population sciences and to integrate the teaching of science and clinical medicine throughout the entire student experience; 2) to engage the faculty, including the most senior faculty, as teachers, mentors, and guides for Harvard medical students; 3) to develop a new model of clinical education that is based on the educational and developmental needs of the student and that offers longitudinal continuity of patient experience, cross-disciplinary curricular content, faculty mentoring, and student evaluation; and 4) to provide opportunities for all Harvard medical students to acquire in-depth knowledge in one area of inquiry and produce a scholarly product in their area under the guidance of an expert faculty member (NB: the scholarly project requirement is slated to be implemented for the class matriculating in August 2011).
In the first and second years, the focus is on the Fundamentals of Medicine (FOM), the introductory biological, population, and social sciences and clinical experiences that prepare students for the study of clinical medicine. Laboratories, conferences, and lectures complement a problem-based approach that emphasizes self-directed learning in small-group tutorials facilitated by a faculty tutor. The tutorials offer an essential opportunity for learning by allowing students to identify their own strengths and weaknesses in various subject areas and to benefit from the talents and perspectives offered by others in the group. Students are expected to analyze problems, locate relevant material in library and computer-based resources, generate hypotheses, and develop lifelong habits of learning and independent study. In addition, students are expected to assume responsibility for their own learning and to contribute to the education of their colleagues. All students are expected to participate actively in the tutorial learning process.
Our
Mission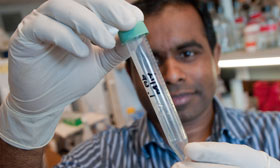 To create and nurture a diverse community
of the best people committed to leadership in alleviating human suffering caused by disease