Joseph B. Martin Dean's Leadership Awards for the Advancement of Women
The Dean's Award for Leadership in the Advancement of Women was initiated by Dean Joseph B. Martin in 1998 to recognize Harvard faculty and staff members committed to the recruitment, retention, and advancement of women at Harvard Medical School and Harvard School of Dental Medicine.
The award is co-sponsored by the JCSW and the Dean of the Faculty of Medicine as an annual event and is organized by the Joint Committee on the Status of Women at HMS and HSDM.
2014 Harvard Longwood Campus
On My Own Time Exhibit
Now Accepting Submissions!
On My Own Time (OMOT) is an exhibit that features the diverse talents and interests of staff, faculty, post-docs, and students, providing the opportunity to bring one's whole self to work and showcase talents that may not be apparent to your colleagues.  Past exhibit entries included music, dance, photography, textiles, basket-weaving, poetry, sculpture, cooking, and more.
The OMOT exhibit will include HSPH, HMS, and HSDM. The exhibit will be displayed at the HSDM Research Education Building at 190 Longwood Avenue (located directly behind 188 Longwood Avenue) from November 12-21, 2014.  All are invited to the reception celebration on Wednesday, November 12th from 2:30p-4:30p in the lobby of the Research Education Building.
If you would like to participate, please complete the entry form found here.  The deadline for submissions is Friday, October 24, 2014.
Please contact the OMOT team with any questions at onmyowntime@hms.harvard.edu, or call either Tania Rodriguez (617.432.3809) or Ilia Maldonado (617.432.1627).
Our
Mission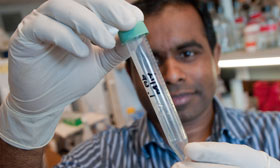 To create and nurture a diverse community
of the best people committed to leadership in alleviating human suffering caused by disease