David Mahoney Prize
The David Mahoney Prize was established in 1995 to honor individuals who have significantly increased public awareness about brain science and disorders of the nervous system.
2014 Prize Recipients
The 11th biennial David Mahoney Symposium and Prize, held in New York City on May 14, honored Marilyn Albert, professor of neurology and psychiatry and director of the Division of Cognitive Neuroscience at Johns Hopkins School of Medicine, and Guy McKhann, professor of neurology and neuroscience and founding chairman of the Department of Neurology at Johns Hopkins.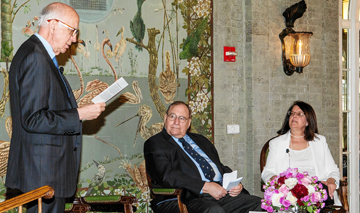 The event's symposium, "Memory and Aging," was moderated by Edward Rover, chairman and president of the Dana Foundation and member of the Harvard Mahoney Neuroscience Institute (HMNI) council. It featured presentations by Albert and McKhann, which were followed by questions from the more than 125 attendees. The symposium was followed by a dinner that featured a keynote address, "Looking for the cure: The future of neurobiology," delivered by Sandeep "Bob" Datta, an assistant professor of neurobiology at Harvard Medical School.
Albert, a former member of the faculty of Harvard Medical School, once directed the Gerontology Research Unit at the Massachusetts General Hospital and, from 1999 to 2003, had served as director of HMNI. In addition to McKhann'sinvolvement in a number of scientific organizations, he has served as president of the American Neurological Association, the leading academic neurology society. Each recipient has published more than 200 peer-reviewed papers and together authored the book Keep your Brain Young.
On the
Brain
Since 1992, the Institute has published On The Brain, a newsletter that focuses on topics in neuroscience.