Program Content
Program Content
The program comprises of two foundation courses in epidemiology and biostatistics with a concentration in either advanced epidemiology (the epi-CSRT concentration) or in clinical trials (the Trials-CSRT concentration).
Foundation Courses
Epidemiology - Basic principles and methods of epidemiology, including disease (outcome) measures, measures of association, study design options, bias, confounding, and effect modification.
Biostatistics - Organize, summarize, and display quantitative data. Use of statistical software (STATA), measures of variability, and confidence intervals, interpretation of tests of significance. Understand basic principles and uses of linear and logistic regression models for clinical research.
 
Concentrations
The Epidemiological GCSRT Program will provide instruction in the epidemiological and biostatistical methods used in observational clinical research. Training in the oral and written presentation of clinical research will also be provided.
The Clinical Trials GCSRT Program will provide instruction in the conduct, implementation, and analysis of clinical trials, with a focus on the methods of study design, ethics, recruitment, and biostatistical considerations that are used in designing and analyzing clinical trials.
To complete the program, scholars will:
Learn the methods required to perform both observational and experimental clinical research.
Plan and implement one or more clinical research projects.
Analyze, interpret, and present clinical research data.
 
Our
Mission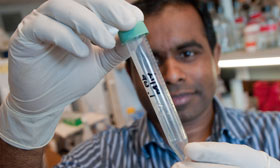 To create and nurture a diverse community of the best people committed to leadership in alleviating human suffering caused by disease