GCSRT Program | Faculty
GCSRT Program Faculty
PROGRAM DIRECTOR
AJAY K. SINGH, MBBS, FRCP (UK), MBA
Associate Dean for Global Education
Harvard Medical School
FINNIAN R. MC CAUSLAND, MBBCh, MMSc
Associate Director, GCSRT
Office of Global Education
Harvard Medical School
HARVARD FACULTY
JEROME AVRON, MD
Professor of Medicine at Harvard Medical School
Chief, Division of Pharmacoepidemiology and Pharmacoeconomics
Brigham and Women's Hospital
HEATHER J. BAER, ScD
Associate Epidemiologist, Brigham and Women's Hospital
Assistant Professor of Medicine, Harvard Medical School
Assistant Professor of Epidemiology, Harvard School of Public Health
JULIE BURING, ScD
Professor of Medicine, Harvard Medical School
Professor of Epidemiology, Harvard School of Public Health
Professor of Population Medicine, Harvard Medical School
NITEESH K. CHOUDHRY, MD, PhD
Associate Professor, Harvard Medical School
Associate Physician, Division of Pharmacoepidemiology and Pharmacoeconomics and the Hospitalist Program at Brigham and Women's Hospital
AKSHAY DESAI, MD, MPH
Assistant Professor of Medicine, Harvard Medical School
Cardiologist, Brigham and Women's Hospital
JEFFREY M. DRAZEN, MD
Distinguished Parker B. Francis Professor of Medicine, Harvard Medical School, Pulmonary Division, Brigham and Women's Hospital
Editor-in-Chief, New England Journal of Medicine
AMY C. EDMONDSON, PhD
Novartis Professor of Leadership and Management, Harvard Business School
HENRY A. FELDMAN, PhD
Principal Biostatistician, Clinical Research Center, Boston Children's Hospital
Associate Professor, Department of Pediatrics, Harvard Medical School
GARRETT FITZMAURICE, ScD
Professor of Psychiatry (Biostatistics), Harvard Medical School
Professor, Department of Biostatistics, Harvard School of Public Health
Director of the Laboratory for Psychiatric Biostatistics at McLean Hospital
FRANCESCA GINO, MS, PhD
Associate Professor of Business Administration, Negotiation, Organizations & Markets Unit, Harvard Business School
CHASE H. HARRISON, PhD
Associate Director of the Harvard Program on Survey Research and
Preceptor in Survey Methods,Department of Government, Harvard University
BRIAN HEALY, PhD
Assistant Professor of Neurology, Harvard Medical School
MIGUEL HERNAN, MD,MPH, ScM, DrPH
Professor of Epidemiology
Harvard School of Public Health
SUSAN Z. KORNETSKY, MPH
Director of Clinical Research Compliance, Boston Children's Hospital
GRAHAM McMAHON, MD, MMSC
Associate Professor of Medicine, Harvard Medical School
Medical Education Editor, New England Journal of Medicine
Physician, Brigham and Women's Hospital, Boston
DANIEL J. PALLIN, MD, MPH
Research Director, Department of Emergency Medicine, Brigham and Women's Hospital
Assistant Professor of Pediatrics, Harvard Medical School Harvard Medical School
Associate Editor, NEJM Journal Watch Emergency Medicine
JESSICA PAULUS, ScD
Assistant Professor of Medicine, Tufts University
Adjunct Assistant Professor of Epidemiology, Harvard School of Public Health
JOSEPH RHATIGIAN, MD
Associate Chief of the Division of Global Health Equity and Director, Hiatt Global Health Equity Residency Program, Brigham and Women's Hospital
Assistant Professor of Medicine, Harvard Medical School  
CAREN G. SOLOMON, MD, MPH
Associate Professor of Medicine
Harvard Medical School
Deputy Editor, New England Journal of Medicine
SCOTT SOLOMON, MD
Professor of Medicine, Harvard Medical School
Senior Physician and Director Noninvasive Cardiology, Brigham and Women's Hospital
SUSHRUT S. WAIKAR, MD, MSc
Assistant Professor of Medicine, Harvard Medical School
Renal Division, Brigham and Women's Hospital
JIPING WANG, MD, PhD
Assistant Professor, Harvard Medical School
Associate Director, Hepatobiliary Cancer, Division of Surgical Oncology,Brigham and Women's Hospital
DAVID WYPIJ, PhD
Director of Graduate Studies and Senior Lecturer on Biostatistics, Harvard School of Public Health
Associate Professor of Pediatrics, Harvard Medical School
Director, Statistics and Data Coordinating Center, Department of Cardiology, Children's Hospital Boston
GUEST FACULTY
RAJIV AGARWAL, MD
Professor of Medicine, Indiana Universty
Veterans Administration Medical Center, Indianapolis
JOHN Z. AYANIAN, MD, MPP
Professor, Department of Medicine, Harvard Medical School
Director, Institute for Healthcare Policy & Innovation at the University of Michigan
DANIEL J. BRATTON, MSc
MRC Clinical Trials Unit, London, UK
MARIA ANGELES ALONSO GARCIA, MD
Honorary Senior Lecturer, Cardiovascular Sciences Research Centre. St. George's, University of London, (United Kingdom)
VANESSA GARCIA-LARSEN, PhD, MSc
Imperial College London
ROBERT GRANT, MSc
Senior Research Fellow, St. George's, University of London & Kingston University, Honorary Statistician, Princess Alice Hospice, Surrey
GIGI S. HIRSCH, MD   
Executive Director, Center for Biomedical Innovation, Massachusetts Institute of Technology (MIT)
MARK S. HIRSCH, MD
Medical Team Leader, Division of Reproductive and Urologic Drugs (DRUP), Office of Drug Evaluation III, U S Food and Drug Administration
CATHY JENKINS, MS
Biostatistian, Vanderbilt University School of Medicine
 Department of Biostatistics.
S. DAVID KIMBALL, PhD
Research Professor, Department of Medicinal Chemistry. Associate Vice President, Translational Research at Rutgers University.
LLOYD KLICKSTEIN, MD, PhD
Head of Translational Medicine, New Indications Discovery Unit,. Novartis Institutes for Biomedical Research, Cambridge, MA
FRAUKE KREUTER, PhD
Associate Professor. Joint Program in Survey Methodology, University of Maryland
JOHN MCMURRAY, MD, FRCP, FACC, FESC, FRSE
Professor of Medical Cardiology at University of Glasgow
MARALEE MCVEAN, PhD
Vice President, Pharmacology and Toxicology Services
PreClinical Research Services, Inc
MELVYN A.J. MENEZES, MBA, PhD
Associate Professor, Marketing Department

Boston University School of Management
FARZAD NOUBARY, PhD
Assistant Professor, Tufts University School of Medicine
Senior Statistician, Institute for Clinical Research and Health Policy Studies, Research Design Center (RDC)/Biostatistics Research Center (BRC), Tufts University
BRIAN J.G. PEREIRA, MD, MBA
Chief Executive Officer, Vistarra Inc.
Professor of Medicine, Tufts School of Medicine
STUART J. POCOCK, PhD
Professor of Medical Statistics at the London School of Hygiene and Tropical Medicine, University of London
GEOFFREY POITRAS, PhD
Professor, Business Administration, Simon Fraser University, Vancouver, BC, Canada
DAVID B. RESNIK, JD, PhD
Bioethicist and NIEHS IRB Chair, National Institute of Environmental Health Science , National Institutes of Health
CHRISTOPHER H. SCHMID, PhD
Professor of Biostatistics
Director, Masters Graduate Program Director and Founding Member, Center for Evidence Based Medicine in Public Health, Brown University
PETRA SEVCIKOVA, PhD
Senior Lecturer, MSc Programme Lead, Centre for Primary Care and Public Health, Queen Mary College, University of London
PRIYA SINGHAL, MD
Vice President, Global Head, Safety and Benefit Risk Management, Biogen Idec Inc. MA, USA.
DJORA SOETEMAN, PhD
Assistant Professor, Institute for Clinical Research and Health Policy Studies, Predictive Analytics and Comparative Effectiveness (PACE) Center
Affiliate Faculty, Harvard School of Public Health
 

"I am an academic pediatric neurologist, and I now spend more time on clinical trials to apply what we have learned in the laboratory. The GCSRT program came along at exactly the right time to provide me with the intensive training I need in modern biostatistics, epidemiology, and design of clinical trials. The faculty members are enthusiastic, outstanding teachers, and my ability to access online lectures and review sessions 'live' online or at any time later during the evening or weekend fits my busy schedule. I also learn from my team members as we prepare presentations for faculty panels. Juggling our work schedules and time zones for our virtual team meetings is good practice as we use the internet to conduct global clinical trials in the future."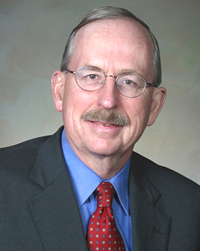 Michael V. Johnston, MD
Kennedy Krieger Institute
The Johns Hopkins University School of Medicine
Baltimore, Maryland