Jose Carreras International Leukemia Foundation E.D. Thomas Postdoctoral Fellowship
Jose Carreras International Leukemia Foundation E.D. Thomas Postdoctoral Fellowship
HMS Deadline: April 1, 2014
Foundation Deadline: November 2, 2014 (Anticipated deadline)
Number of HMS nominations: 1
Description: The goals of the Carreras Foundation are to support research into the diagnosis, prevention and cure of leukemia and related hematologic malignancies.
Amount of support: $50,000 per year, up to 3 years
Eligibility Requirements:
Applicants must:
Hold an M.D. or a Ph.D. degree.

Have completed at least 3 yrs postdoctoral training, but be less than 10 yrs post their first doctoral degree, when award begins.

Have commitment to the research goals of the Foundation.

Be prepared to devote at least 60% of time to the project.
Application Instructions: See standard HMS Foundation Funds application form and instructions.
URL:  http://www.fcarreras.org/en/conditions-for-the-international-fellowship-fijc-e-d-thomas_23064
Additional notes: All HMS affiliated hospitals are invited to submit separate nominations for this award. Faculty at the hospitals should NOT apply for the HMS nomination for this award but should seek the nomination from their hospital. Please contact your research administration representative for details. Additionally, all other Harvard schools (e.g. HSPH, FAS) are invited by the foundation to submit their own nominations.
Our
Mission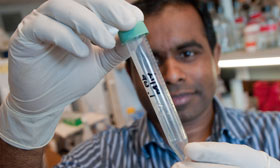 To create and nurture a diverse community
of the best people committed to leadership in alleviating human suffering caused by disease