Financial Aid Packaging
Packaging Financial Aid Awards: The Unit Loan
HMS uses the unit loan concept to package financial aid awards and to assure that high-need students have top priority for scholarship funds. The unit loan is a package of loans offered before any HMS scholarship is considered. Only students whose financial need exceeds the total unit loan are eligible for HMS scholarship aid:
Financial Need minus Unit Loan equals HMS Scholarship
For 2014-2015, the unit loan for incoming students is $30,400. Students whose computed institutional need exceeds $30,400 will be offered HMS scholarship. The cornerstone of the unit loan package for U.S. citizens and permanent residents is the Federal Direct Unsubsidized Loan (5.41% fixed interest rate in 2013-14. The 2014-15 rate is unavailabe at this time), which meets up to $22,300 of need. Various low-interest campus-based loans (interest of 5-7%) comprise the rest of the unit loan.
*Special Note for International Applicants: The federal portion of the unit loan is only available to U.S. citizens and permanent residents. Aid from federal programs will be removed from the financial aid packages of international students and replaced with institutional and/or private loan fund options.
Students who demonstrate at least $1 of financial need and are enrolled at least half-time making satisfactory academic progress toward the M.D. degree will be offered the unit loan package. The unit loan amount is fixed for each class at matriculation and remains unchanged for that class for the duration of HMS enrollment. The composition of the unit loan is subject to change from one academic year to the next depending on funding levels. The Financial Aid Committee reserves the right to adjust the aid package of late applications when funding is limited.
Sample Cases
Applying the policies described above, the following examples show two types of financial awards for the entering class:
Case I
Case II
Standard Budget
$81,700
Standard Budget
$81,700
Less Expected Family
-$51,300
Less Expected Family
-$22,000
Contribution
 
Contribution
 
Financial Need
$30,400
Financial Need
$59,700
Federal Direct Loan
$22,300
Federal Direct Loan
$22,300
Federal Perkins Loan
$5,000
Federal Perkins Loan
$5,000
HMS Revolving Loan
$3,100
HMS Revolving Loan
$3,100
HMS Scholarship
NA
HMS Scholarship
$29,300
TOTAL AID AWARD
$30,400
TOTAL AID AWARD
$59,700
If the student in either sample case was unable to obtain the full-calculated family contribution, s/he would have to make up the shortfall from other resources. These might include additional Federal Direct Unsubsidized Loans, Federal Direct PLUS Loans, private supplemental loans, or job earnings.
Our
Mission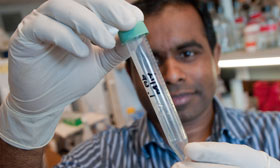 To create and nurture a diverse community
of the best people committed to leadership in alleviating human suffering caused by disease