Government Documents
There are a variety of Government Regulations and Guidelines that are of interest to Biosafety mavens but few others. Some of these can be obtained from Web sites, others are more difficult to find.
CDC "BMBL"
The "gold standard"  of Biosafety guidance is a US Centers for Disease Control and Prevention (CDC) publication called "Biosafety in Microbiological and Biomedical Laboratories" (BMBL).
CDC Biosafety Cabinet (Tissue Culture Hood) Recommendations
CDC Etiologic Agent Import Permit Program
Pathogen import requires permits. The CDC permits are on the web.
An explanation of the Import program at this Link.
NIH Recombinant DNA Guidelines:
Back in the 1970's, when scientists (and the public) were worried about the personal and environmental risks of working with recombinant DNA the National Institutes of Health convened a group of experts to generate a set of guidelines to help the scientific community. In Boston the Guidelines were enacted into law (not the NIH's intention). The latest, September 2009, version can be found at this web site: http://oba.od.nih.gov.oba/rac/guidelines_02/NIH_Guidelines_Apr_02.htm
The original, 1976, NIH Recombinant DNA Guidelines
A 1979 companion document, long out of print, called the "Laboratory Safety Monograph, A Supplement to the NIH Guidelines for Recombinant DNA Research" was written by a group of people at the National Cancer Institute. Scanned verisons are available thus: In Word, In WordPerfect, In Acrobat (PDF).
This is large comittee meets quarterly to discuss how to deal with innocent research that might aid terrrorists. At present it is thought evalauation for proposed studies will be the responsibility of local Institutional Biosafety Committees. Guidance to the IBCs will come from tee NSABB.
NIH Serious Adverse Event Reporting Requirements
In 1999 several reported and non-reported serious adverse events following human trials involving gene transfer stimulated the NIH and the FDA to strengthen their reporting requirements. The FDA sent a general letter to all human gene transfer investigators reminding them of their duty:  FDA 5 November 1999 Letter or in  PDF Format . The NIH developed a reporting form to help investigators report serious adverse events: Here is the form in rtf format: NIH-CDC/Serious Adverse Event reporting Form.
NIH New Technology Oversight Reorganization
Human Gene Therapy, Gene Testing, and Xenotransplantation will be evaluated through a new Office: The Office of Biotechnology Assessment (OBA). This new office will include the former Office of Recombinant DNA Activities. OBA Web site: http://www.nih.gov/od/oba/
NIH Policies on the use of Human Embryonic Stem Cells
In December 1999 the NIH decided to meet the question of research using human embryonic stem cells in NIH supported studies head on. Their proposed solution was somewhat Solomonic. It would be OK to use stem cells derived from discarded fertilized eggs intended for in vitro fertilization but never used. Investigators had to show that the fertilized eggs were not produced for experimentation - only for fertilization. Fetal tissue from abortions could not be used to generate stem cells. The "parents" had to sign an informed consent form. A new office at the NIH was to be established to check that the rules were being followed. The proposed regulation can be found from this hyperlink. A PDF version can be down loaded from this hyperlink.
Massachusetts Medical Waste Regulations:
Due to bitter experience most states have legal requirements for how to deal with "Medical Waste." While the concept of Medical Waste seems obvious some aspects of the Massachusetts law are not intuitive. For instance, unused Pasteur pipettes must be discarded as medical waste although they are clearly non-medical. The regulation can be seen at Massachusetts Medical Waste Regulations
Massachusetts Proposed "Needle Stick" Law.
Several states, including Massachusetts, are trying to combat the increasing number of needle sticks in clinical and laboratory settings by requiring hospitals and research institutions to use hypodermic needles engineered to protect the staff from accidental sticks. In Massachusetts an early step in this process is a law proposed by Representative Christine E. Canavan of Brockton. The text of the proposal is at this hyperlink.
EPA Certified Disinfectants
Over the years the EPA has examined claims by the manufacturers of hundreds of disinfectants for their ability to kill selected pathogens (general sterilants, tuberculosis, HIV, Hepatitis B). These are given in four lists very useful despite the fact they are slowly going out of date. The lists are:
List A - Sterilant list
List B - Tuberculocides
List C - Anti HIV-1
List D - Anti HBV and anti HIV
OSHA Blood Borne Pathogen Standard
In 1991, at the height of the concern (some say panic) over HIV, the US Occupational Health and Safety Administration (OSHA) established a "Standard" to protect medical and research employees from infection by HIV and other pathogens found in blood. OSHA Standards have the force of law and must be obeyed by all employers. One stipulation of the standard is that employees have easy access to the written standard itself. The text of the standard is at OSHA Blood Borne Pathogen Standard
 
As a result of legislation in March 2000 OSHA has issued a revision of the Bloodborne Pathogen Standard mandating yearly evaluation of needle devices by labs and hospitals. If needleless devices can be substituted they should replace current devices. In addition employers will have to keep a log of needle related injuries whether they result in illness or not. OSHA maintains a web page related to the new rules at: http://www.osha-slc.gov/needlesticks/index.html
Food and Drug Administration
The FDA has a great many documents designed to explain how they go about approving drugs and medical procedures.
Biologicals are examined by the FDA Center for Biologics Evaluation and Research (CBER - pronounced C-BRRR).
Their web site is at http://www.fda.gov/cber/index.html. A great many guidance documents are available at this site. Documents called "Points to Consider" and "Guidelines" are of particular relevance to those trying to get a new product through the FDA approval process.
An example of a useful document from CBER is "Guidance for Human Somatic Cell Therapy and Gene Therapy" which, as with most other documents found at the CBER site, is in PDF format: FDA Guidelines for Somatic, Gene Therapy
In November 1999 the FDA sent a letter to all Gene Therapy PIs reminding them that all Investigational New Drug (IND) applications will be reviewed by the NIH. In addition notification of all adverse events related to the trial must be reported to both the FDA and NIH. A copy of the letter can be found at this hyperlink: FDA 5 November 1999 Letter ( ).
City of Boston Regulations
Boston has written a set of regulations to govern the use of recombinant DNA. Here they are.
In 2005 Boston promulgated a set of Disease Surveillance Regulations and Corresponding Guidleines
In September 2006 Boston released a Biological Laboratory Regulation. Guidelines for adhering to the regulation are pending as of 1 January 2007.
City of Cambridge Regulations
Cambridge has written a set of regulations to govern the use of recombinant DNA. Here they are
Our
Mission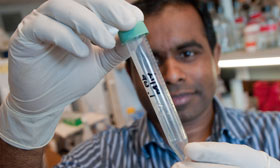 To create and nurture a diverse community
of the best people committed to leadership in alleviating human suffering caused by disease