Clinical Human Gene Transfer
Clinical Human Gene Transfer  
Laboratory Registration Instructions
Who should fill out this application? Investigators planning to do clinical studies involving DNA and human subjects. A separate form is needed to register laboratory studies. Download the form you want to use and save it to your computer.
Where do you send the filled in registration form? Your BioSafety officer can be found on the registration page.
What has to be sent to the BSO? A signed registration form, the investigator's brochure, the clinical protocol, a complete response to the questions of appendix M (pdf doc, 68k) of the NIH recombinant DNA guidelines and the informed consent statement for this study.
Why is registration needed? Several reasons. Most importantly the University and affiliated hospitals wish to keep track of all human gene transfer studies. By centralizing this activity a consistent set of safety standards can be applied though out the university. In addition several government agencies require Biosafety Committee approval before these studies can begin. These agencies include the NIH, the FDA and the City of Boston.
Why is this form needed? There are lots of ways you can explain your project to COMS. However, when you use our forms it is easier for the COMS staff to find the information they need and your application is approved quickly.
Our
Mission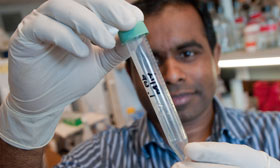 To create and nurture a diverse community
of the best people committed to leadership in alleviating human suffering caused by disease