Experiments that require COMS involvement
Experiments that require COMS involvement.
Recombinant DNA. COMS requires the registration of all RDNA studies.
NIH Recombinant DNA Guidelines. A regulation which governs all research involving recombinant DNA in institutions receiving funding from the US government.
Boston Recombinant DNA Regulation. All RDNA studies in Boston.
Boston RDNA Regulations
The Boston Form is attached to the COMS form.
Cambridge Recombinant DNA Regulation. All RDNA studies in Cambridge
Belmont Recombinant DNA Regulation
No Forms Available
Infectious Agents. COMS requires the registration of all pathogens.
Boston Biological Laboratory Regulation. Requires all laboratories working with BL3 or 4 agents get a permit for their studies.
Boston Lab Regulations
Boston Lab Regulations Guidelines
Boston Lab Regulations Explained
Boston Form
Boston Disease Surveillance Regulation. Requires registration for work with high hazard biologicals. Exposures must be reported
Boston Disease Regulations
Boston Disease Guidelines
Boston Disease Registration Form
Boston Disease Reporting Hospital Form
Boston Disease Reporting Research Form
Boston Animal Bite Reporting Form
Boston Laboratory Registration
Boston Lab 2006 Ordinance
Boston Lab Registration Guide
Boston Lab Registration Form
Select Agent (SA) Regulations from the COMS, CDC and the USDA.
COMS SA Forms (CDC, USDA, COMS)
Primate Tissues including Human Tissues, Blood, CSF, . . .
OSHA Bloodborne Pathogen Standard. This standard is designed to help protect employees from viruses in human (and other primate) blood, lymph, cerebrospinal fluid, seminal fluid, vaginal secretions . . .
Dual Use Agents, NIH, NSABB
COMS requires registration of all research that might inadvertently be of value to enemies.
No NIH or COMS Dual Use forms yet.
Xenotransplantation (Human)
COMS approval required for animal tissue transferred into humans.
Human Studies involving Recombinant DNA
All "gene transfer" into humans must be registered with COMS
Our
Mission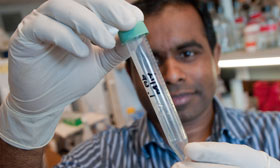 To create and nurture a diverse community
of the best people committed to leadership in alleviating human suffering caused by disease