Bioterrorism
As a result of legislation dating from 1997 possession of ~100 biological agents requires permission from the US Government. They are called "Select Agents." Investigators working with these agents must register with the US government. Two agencies are involved: the Department of Health and Human Services and the Department of Agriculture. Select Agent List in Word or pdf. The list was up to date on 2 July 2009.
Permission from the USDA or the DHHS is required before you can recieve any Select Agents. Of course forms are required. Links to the forms are at this page. Read the instructions carefully. A full application requires a CDC/APHIS form, a FBI form and fingerprints taken at your local police office.
Every member of the lab with acess to Select Agents will have to be reported to CDC/APHIS/FBI.. Those deemed by CDC/APHIS and the Justice Department to be "Restricted Persons" will not be permitted to work with Select Agents. Characteristics of "Restricted Persons." Penalties for violating the law are severe. They range up to $500,000 and 10 years in jail.
Our
Mission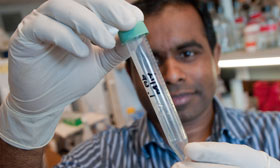 To create and nurture a diverse community
of the best people committed to leadership in alleviating human suffering caused by disease