COMS Online Renewal
COMS Online Renewal Process
The COMS online renewal process will initiate soon. An email notice will be sent out nofifying Principal Investigators and their laboratory designee(s) when the renewal system has been activated.
COMS policy requires that active COMS registrations be renewed annually. This process gives Principal Investigators the opportunity to update a portion of their COMS registration(s) online and helps ensure the COMS database is up-to-date.
In order to complete the online renewal process, a Principal Investigator or a laboratory designee will need to:
1. Access the COMS database
Principal Investigators and laboratory designees who completed the 2011-12 renewal process already have access to the COMS database. Please click here to log in using your 8 digit Harvard University ID (HUID) number and PIN or eCommons login credentials.
Any Principal Investigators or laboratory designees who are unable to log in may gain access to the database by sending their 8 digit HUID number and/or their eCommons username to COMS@hms.harvard.edu. Designees must also include the name of the Principal Investigator that holds the active registration(s). Principal Investigators or designees who do not have a Harvard University ID number or eCommons login must apply for a guest eCommons account. Instructions for setting up a guest eCommons account can be found here. You will receive an email confirmation once login access is granted.
2. Complete the renewal(s)
Once login access has been granted instructions for completing the online renewal process can be found here.
3. Finalize renewal(s)
After all information has been updated, you will need to click "Save". After clicking "Save", a mesage will display indicating that the renewal has been completed.
Our
Mission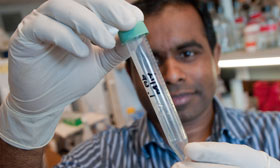 To create and nurture a diverse community
of the best people committed to leadership in alleviating human suffering caused by disease