More Than Good Manners
More Than Good Manners
Harvard Longwood Campus launches gratitude campaign with a talk about the emotional and physical benefits of saying thank you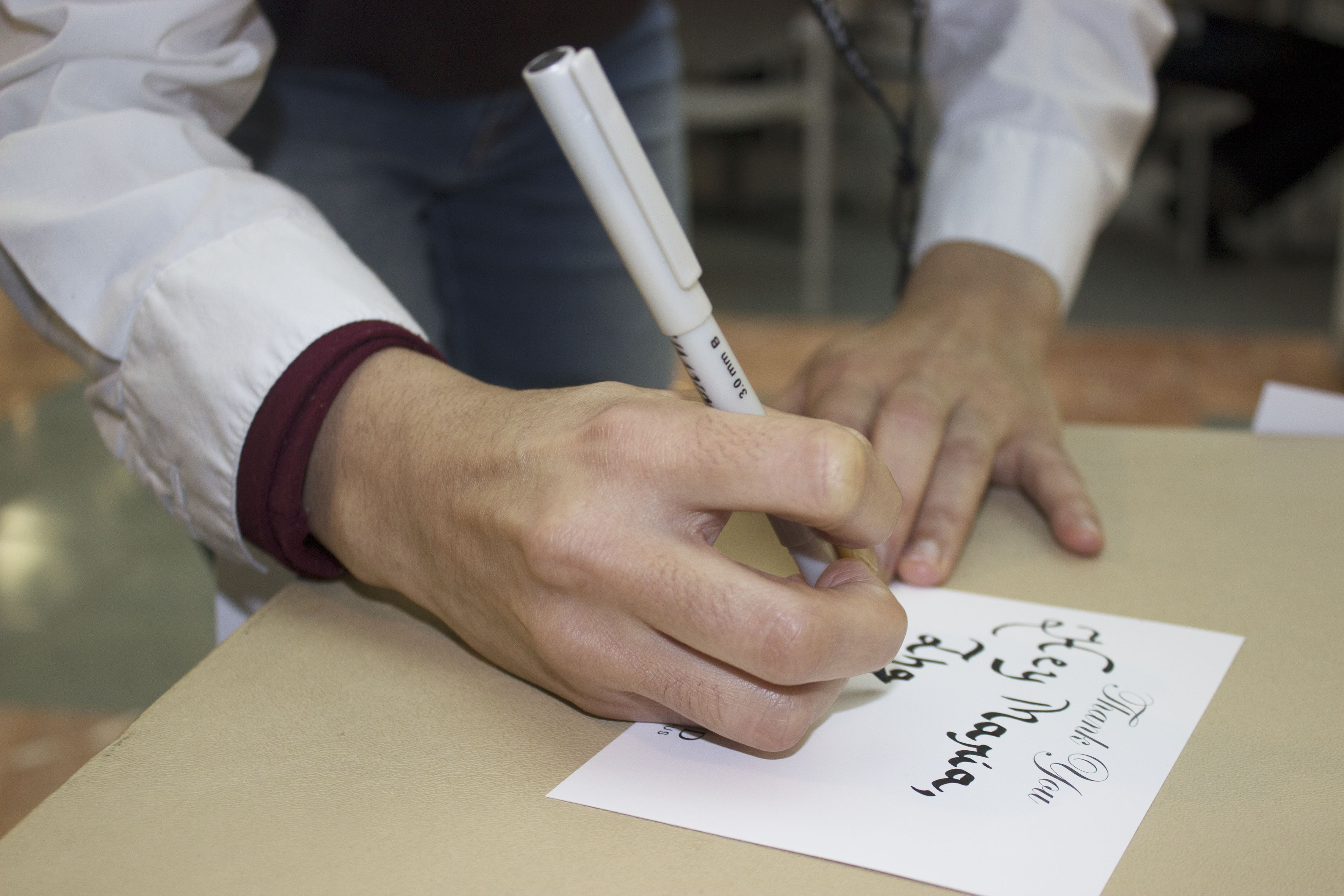 While others were eating and chatting in the HMS Courtyard Café, Sulo Musyaju sat in silence, writing thank you cards to nine of her colleagues.
"This is something nice to do. Nobody's expecting it," said Musyaju, director of finance and administration at Harvard Health Publications.
From November 5-7, members of the HMS, HSPH and HSDM communities were invited to write notes of appreciation to their colleagues at thank you card stations located around the Longwood Campus. This is the first time Musyaju has seen a thank you card station at her workplace. She admits, if the station were not there, she probably would not have written a thank you note to her colleagues.
The novel idea is a part of the second annual Season of Giving on the Harvard Longwood Campus. The campaign encourages faculty, staff and students at HMS, HSDM and HSPH to share messages of appreciation with one another and also to support the community by participating in food and toy drives.
The month-long campaign kicked off with a presentation about the science of gratitude by Harvard Business School Associate Professor Francesca Gino. Gino shared her research on the positive effects of gratitude in a Talk@12 event on Tuesday, November 5.
"There are a lot of opportunities that we miss out on saying thank you," Gino said in her talk to more than 150 people at the Armenise Amphitheater at HMS and to dozens of others watching the talk through live streaming. In her talk, Gino explained how even small expressions of gratitude can make a big difference.
Citing research from her recently released book, "Sidetracked," Gino highlighted how a simple thank you can make people feel appreciated. Gino, working with Professor of Management Adam Grant from the Wharton School, conducted experiments in which some people received thanks after doing a task and some did not. They found that more than half of the people who received thanks felt a higher sense of self-worth, whereas only a quarter of people who did not receive thanks felt self-satisfaction. Those who received thanks were also more willing to do the task again for another person.
Gino also presented published research on the psychological and physical benefits of gratitude. For instance, those who take the time to think about what they are grateful for report feeling more alert, energetic, enthusiastic and attractive. They also tend to exercise more, sleep better and have fewer symptoms of depression.
"It is important for us to stop and take the time to thank those who do so much to assist us each and every day, and the Season of Giving provides us with a wonderful opportunity to do just that," said Julie Stanley, chief human resources officer for HMS.  "Given the missions of our three schools, showing our gratitude by supporting those in our surrounding community who are in need is also an essential part of this initiative."
The Season of Giving also includes a canned food collection and a toy drive for children's books, games, toys, art supplies and sports equipment. Last year, both drives were successful, according to Althea Roach Thomas, executive assistant in the Office for Diversity Inclusion and Community Partnership, and a member of the Season of Giving planning committee. Roach Thomas said that the collection boxes needed to be emptied frequently because they were so full, thanks to the generosity of the Harvard Longwood Campus community.
This year, the canned food collection will be November 15-26 and the toy drive will be December 2-17.
"We have so many opportunities to just say thank you and make people feel appreciated for what they do," Gino said.
More information about the Season of Giving campaign can be found at http://hms.harvard.edu/content/season-of-giving.
@HMS
Editorial Staff
Editor: Katie DuBoff
Assistant Editor: Angela Alberti
Contributors: Shannon Patterson, Chelsea Keyes, Linda Miklas, Tania Rodriguez, Susan Vomacka