Spotlight Stories
Spotlight Stories
Learn about programs/initiatives happening across our campus through these @HMS spotlight stories!
---
Spotlight on Earth Week 2015
Spring Cleaning
Earth Month efforts on Longwood Campus keep the environment—both indoors and out—green and clean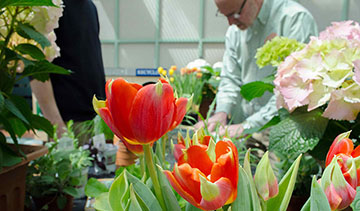 For the first time, the Harvard Longwood Campus Operations group, led by Mike McGowan, and the EcoOpportunity (EcoOp), sustainability committee, introduced a laboratory chemical clean-out initiative. The Lab Chemical Clean-out Amnesty was created to help labs across the Harvard Longwood Campus dispose of leftover, sometimes barely used, chemicals. "Most often, labs store chemicals longer than necessary because of the high cost to safely remove them," said Katrina Rudnicki, EcoOp co-chair.
EcoOp members determined that the unused chemicals could be put to good use in other HMS labs. By reusing them, HMS could economize by reducing the quantity of chemicals it orders and lowering the amount of valuable and sometimes dangerous items inventoried on campus.
"The still usable chemicals are not wasted nor do the labs waste funds buying the same chemicals they could get from another lab," said Rudnicki, who is a coordinator of operations at the HMS ICCB-Longwood Screening Facility. "This saves money and reduces materials."
With this goal in mind, EcoOp asked labs to preregister and then mark unexpired and barely used chemicals for removal. Clean Harbors, a chemical removal company, was hired to take away the chemicals on April 20 and 21—at no cost to the labs. Labs could then "shop" a centrally located collection on April 22 for chemicals they needed.
The initiative received positive feedback, and Rudnicki said she hopes it will become an annual event. In addition, EcoOp might sponsor additional lab clean outs as part of their sustainability events every few years or so, depending on demand from the labs.
Getting the Green Light
EcoOp once again hosted lighting fairs on both the HMS and Harvard T.H. Chan School of Public Health campuses. The fairs allowed students and faculty members to purchase LED light bulbs and other energy-saving devices at discounted prices.
In addition to the lighting fairs, each school campus hosted sustainability fairs in celebration of Earth Day.
"We try new things each year to keep the fair fun and fresh," said Rudnicki. "The new games we presented were really successful. We also asked our vendors to gift some game prizes, and we invited some new vendors this year."
Many people crowded EcoOp's sustainability table at the HMS fair to try to win a prize. In order to earn prizes, attendees had to answer a question about sustainability based on whether they worked in a lab or an office. If the contestant answered the question incorrectly, an EcoOp volunteer would explain the correct answer and give them another chance to answer a new question. Those who answered correctly earned a "Plinko" token to determine their prize on a game board. 
"We really want our efforts to encourage everyone to make environmentally friendly decisions throughout the year," said Jeff DiCiaccio, director of strategic procurement at HMS, who also volunteered at earth fair. "Whether it is composting in homes and offices or switching to a green supplies vendor, we hope to inform our community on how to be eco-friendly all year round."
A Passion for Sustainability
The EcoOp co-chairs hope that sustainability month brings the Harvard Longwood community together—whether through sharing ideas and knowledge or a little friendly competition.
Previous years' competitions included an office compost competition; this year, the committee sponsored a Take the Stairs challenge, an initiative aimed at improving human health by getting people to take the stairs more often, thereby increasing physical activity, and reducing environmental impacts by urging people to use the elevator less, thereby decreasing energy usage.
"I have no idea where it comes from," said Rudnicki about the community's competitive spirit. "But the enthusiasm of our attendees and participants is what makes us successful."
David Havelick, co-chair of EcoOp and a program manager for cancer epidemiology at the Harvard Chan School, agrees that the enthusiasm and passion of volunteers, faculty, staff and students drives the success and efforts of the committee. "It is really amazing when you see the synergy between the missions of the schools," he said. "It ties the community together and motivates us to complete our common goals."
To volunteer, contribute suggestions or attend the next EcoOp meeting, please contact sustainability@hms.harvard.edu or ecoop@hsph.harvard.edu.
@HMS
Editorial Staff
Editor: Katie DuBoff
Assistant Editor: Angela Alberti
Contributors: Shannon Patterson, Chelsea Keyes, Linda Miklas, Tania Rodriguez, Susan Vomacka