Spotlight Stories
Spotlight Stories
Learn about programs/initiatives happening across our campus through these @HMS spotlight stories!
---
Spotlight on The Green Room
New Recycling and Reuse Resource on the Harvard Longwood Campus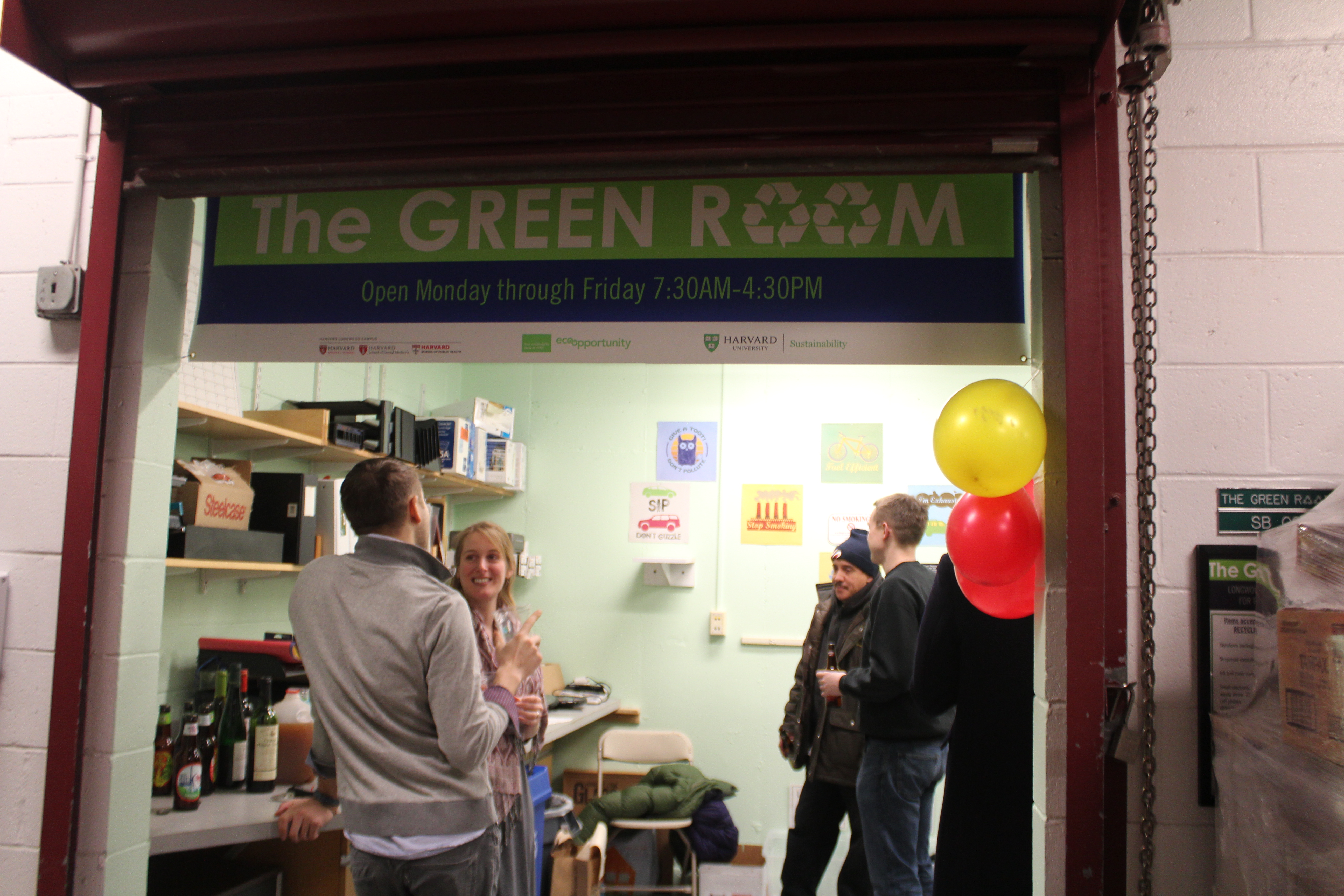 Need a place for office supplies or lab equipment that you no longer need? Look no further than The Green Room, a brand new space for reusing and recycling on the Harvard Longwood Campus.
The Green Room -- an extension of the Freecycle space that HMS piloted a few years ago -- opened last month. The space is housed at HSPH and is available to all HMS, HSDM and HSPH faculty, staff and students.
According to Gosia Sklodowska, senior manager of the FAS Green Program, "This new iteration of the initial pilot is more comprehensive as the space is for both office and lab supplies, and was initiated by EcoOp, HSPH's Green Team."
"This is an excellent way to get people in the HMS community thinking about keeping useful items out of the dumpsters and making them easily available to others," said Katrina Rudnicki, co-chair of HMS' Green Labs subcommittee and coordinator of operations for ICCB.
Sklodowska notes that The Green Room will benefit the environment, finances and logistics on the Harvard Longwood Campus.
"From the environmental standpoint, we want to promote recycling and reuse as a way to reduce waste. Reuse, in particular, has far-reaching benefits, as it prevents both waste and the use of resources throughout the entire cycle of equipment's life," she said.
The financial benefit of reuse programs for office and lab are poised to reduce departmental and lab purchasing expenses.
"We estimate that we have saved over $100,000 in purchasing costs through our Labs Reuse website alone, since its launch last year. Our new room will build upon the success of both the Reuse website and our regular Freecycle events to further this successful savings model," she said.
"We deal with various types of waste streams in our labs and offices, and often times are unsure as to how to properly dispose of them," she said. "Our new space will make it easier to recycle a variety of specialized items and will be our central go-to-place for recycling and reusing."
The following items are accepted at The Green Room for reuse:
Office supplies
Lab supplies
Equipment in good, functional condition (and sterile, if applicable)
Only clean or decontaminated supplies and equipment, in working condition, are accepted.
The following items are accepted for recycling:
Styrofoam
Nespresso pods
Printer ink cartridges
Writing instruments
Small e-waste items such as CD's, cell phones, chargers, etc.
"Our ultimate goal is to expand the scope of items accepted at the reuse room to provide a one-stop shop for a broad range of specialty waste streams in one easy and convenient location," Gosia said.
"I'm excited for the opening of the Green Room," said Rudnicki. "This provides a great resource for both researchers and office administrators to drop off or pick up items that another individual or lab no longer needs."
@HMS
Editorial Staff
Editor: Katie DuBoff
Assistant Editor: Angela Alberti
Contributors: Shannon Patterson, Chelsea Keyes, Linda Miklas, Tania Rodriguez, Susan Vomacka