Faces of HMS
Faces of HMS
We regularly feature an HMS community member on the main landing page for @HMS.  Below are members of our HMS family who have been featured in the past.  Get to know them by reading their story or watching their video. 
From Bethesda to Boston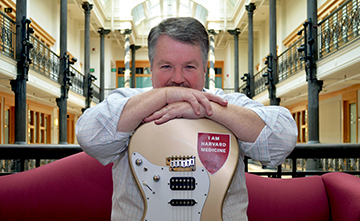 Native Marylander John Czajkowski made the move to Massachusetts this summer after a career in government that spanned nearly 30 years. The new executive dean for administration at HMS sat down with @HMS to talk about why he's excited to be here, the Red Sox and the guitar in his living room.
@HMS: What was your professional background before you came to HMS?
JC:   I spent 27 years in the federal government, roughly half of which was at the National Institutes of Health. I also worked in a couple of other agencies including the Treasury Department, the Office of Personnel Management and the Office of the Assistant Secretary for Health, so I have had a fairly diverse career. Now here I am, and I find myself trying to imagine being anything other than a Fed after all that time.
@HMS:  What drew you to HMS?
JC:   I was very happy doing what I was doing at the National Cancer Institute when the search firm contacted me. And you know, I was convinced I had the single best job in the entire federal government. I really was. It had everything that I thought was cool about public service, and a mission that mattered, and a role that, for an administrator, is everything you hope for.
So when I was contacted by a search firm, I didn't give it much thought. When I got home that night, and I told my wife about the email, she asked, "Well, what was the job?" I said, "I guess Harvard doesn't call that often. Maybe I ought to call back."
But to answer your question, when I learned about the dean, the faculty and staff, the challenges facing the organization, I really saw it as an opportunity to both give the best of what I have, and get back what matters most to me professionally -- the opportunity to work hard at something that matters, and make it better.
This school has such a unique standing - not just the medical education community, but in academia in general - that the privilege of being invited to be part of it was not lost on me.
@HMS: What are some unexpected things you've learned in your first weeks?
JC:   If there's anything that has surprised me, it is the degree to which we are still struggling with the effects of the financial downturn that occurred six years ago. It has certainly resulted in a change in our environment in terms of less federal research funding and things like that, and we are now seeing budget deficits from year to year. And that's tough, but it is also compelling us to change our practices and our habits, which has been beneficial. So even in the face of such dramatic change, I think we can all expect HMS to continue its tradition of excellence and we should respond to these new challenges as boldly as ever.
We don't have a financial crisis around here. I have asked people not to use that phrase because it is a gross overstatement to call it a financial crisis. What we have is a new reality that we must adapt to and some financial problems to solve. I believe we have everything we need to solve those problems, too, if everyone works together for the good of the institution. This university has been exceptional for 400 years. Having been through the American Revolution, the Civil War, two World Wars, a handful of economic depressions, pandemics, and everything else….we have been through tougher times than this, and we will figure these problems out, too.
We have to take the financial situation seriously and have enough urgency to deal with it so that we authentically invest in changing our culture and changing the way we approach education and research as two distinct enterprises. And there is no question that there are things in motion that will make significant progress to improve our financial condition.
@HMS:    What are some ways to address these issues?
JC:   This situation wasn't created overnight, so it's not going to be solved overnight. We are going to be more selective and more strategic about what sponsored research we do get. We are going to work with the people who are generous in their charitable contributions to make sure that we have a good business plan for executing the intent of the donor. We will make tough decisions about the scope and size of our enterprise, and make trade-offs to initiate new efforts without continuing to pile on additional costs. Our work will be about changing the culture and changing habits, because the world around us has changed. And we have to evolve with it. This is one of those times when we are fully capable of responding to the challenges in front of us.
We're going to reach out across the university and call on my peers, call on the other senior administrators across the university to help us because we're in this together. Solidarity really matters, and building on inclusion, trust, and respect we can create a "one team, one fight" mentality. And we have to communicate more and more, and become more transparent, so that everyone understands what is happening.
@HMS:   That is very encouraging.
JC:   What has surprised me on the pleasant side is the breadth and depth of the talent here exceeded even my expectations. It really is staggering to look at the richness of the intellectual capacity of this institution. I knew it was good. I didn't know how good "good" could be. I really am happy to be here, still amazed by it, still awestruck by it. And very challenged by it.
@HMS:   How has the job been going so far?
JC:   I enjoy it. It is fun. It's a lot more fun than I thought it would be because I knew the responsibilities were significant. I'm grateful that beyond being smart, people here are so pleasant to work with, so principled. There's so much integrity. There's so much goodwill. It's a really great environment to work in when you're facing big challenges.
Come on, ask me a hard one.
@HMS:   What would you say a typical workday is like for you, if there is such a thing as typical?
JC:   My workday started on June 2nd, and it hasn't ended. It's been one big day. A typical workday is an odd collection of briefings, discussions, explanations, punctuated by moments of panic and terror around some crisis of the day. Never bored, never alone. I have met so many people I've lost count. I certainly want to have solid relationships with people, so I can remain accessible to anyone who thinks I can do some good somewhere.
@HMS:   People want to know if you are a Red Sox fan…
JC:   Have been since I was ten years old. Red Sox all the way. Big Papi sits on my desk [gestures toward David Ortiz bobble head figurine].
@HMS:  Good to hear.
JC:   I lived in Portsmouth, Rhode Island, from '75 to '76. They [The Red Sox] went to the World Series that year, and Carlton Fisk hit his famous home run in game six to send it to game seven. And there was a guy on the team named Yastrzemski, whose last name was as hard to spell as mine was. And I fell in love with the Red Sox and never fell out. But beyond the Red Sox, I've always been a fan of the game. I try to see a game whenever I travel, whether major or minor league. I do hope to see at least one game in every major league stadium during my lifetime…..except Yankee Stadium. I won't go to Yankee Stadium. Not even for free.
@HMS:   Have you done any exploring to get to know Boston better?
JC:   We live in Coolidge Corner. What I've really enjoyed is getting to know the city and the neighborhoods beyond the tourist attractions. The city is full of interesting places. President Kennedy was born in my neighborhood. I just think that's cool.
@HMS:   What are some ways that the HMS community can help you in your role?
JC:   It's really about engagement. It's about conversation and a dialogue. And so, when I say to people, "I want ideas. And I want to hear from you. And I want you to talk even beyond your own comfort level about what we could do better. What can we do more of, do less of. What can we do that we've never done before, or what do we need to stop doing altogether." I need people to participate in that process.
And I need people to hold me accountable. So engaging in the civil discourse around here about what the school needs to become is not going to be done by a few people in Gordon Hall. That's why I need people to talk to me.
I keep coming back to this notion of, "But you first have to engage," you know. I am big on inclusion. Everybody has a voice, and everyone I meet can teach me something.
Care for this place like you would your own house. Care for these people like you would your own family. I think, at the end of the day, we all want to belong to something. And I want to offer that to everybody as much as I want to belong myself.
@HMS:   What are you looking forward to accomplishing?
JC:   I want to create a process that brings greater transparency and dialogue to goal setting, priority setting and vision setting, ensuring that it is as inclusive and as rich as it can be, given the talent that we have at hand. I want to extend this process out of Gordon Hall and make it more community-based. I'm a process thinker and a system thinker. And I'm always looking at it from that perspective.
We have an interesting set of circumstances here at HMS. We love our traditions, but they also come with an infrastructure that is in parts a century old. It has to be cared for and improved in ways that preserves what is best about it. For instance, implementing the new curriculum is a big deal. And building a space that is enabling of that new educational experience is going to be tricky when you're also trying to balance a budget, right?
@HMS:  I'm sure there are a lot of priorities competing for your attention.
JC:   It's a great challenge as an administrator. It's a great challenge as a leader to honor the crisis that comes in, but still play with your head up in a way that you're thinking long-term about how to make things better. I like to be close to the work. But I know I have to follow the advice of the dean and the leadership of the university to be strategic, not just reactive.
@HMS:   What do you enjoy doing when you're not at HMS?
JC:   I've been a guitar player since I was 14 years old. I have played almost every day, still do. You'll find a guitar on the chair in my living room. I started making my own electric guitars a handful of years ago. Really like doing that.
@HMS:   What kind of music do you play?
JC:   Just about everything. My iPod is full of such clutter it would boggle your mind because I've got bluegrass and classical and jazz and reggae and country and whatever. And the loudest, hardest metal you've ever heard. Native Indian flute music, and even spoken word stuff. It's all in there.
But the kind of music that I play…I always gravitate toward classic rock because that's what started me playing. But I like to challenge myself. And I like to write. I'm setting up a recording capacity so that I can maybe put some of my own music down and organize it into something. Music has been a part of my life, literally, for 35 years. And I can't imagine not doing it. But beyond that, I'm very active in my church. Also, my wife and I love to travel.
@HMS:  Can you tell us a little bit about your family?
JC:  Jenny and I have four children, ages 23 to 17. We have our dog Buster, who is half beagle, half Cavalier King Charles Spaniel. He is a great companion and a lot of fun.
I live a very, very full life, very happily. Having a full life outside of work, I think, is not an act of indulgence or selfishness. It is being as kind to yourself as you are to everybody else. And it fuels you to be able to do the work you want to do. That balance really matters to me. And I think that is something I try to embody so that people know it's okay that they take care of themselves, and their families. While you are at work, you do your very best in everything you do….every email, every meeting, every white paper, every speech. But you should also be excellent outside of work and live well. 
@HMS:   Any last thoughts we should remember?
JC:   I really just want to contribute. I want people to feel like they have a relationship with me, in a way in which they can call me or email me or stop me if they need to. I can't arbitrate every problem, every disagreement. But you know, if I don't help people do their job, I don't know what I do. It really is a privilege to be welcomed into this community, and I want to earn the job I have. I am a pretty lousy figurehead. But if you want a guy who wants to work hard to get things done, then count me in.
This interview was edited for length and clarity.
@HMS
Editorial Staff
Editor: Katie DuBoff
Assistant Editor: Angela Alberti
Contributors: Shannon Patterson, Chelsea Keyes, Linda Miklas, Tania Rodriguez, Susan Vomacka