Community Announcements
Community Announcements
Click any bulleted item to read more.
---
Dear Members of the HMS Community:
Please be advised that starting on Friday, April 4, the Boston Red Sox will begin their 2014 season at Fenway Park. We anticipate increased traffic volume during evening rush hour as fans leave the park after a day game and as they arrive to the park prior to a night game. Please plan accordingly.
For MASCO Parking and MASCO Shuttles information, please visit: http://www.masco.org/directions/fenway-combined-shuttle
For MBTA information, please visit: www.mbta.com
Red Sox weekday day games are listed below:
Friday, April 4, 2:05 p.m.
Tuesday, April 8, 6:10 p.m.
Wednesday, April 9, 4:05 p.m.
Monday, April 21, 11:05 a.m. (Patriots' Day)
Thursday, May 22, 4:05 p.m.
Wednesday, June 18, 1:35 p.m.
Friday, July 4, 1:35 p.m. (Independence Day)
Thursday, July 10, 4:05 p.m.
Wednesday, September 10, 1:35 p.m.
Schedule is subject to change. For the complete Red Sox schedule and updates, please visit: www.redsox.com.
Please call the MASCO Customer Service Line at (617) 632-2800, if you have questions. Thank you for your understanding.
Communications/Outreach Resources:
Videos and gifs promoting best green lab practices and featuring HMS's researchers:
https://www.youtube.com/watch?v=kzRFGHtx6t0&feature=youtu.be
https://www.youtube.com/watch?v=vvYl0sWEtxM&feature=youtu.be
Upcoming Campaigns:
April:
Stirling Freezer Incentive Lottery: a one-time $3,000 incentive toward a purchase of a new ultra-cold Stirling unit.
Outreach about Best Green Labs Practices with weekly green tips displayed on screens across all Longwood
Reuse List/Green Room participation challenge
May-June:
Freezer De-icing challenge
Upcoming Events:
EcoOpportunity's Sustainability Fair
Thursday April 24
11:30 a.m.-1:30 p.m.
Kresge Cafeteria
The goals of the Fair are to highlight green local organizations, teach our community about environmental issues, encourage sustainable behavior and promote the work of EcoOpportunity. Confirmed exhibitors include Best Bees, The Arnold Arboretum of Harvard University, Bikes Not Bombs, Greenovate (the mayor's umbrella sustainability initiative for the City of Boston), Bootstrap Compost and Next Step Living/Renew Boston.
HMS Freecycling & Earth Fair
Thursday, April 24
11:30 a.m.-1:30 p.m.
Courtyard Cafe April 24
The Fair will feature HMS' key green vendor partners, including WB Mason, Poland Spring and VWR who will promote their sustainable offerings. There will also be a centralized Freecycle drop-off location in the Cafe for any offices and labs that are planning their spring clean outs.
Bike Fair
May 6
HMS Quad
Dear Members of the HMS Community,
HMS Security & Emergency Preparedness will be offering Adult CPR and AED Training to interested members of the HMS community.
Bill DeSimone, a member of our security management team and certified American Red Cross Instructor, will run the training. These classes will be held on the HMS campus during the dates and times below. There is no cost to the individual or to the department. Each class lasts three hours and you only need to attend one to receive certification. Light refreshments will be served.
To register for one of the training classes, please contact Bill DeSimone at William_desimone@hms.harvard.edu.
Thursday, March 20, 9:00 a.m. - 12:00 p.m. – NRB Joseph B. Martin Conference Center Room 216
Thursday, April 3, 4:00 p.m. - 7:00 p.m. – NRB Joseph B. Martin Conference Center Room 216
Thursday, April 10, 9:00 a.m. - 12:00 p.m. – NRB Joseph B. Martin Conference Center Room 216
These classes will be filled on a first come, first serve basis. If you are interested, please send in your request early since each class will be limited to 10 people. Depending on demand, we will arrange for additional classes during the spring and summer.
Thank you,
Rob Dickson
Director of Campus Security & Emergency Preparedness
Harvard Medical School
Please save the date for an artist talk and reception for the opening of the next exhibit on March 11, titled Life Force: Art of Helen Meyrowitz.
Artist Talk, with an introduction by Dean Jeffrey S. Flier:
Tuesday, March 11
4:00-5:00 p.m.
Goldenson 122
A reception will follow in the Transit Gallery.
Life Force: Art of Helen Meyrowitz
March 5 - April 14, 2014
When artist Helen Meyrowitz's husband began suffering the early effects of Alzheimer's disease, she began making drawings that helped her deal with a complicated mix of emotions. Life Force is an emotional record of the pain she experienced when her beloved husband succumbed to his illness—a moving tribute to an enduring relationship and the healing power of art as an expression of deep feelings. Seen together, her work is both an unflinching portrait of Alzheimer's and a moving tribute to her husband of 60 years, Sidney Meyrowitz.
Dear Members of the HMS Community:
I am delighted to announce the 2014 Edward K. Dunham Lectureship for the Promotion of Medical Sciences. The prestigious Dunham Lectureship was established in 1923 in memory of Edward K. Dunham, MD (Harvard, 1886) to strengthen the bonds of fellowship and understanding among students, investigators and teachers within the medical and basic sciences for the purpose of advancing medical sciences in the broadest sense.
The Dunham Lectureship alumni comprise of luminaries in biomedical research. A listing of past lecturers and details on this year's events can be found here.
I invite you to save the date for this year's lectures to be given on March 17 & 18, 2014 by Kim A. Nasmyth, PhD, this year's recipient.
These lectures are free and open to students, faculty and staff of HMS and Harvard University, as well as to all other interested professionals. Additional information will be forthcoming. I hope you will join us.
Best regards, Jeffrey S. Flier, MD
Dean of the Faculty of Medicine
DUNHAM LECTURE SERIES 2014
Kim A. Nasmyth, PhD
Professor of Biochemistry,
University of Oxford
Oxford, England
How Are Chromosomes Held Together?
Monday, March 17, 2014
Lecture: 4:00 p.m. - 5:00 p.m.
Reception: 5:00 p.m. - 6:00 p.m.
The Metaphase to Anaphase Transition: Controlled Destruction of Sister Chromatid Cohesion
Tuesday, March 18, 2014
Lecture: 12:00 p.m.— 1:00 p.m.
BOTH LECTURES LOCATED IN THE AMPHITHEATRE
Joseph B. Martin Conference Center
77 Avenue Louis Pasteur
Boston, MA 02115
Invitation to follow
Dear Members of the Longwood Community,
In a continuing effort to mitigate potentially threatening situations, the Harvard University Police Department (HUPD) is working closely with the Harvard schools on a variety of safety and awareness programs. In an abundance of caution, one training session will offer members of the Harvard community guidance on how to respond to an active shooter incident on campus. While these situations are unpredictable, there are recommended steps that can help people protect themselves until first responders arrive.
To learn about these steps, we encourage you to attend one of the following presentations by HUPD on active shooter protocols.
Monday, January 27, 2014, 3:30 – 4:30 p.m., HSPH Kresge G-1
Tuesday, February 11, 2014, 12:30 – 1:30 p.m., HMS Armenise Amphitheater, Building D
Monday, February 24, 2014, 12:30 – 1:30 p.m., HSPH Kresge G-1
Monday, March 24, 2014, 12:30 – 1:30 p.m., HSDM REB Auditorium
Monday, April 28, 2014, 3:30 – 4:30 p.m., HSPH Kresge G-1
Monday, May 19, 2014, 3:00 – 4:00 p.m., HMS Armenise Amphitheater, Building D
Your safety is our foremost concern, and we thank you in advance for taking time to increase your awareness of how to respond in a potentially life-threatening situation. We welcome any questions. Contact Rob Dickson at Robert_Dickson@hms.harvard.edu or 617-432-6119.
Thank you,
Charles Frizzell
Dean for Administration and Finance, Harvard School of Dental Medicine
Ken Wenger
Senior Director of Operations, Harvard School of Public Health
Rob Dickson
Director of Security and Emergency Preparedness, Harvard Medical School
Dear colleagues,
We are pleased to announce the 2014 Bertarelli Symposium "Neuroengineering: Molecules, Minds and Machines," to be held at Harvard Medical School on Jan. 17 and 18, 2014.
The symposium is sponsored by the Bertarelli Program in Translational Neuroscience & Neuroengineering, and is a joint venture of HMS and the Ecole Polytechnique Fédérale de Lausanne. It has been made possible by a generous gift from the Bertarelli Foundation.
Professor Bernardo Sabatini, the Takea Professor of Neurobiology at HMS will be the keynote speaker on Friday afternoon.
Please visit the HMS Bertarelli program website at http://www.hms.harvard.edu/bertarelli/events.html for more information.
Bertarelli Symposium Planning Committee
REQUEST FOR NOMINATIONS - Deadline: February 14, 2014
2014 Joseph B. Martin Dean's Leadership Award for the
Advancement of Women Staff
The Dean's Award for Leadership in the Advancement of Women Staff was initiated in 1999 by Joseph B. Martin, M.D., Ph.D., former Dean of the Faculty of Medicine, to recognize staff members committed to the recruitment, retention and advancement of women at Harvard Medical School and Harvard School of Dental Medicine. In 2007, the Award was renamed the "Joseph B. Martin Dean's Leadership Award for the Advancement of Women" to honor Dr. Martin for his long-standing support of this effort.
The nomination process for the Award is coordinated by the Joint Committee on the Status of Women at HMS and HSDM.
Candidates may be of any gender and may be nominated by any HMS/HSDM staff or faculty member.
The award recipient will be recommended by the JCSW Dean's Award Selection Subcommittee and selected by Jeffrey S. Flier, M.D., Dean of the Faculty of Medicine.
The staff awardee will receive a cash award and be recognized at the June 4, 2014 JCSW joint committee meeting.
For more information on award criteria and submitting a nomination, please visit the
Joseph B. Martin Dean's Leadership Awards for the Advancement of Women Faculty and Staff website or contact Tammy Brown.
Please help us identify staff members who are deserving of this prestigious recognition.
Members of the HMS community are invited to visit Gordon Hall's Transit Gallery to view a new exhibit, 2013 Log, featuring the work of Douglas Weatherby. This exhibit will be on display through Monday, February 24.
Weatherby's work integrates daily photography and text to document a year of work and life. For more information about Douglas Weatherby, please visit http://www.drwservice.com/.
The Transit Gallery, located in Gordon Hall's lower level corridor, showcases professional artists in the Harvard and greater Boston communities whose works use, explore or are otherwise connected to the sciences.
To learn more about the Transit Gallery and its exhibits, please contact Tania Rodriguez in the HMS Office of Human Resources at 432-3809 or Tania_Rodriguez@hms.harvard.edu.
Please be advised that on or about December 27, 2013, the Massachusetts Department of Transportation (MassDOT) will begin major construction activity on the Callahan Tunnel, which connects Boston's North End to Logan International Airport and Route 1A to East Boston. This thirteen month project will rehabilitate the tunnel decks, curbing and wall panels which have been severely deteriorating over the years. During the work, both lanes of the Callahan Tunnel will be closed to all vehicular traffic 24/7 for approximately two-and-a-half months. Immediately after the two-and-a-half month full closure, the Callahan Tunnel will be closed nightly from 11 p.m. to 5 a.m. for an additional four+ months. MassDOT is currently working on the detour plans to divert vehicles to the alternate airport and 1A routes. We will share this information once it becomes available.
For more information on the project, including traffic management plans and detour information, visit the website at http://www.massdot.state.ma.us/highway/HighlightedProjects/CallahanTunnelRehabilitationProject.aspx.
To submit questions and concerns or to request additional information, please contact callahan.tunnel@state.ma.us.
HMS is developing a comprehensive master plan to guide capital planning strategy, and we need your help. A new website gives you a forum to share your ideas and join the conversation about the future of the School.
The input you and other stakeholders contribute will enable us to better plan for the future of education, research, collaboration, socialization and transportation. For example, we want to hear your thoughts about daily life on campus and how housing can be improved. We also want your ideas about how the School can be even more socially, environmentally and economically sustainable.
Log on to this new site at any time from your computer, tablet or smartphone. Simply sign up for an account by visiting http://hmsmasterplan.mindmixer.com/ using Facebook, LinkedIn, Google or your email address.
Voicing your preferences is as simple as clicking a button. You also may leave comments to spark discussion on any topic. You can complete the survey over a period of time, revisiting the site as your time allows as often as you wish.
Topics on which we invite you to weigh in include:
Collaboration
Education
Research
Transportation
Housing
Amenities
Sustainability
What are you waiting for? Begin sharing your opinions today and help shape the future of the Harvard Medical School.
Sincerely,
Rick Shea
Associate Dean for Campus Planning and Facilities
Harvard Medical School
Dear Members of the HMS Faculty,
I am pleased to announce the creation of a new HMS faculty leadership position—the dean for external education.
In recent months, I have spoken with many members of our faculty about the future of HMS at this particularly complicated juncture, one that challenges us to be inventive and to embrace ideas for new programs that will advance our shared mission while providing new sources of revenue to support these efforts. I have been inspired by the quality of these discussions, which have helped identify many promising areas of opportunity, including those for innovative expansion of our educational reach. The outstanding talent and unparalleled excellence of our faculty have made HMS an unquestioned leader in medical and graduate education. Now we are poised to further harness these assets by expanding our existing educational programs and creating new externally directed programs that will bring the trusted voice of HMS to learners throughout the world.
The new dean for external education will lead our effort to design, develop and implement new non-degree conferring educational programming and products; he or she will also be responsible for overseeing, enhancing and energizing our existing strong activities in continuing medical education and health publications.
Working closely with senior HMS academic and administrative leadership and reporting to me, the dean for external education will develop a strategic and operational plan for external education that will achieve academic and financial objectives fully aligned with and supportive of the mission of HMS. A position description is attached.
I invite your feedback and welcome your recommendations for candidates who might be suited for this important new position. Please send your comments and recommendations by December 18, 2013, to:
Susan Dale
Chief of Staff
Harvard Medical School Dean's Office
Gordon Hall, 1st Floor
25 Shattuck St
Boston, MA 02115
susan_dale@hms.harvard.edu
Sincerely,
Jeffrey S. Flier, MD
Dean of the Faculty of Medicine
Harvard University
Harvard Medical School has launched TechRefresh, a new computing equipment lifecycle management program for HMS/HSDM staff and faculty that provides:
Lowered costs for computer equipment
Ease of purchasing
Speedier delivery
Lifecycle tracking
Loaner service
Improved support
For more information, including FAQs, purchasing guide and future TechRefresh enhancements, visit http://techrefresh.hms.harvard.edu.
For assistance selecting or ordering a computer, contact your departmental Client Services Representative, send an email to techrefresh@hms.harvard.edu or call the HMS IT Service Desk at 617-432-2000.
Thank you,
HMS Information Technology
In an effort to make the construction coordination process easier, more efficient and user-friendly, MASCO has made some new and exciting upgrades to its construction activity reporting website. There is now a section that takes all of the reported construction activities and posts them on an easy to read calendar and map. The calendar will be updated daily and the map will be updated weekly. These new tools should aid in planning and scheduling your projects and inform you of what activities will be making an impact to your part of the neighborhood.
To view the new LMA construction activities webpage, please follow the link below:
http://www.masco.org/programs/lma-construction-activities
Dear Members of the Harvard Medical School Community,
I am thrilled to share with you the news that Harvard Medical School has recently established a new academic department—the HMS Department of Neurosurgery. The historic decision to develop neurosurgery into an academic department was driven in part by the knowledge that, as a discipline, neurosurgery is widely recognized as a specialty distinct from general surgery in terms of training programs, fellowships, and specialty boards specific to its own academic status.
HMS has played an important historical role in neurosurgery. Harvey Cushing, a brain-surgery pioneer and member of the HMS Class of 1895, founded the field a century ago while he was at the Peter Bent Brigham Hospital, now Brigham and Women's Hospital, which this year is celebrating its 100th anniversary. Cushing is widely considered the "father of modern neurosurgery."
This change in status to an appointing academic department was championed by the chiefs of neurosurgery at four of our affiliated hospitals. Three of our affiliates—Boston Children's Hospital, Brigham and Women's, and Massachusetts General Hospital—had housed hospital-based Departments of Neurosurgery, while Beth Israel Deaconess Medical Center had organized neurosurgery as a division of its Department of Surgery. Until now, our chiefs of surgery have been managing HMS faculty appointments for neurosurgeons and neuroscientists through the departments of surgery.
This change brings a number of benefits, including more direct oversight of faculty promotions and an increased capability to recruit faculty. It also creates an important entity aligned with peer institutions.
The new HMS Department of Neurosurgery will be governed by an executive committee led by Robert Martuza, the William and Elizabeth Sweet Professor of Neuroscience at HMS and chief of Mass General's Department of Neurosurgery. Dr. Martuza will serve a three-year term as the inaugural chair of the committee.
Many people throughout HMS have worked tirelessly to make this happen. I would like to thank all involved for their efforts and dedication, particularly the CEOs of the affected hospitals, our chiefs of surgery, Nancy Tarbell, our dean for academic and clinical affairs, and Maureen Connelly, our dean for faculty affairs.
Please join me in congratulating our colleagues in the new Department of Neurosurgery.
Sincerely,
Jeffrey S. Flier, MD
Dean of the Faculty of Medicine
Harvard University
Dear Faculty and Staff,
Harvard Medical School's Social Committee (SoCo) invites you to join HMS/HSDM friends and colleagues on an 8-day tour of Galway, Cork and Dublin.
Spend a week in Ireland. From the Irish people's sparkling wit and inviting pub culture, all the way down to the isle's incredible emerald landscapes, this small country packs quite a punch. Waste no time getting to the core of Irish culture on a tour of its leading cities, Galway and Dublin, and its natural wonders, from the rocky Burren to the Cliffs of Moher.
The tour will go from 7/19/14 to 7/26/2014. The price is $2599 which includes:
international airfare
tour guides
hotel accommodations
private motorcoach
daily breakfast
2 lunches
2-three course dinners
guided sightseeing and entrances to select sights
We have 30 spots reserved for HMS/HSDM SoCo until December 30, 2013.
There will be an information session on November 19 from noon-1:00 p.m. in the Bibring Conference Room (second floor) in Gordon Hall. RSVP SoCo@hms.harvard.edu.
For more information, please visit the tour website or email Lorien Hecht at Lorien_Hecht@hms.harvard.edu.
Dear Members of the HMS Community,
Following last summer's popular mini-symposium held in honor of Rick Mills, the Office for Academic and Clinical Affairs and the Basic Science Administrators Group will be co-sponsoring a semi-annual mini-symposium to demonstrate staff support for the HMS scientists. This upcoming mini-symposium is devoted to cancer research.
Wednesday, November 13, 2013
3:30 p.m. Mini-symposium in Cannon Room (Building C)
4:30 p.m. Reception and refreshments
The mini-symposium will feature the following brief scientific presentations:
Breast cancer beyond the tumor cells
Jason Zoeller, PhD, Department of Cell Biology
Viruses and Cancer: Understanding how Human Papillomaviruses Cause Disease
Elizabeth White, PhD, Department of Microbiology and Immunobiology
Watching broken DNA molecules get repaired
Thomas Graham, BS, MPhil, Department of Biological Chemistry and Molecular Pharmacology
The entire HMS community is invited to attend these talks that will be geared toward a non-scientific audience.
After seven months and more than 2,050 signed pledges, MASCO pulled the names for the winners of the Karma Commuting Campaign.
Harvard Medical School's Senior Grant Manager Ashley Congdon won one of the $100.00 Visa gift cards. 
Read more here.
Harvard Medical School has a new audio and web video conferencing resource just for you!
HMS is launching Lync, a tool that allows you to text chat, talk to people using voice and even have face-to-face meetings with your webcam. Lync enables virtual online meetings by enabling screen sharing, electronic file sharing and even online polling.
Do you want to have the ability to attend meetings you are unable to make in person or when a conference room is unavailable? Then learn more and download the application here.
Lync's features enable you to…
· Connect from any device. Use your computer, smartphone or tablet anywhere a web connection is available.
· See your audience. View all attendees equipped with a web camera.
· Check availability. Foster collaboration by giving your co-workers an at-a-glance status of your availability and start an exchange with one click.
· Share documents with others in real time. Review content while in the meeting with drag-and-drop ease.
HMS IT invites you to give Lync a try and share your feedback with our Client Services team. Feel free to contact us at 617-432-2000, help_desk@hms.harvard.edu or even through Lync!
Please be aware that a section of Brookline Avenue will be one-way starting on Monday, September 23, as part of the Muddy River project. Brookline Avenue will become one-way inbound between the Riverway Connector and Park Drive. Please plan accordingly.
For more details, please visit http://www.masco.org/list/alert.
Whether you ride public transit, cycle, drive or walk to HMS, you have no doubt faced traffic jams, competed for parking or waited for what feels like forever to cross the street during rush hour in the LMA.
The LMA is home to a vibrant community of staff members, physicians, teachers and patients who travel to and from the area each day, and each of us has a part to play in making sure that members of our community arrive at their destination safely.
That's where Karma Commuting comes in.
MASCO, a non-profit organization dedicated to enhancing Boston's Longwood Medical and Academic area for the benefit of those who live, work, study or receive care in the area, has launched a new campaign to educate and inspire commuters to create good karma by acting responsibly in traffic and watching out for their fellow community members.
What goes around, comes around.
Want to participate? Take the Rules of the Road Quiz and Safe Commuting Pledge and win airline tickets or a $100 American Express gift card.
To learn more about the campaign, road rules and safe commuting tips, please visit: http://www.masco.org/directions/karma-commuting.
Commencement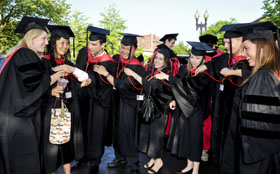 Harvard Medical School graduating class celebrates commencement with family, faculty, and friends.
@HMS
Editorial Staff
Editor: Katie DuBoff
Assistant Editor: Angela Alberti
Contributors: Shannon Patterson, Chelsea Keyes, Linda Miklas, Tania Rodriguez, Susan Vomacka