Family & Guest Activities
Families are encouraged to attend all Reunion events.
GENERAL ADMISSION TICKETS
Institute of Contemporary Art/Boston
Museum of Fine Arts, Boston
New England Aquarium
THURSDAY, MAY 29
1:30 p.m. Shopping in Boston's Back Bay
2 p.m. Fenway Park Tour
FRIDAY, MAY 30
2:30 p.m. Boston Duck Tour
8 p.m. Boston Pops: "Gatsby Night"
For more details or to register for Reunion activities, go to your class web page.
Your Reunion is
May 29–30
Mark your calendar now and make plans to come back to reconnect with classmates and rediscover HMS/HSDM.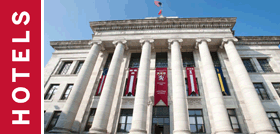 To provide you with the best Reunion experience the Alumni Relations Office reserved rooms at special rates at premiere Boston venues.