Maximize Retirement Income and Preserve Accumulated Wealth
Thursday, May 28, noon – 1:30 p.m.
Get answers to these important questions, and more:
When should I take Social Security?
How can I manage taxes in retirement?
What's the best way to leave an inheritance?
Speaker:

Named one of the "Best Financial Advisers for Doctors" by Medical Economics, Steve Dalton, a certified financial planner (CFP®), will be back by popular demand this year!
2015 Reunion:
Classes ending in 0 or 5
May 28–29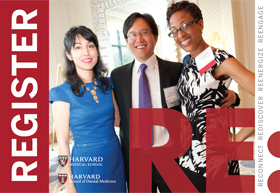 Reignite

the curiosity you enjoyed as a student. Start planning to

Reconnect

with your classmates and

Rediscover

the campus during your Reunion.