Student Profiles
Innovating
Harvard graduates invented the iron lung, cultivated the polio virus that led to vaccines, introduced insulin to the United States, mapped the visual system of the brain, created the external cardiac pacemaker, developed artificial skin, conducted the first successful kidney transplant, and much more. To be a Harvard medical student is to be inspired by a history of innovative achievements unlike any other. You will graduate equipped to help design innovative solutions to the complex challenges of modern medicine by making a significant contribution in pioneering new cures, methods of medical treatment, clinical strategies, and technologies.
Sarah Russell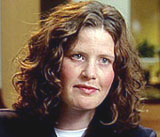 Undergraduate Major
African-American Studies
Hometown
St. Paul, Minnesota
Sarah Russell wasn't always passionate about medicine.
As a Harvard undergraduate, this St. Paul, Minnesota native majored in African-American studies. She followed this up with an M.A. in development studies from Cambridge University in England. But it wasn't until Russell spent some time living, working, and making new friends in Botswana, that she began to think about becoming a physician. "Confronting such new realities made me think a lot about the urban poor, about economic development, and about the critical connections between development and health care,"says Russell, who then applied to some of the most selective medical schools in the country before choosing Harvard.
Three years later, Russell is in the process of making the transition from the safe, structured learning environment of her pre-clinical years to the high-risk clinical settings where she must learn to make life-and-death decisions quickly and accurately. But she's not worried.
"The real strength of HMS is how well it prepares you to deal with lots of different kinds of people,"she says. "You learn to work together with different levels of knowledge, different levels of experience, and different personalities, to come up with innovative solutions to medical problems. So when you get to the wards, you're not scared make decisions and ask questions in a group, because you've been doing it for two years."
"A Harvard Medical School education is not only about working with some of the pioneers in the medical profession or with unbelievably talented and supportive students,"says Russell. "It is about access to a whole new world of innovative, incredibly rewarding experiences."
Educating
An HMS education is constantly evolving to address the complex needs of the rapidly changing landscape of modern medicine. It combines the best of theory and practice, immerses you early–and often–in patient experience, and connects you to an outstanding faculty as well as an incredible variety of clinical and research experiences. It is an inspiring experience. Not surprisingly, HMS graduates not only become socially-responsive, compassionate physicians, but often world-renowned educators who spend their own lives inspiring generations of medical students.
Jason Sanders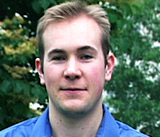 Undergraduate Major
Biochemistry
Hometown
Tulsa, Oklahoma
For Jason Sanders, life has been both a literal and an intellectual journey.
Following his first degree in biochemistry, this Tulsa, Oklahoma native traveled all the way to Oxford University in England to earn a second degree in English Literature. And it was only then that he began to seriously consider a career in medicine.
" I chose to be a doctor because I was excited about the ways in which the art of medicine makes connections among the humanities and sciences, and how it combines intellectual and altruistic motivations," says Sanders. "Medicine involves the privilege of developing trust relationships with others as they emotionally confront ailments within their bodies."
There were many factors that played a role in Sanders' decision to come to Harvard Medical School. "An outstanding reputation, the innovative curriculum, the diversity and talent of the students and faculty, the access to other programs at Harvard, the opportunity to live in Boston…they were all things that attracted me to HMS," he says. "I also had a wonderful experience meeting with my faculty admissions interviewer who continues to be a mentor as I progress through my medical training.
" Medical school is a process of transformation, and HMS provides a stimulating environment that greatly shapes your thoughts and ideas. I have the privilege of learning from faculty who truly care about our progress in medicine and in life… people who are leaders in medicine. And for me, that's what an HMS education is all about—learning to become a leader in medicine."
Exploring New Possibilities
As a student at HMS, you will be part of an institution that has been home to many Nobel Laureates and countless other medical researchers of global repute; one that offers the most advanced research facilities in the medical sciences, a vast web of opportunities through its affiliated institutions, and a total research funding in excess of $2 billion. To be an HMS graduate is to be a physician capable of redefining the global boundaries of medical research. For those interested in rankings, HMS has been ranked the country's top medical school in research by U.S. News & World Report 's "America's Best Graduate Schools" for 13 years in a row.
Anna Farago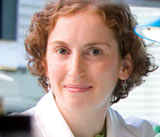 Undergraduate Major
Molecular biology
Hometown
Newton, Massachusetts
"There are some people who enter the MD/PhD program knowing exactly what research problems interest them," says Anna Farago of Newton, Massachusetts. "Then there are others, like me, who come in knowing they have an interest in scientific research but need the time and the opportunities to figure out the areas that interest them the most. Regardless of which category you fall in, everything at Harvard Medical School is designed to support you—from the incredible faculty, to the flexibility of the New Pathway curriculum, to the amazing array of clinical and research opportunities."
Anna has always loved science and understanding how things work, but as an undergraduate at Haverford College in Philadelphia she also discovered other things she was passionate about. "I did some clinical work with a group that worked with inner city children in Philadelphia and discovered that I was really interested in research as well as in teaching. The MD/PhD program at Harvard Medical School was the perfect way to combine all these interests, to explore new possibilities for the application of the sciences, and to carve out a new path for myself."
Now in her sixth year, Anna has completed two years of medical school as well as four years of her PhD program. "I applied to several other big schools," says Anna, "but I'm glad I chose Harvard. No other school can offer the diversity of faculty research interests or the breadth of research programs that you'll find here. Plus I really enjoy Boston—it is the perfect-sized city to have fun without being overwhelmed."
Serving the Community
Medell Briggs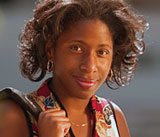 Undergraduate Major
Microbiology and molecular genetics
Hometown
Los Angeles, California
"I grew up listening to hearts," laughs Medell Briggs, a Los Angeles, California native who counts a stethoscope belonging to her aunt among her favorite childhood toys.
But while the mysteries of the human body have fascinated her for as long as she can remember, it wasn't until her first year as an undergraduate at UCLA that Medell decided to become a doctor. "As I got involved in various community service projects I made the shocking discovery that not all groups of people in this country have equal access to healthcare or receive the same quality of care," she says. "Being from an underserved community myself, I decided that becoming a doctor would be a great way to fight such disparity and to make a difference."
Now in her fifth and final year of the MD/MPH program, Medell has already worked extensively with community health projects in the surrounding communities of Mission Hill, Roxbury, and Dorchester, been involved with a women's health project in a regional hospital in Nakuru, Kenya, as well as spent a month in Chile learning about the successes and challenges of that country's recent health system reform.
" While my medical education is preparing me to become the best physician I can possibly be, my master's in public health is helping me understand the best ways to make an impact as a physician, both within my community as well as in other communities like mine," concludes Medell.