Dr. Nancy Oriol
The Power of Innovation
Dr. Nancy Oriol
Associate Professor of Anesthesia,
Dean for Students,
Director of Faculty Development, Department of Anesthesia and Critical Care, Beth Israel Deaconess Medical Center
She is a renowned anestheologist who has served as Director of Obstetric Anesthesia at Boston's Beth Israel Deaconess Medical Center—an HMS affiliate—for 15 years.
She is an acclaimed innovator, whose medical breakthroughs include the "walking epidural" (a type of labor pain relief that does not interfere with the progress of labor), a novel technique for analyzing fetal heart rate variability, and an ingenious device for newborn resuscitation.
"I like to tell my students that if you can dream it, Harvard Medical School can help you do it."
She is a dedicated educator and the recipient of numerous HMS teaching awards, the New England Women's Leadership Award in Health Care, the Massachusetts Medical Society Special Award for Excellence in Public Health, and the Louis Sullivan Award for Contributions in the Delivery of Health Care to Black Males.
Part of the HMS faculty since 1981, Dr. Nancy Oriol has served HMS students in a variety of educational and administrative roles. But what inspires her students most is her own passion for community service.
" As physicians, our biggest inspiration come from the people we serve, and at Harvard, we continually strive to bring public service into medical education," says Dr. Oriol.
In 1992, with a quarter of a million dollars raised over the telephone and the help of an energetic HMS student, Dr. Oriol founded the Family Van, a mobile preventive health and social service program that provides free education, counseling, advocacy, and health care services to Boston's economically disadvantaged neighborhoods. Serving more than 7,000 people every year, the well-equipped Winnebago van is a familiar sight in the Roxbury, Rochester, and Mattapan areas of Boston, as well as a national model for mobile health outreach.
Comparing her own experience as an HMS student to the HMS community of today, Dr. Oriol says: "I remember that my own classmates included a Jesuit priest and a Wall Street banker, while my current students include an Olympic Athlete, a published author, a watercolor artist, and a Peace Corps volunteer. What continues to be truly unique about the HMS community is the stunning range of experiences and perspectives our students bring to the world of medicine."
Our
Mission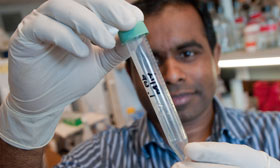 To create and nurture a diverse community
of the best people committed to leadership in alleviating human suffering caused by disease