Leaders in Teaching
Pioneering the Future of Medical Education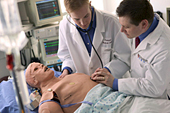 An HMS education is one that seeks to create and nurture a community of the best people committed to leadership in alleviating human suffering caused by diseases. This is why, across our ten basic and social science departments and the more than 50 clinical departments of our affiliates, HMS students learn the art of healing from extraordinarily accomplished educators.
HMS employs approximately 3,400 assistant, associate, and full professors and over 5,000 full- or part-time instructors. They are teachers who combine the best of theory and practice, who offer you access to a wealth of knowledge and experience, who encourage you to collaborate with them on their research projects, and who strive to immerse you early—and often—in clinical experiences. They are mentors who ensure that you graduate as a socially-responsive, compassionate physician and role models who may inspire you to dedicate your own professional life towards teaching medicine.
They are also innovators in medical education. From Harvard President Charles Eliot's medical reform of the 1800s, to the establishment of the Harvard-MIT Division of Health Sciences and Technology in 1971, to the New Pathway curriculum of the 1980s, HMS faculty have shaped the way medical education itself has evolved. Today, they continue to design innovative new curriculum in order to successfully bridge teaching and the practice of medicine in a new, complex, and increasingly interconnected world.
The Academy
A diverse group of faculty and trainees drawn from 15 Harvard institutions and 25 departments, the Academy exemplifies Harvard Medical School's commitment to providing educational leadership in the changing world of medicine. This innovative collaboration ensures that HMS continues to set new standards in curriculum innovation, faculty development, educational evaluation, and educational leadership. Click here for more information.
Dean for
Medical Education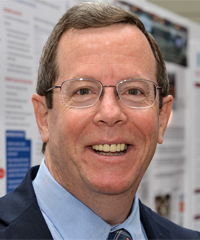 "If you want to bring the insights of the basic and social sciences to the benefit of fellow human beings, there has never been a better time to be in medicine.  We are delighted that you are interested in Harvard Medical School."
Edward M. Hundert, MD 
Dean for Medical Education 
Daniel D. Federman, MD Professor in Residence of Global Health and Social Medicine
and Medical Education