Faculty
An HMS education is a learning adventure guided by a faculty of more than 11,000 of the world's leading scientists, medical researchers and academicians, and practicing physicians.
These are the teachers you will learn from, the mentors you will depend on, the researchers you will collaborate with, and the friends who will help expand your intellectual and professional boundaries.
In classrooms, discussion halls, and laboratories; at HMS-affiliated hospitals; and within Society offices—through a powerful combination of tutorials, group discussions, classroom lectures, and clinical experiences—Harvard Medical School allows you easy access to the vast knowledge and experience of faculty who are pioneers in research, patient care, and education across every field of medicine.
A Selection of HMS Faculty Achievements
Our
Mission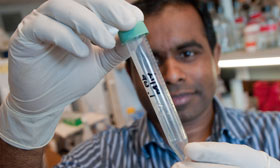 To create and nurture a diverse community
of the best people committed to leadership in alleviating human suffering caused by disease