Faculty
Faculty
---
An HMS education is a learning adventure guided by a faculty of more than 11,000 of the world's leading scientists, medical researchers and academicians, and practicing physicians.
These are the teachers you will learn from, the mentors you will depend on, the researchers you will collaborate with, and the friends who will help expand your intellectual and professional boundaries.
In classrooms, discussion halls, and laboratories; at HMS-affiliated hospitals; and within Society offices—through a powerful combination of tutorials, group discussions, classroom lectures, and clinical experiences—Harvard Medical School allows you easy access to the vast knowledge and experience of faculty who are pioneers in research, patient care, and education across every field of medicine.
A Selection of HMS Faculty Achievements
Download Full List of Honors and Awards
---
Pioneering the Future of Medicine
HMS is among the world's leading medical schools for research. In every department here you will discover not one or two, but entire teams of faculty members who are among the best researchers in their fields.
At HMS, medical research is vibrant, rigorous, and interdisciplinary. Be it within the HMS Quadrangle, at the many other distinguished departments and schools of both Harvard and MIT, or at the many institutions affiliated with HMS, both faculty and students find a world of opportunities to collaborate on cutting-edge research projects. Taking advantage of our advanced research facilities and a total research budget that exceeds $2 billion, Harvard medical researchers define, and routinely redefine, the global boundaries of medical research.
It is a commitment that yields rich dividends for the health of the world. HMS had been home to many Nobel Laureates and countless other medical researchers of global repute who have made a substantial difference in the practice of modern medicine.
HMS Nobel Laureates
George Minot,
1934, Medicine and Physiology
Research on liver treatment of the anemias (with William P. Murphy)
William P. Murphy,
1934, Medicine and Physiology
Diabetes and diseases of the blood (with George Minot)
Fritz A. Lipmann,
1953, Medicine and Physiology
Identified coenzyme A and discovered basic principles in the understanding of proteins
John F. Enders,
1954, Medicine and Physiology
Application of tissue-culture methods in developing a polio virus, the ingredient of the polio vaccine (with Frederick C. Robbins* and Thomas H. Weller)
Thomas H. Weller,
1954, Medicine and Physiology
Application of tissue-culture methods to the study of viral diseases (with John F. Enders and Frederick C. Robbins*)
Baruj Benacerraf,
1980, Medicine and Physiology
Discovered that disease-fighting ability is passed on genetically, although the immune-response gene varies from person to person
David Hubel,
1981, Medicine
Research on information-processing in the visual system (with Torsten Wiesel)
Torsten Wiesel,
1981, Medicine
Research on information-processing in the visual system (with David Hubel)
Bernard Lown, Herbert Abrams, Eric Chivian, and James Muller,
1985, Peace
Cofounders, with Evgueni Chazov, Leonid Ilyin, and Mikhail Kuzin from the Soviet Union—of the International Physicians for the Prevention of Nuclear War
Joseph E. Murray,
1990, Medicine
Developed new procedures for organ transplant (with E. Donnall Thomas, formerly of the University of Washington)
Linda Buck,
2004, Medicine
Discovered the odorant receptors and the organization of the olfactory system, explaining the sense of smell (with Richard Axel, Columbia University)
Jack Szostak,
2009, Medicine
Discovered how chromosomes are protected by telomeres and the enzyme telomerase (with Elizabeth Blackburn, UCSF and Carol Greider, Johns Hopkins)
*Robbins was awarded the Nobel Prize for work done while a member of the Harvard faculty. When the award was made, he was a member of the faculty of Western Reserve University.
---
Pioneering the Future of Patient Care
HMS faculty and alumni are also accustomed to setting new standards in patient care. They are policy makers who chart new directions for health care both nationally and internationally. They are leading physicians and innovators whose work touches hundreds of lives. Their many achievements include inventing the iron lung, cultivating the polio virus that led to vaccines, introducing insulin to the United States, mapping the visual system of the brain, creating the external cardiac pacemaker, developing artificial skin, conducting the first successful kidney transplant, and much more.
They are people who lead by example as they inspire HMS students to become medical professionals distinguished both by the quality of care they provide their patients and the compassion they bring to the medical profession.
To be a Harvard medical student is to work with faculty who pioneer the future of patient care—be it designing new cures, methods of medical diagnoses, delivery and treatment, clinical strategies and technologies, administrative models, or health care policies.
A Commitment to Cures: HMS Centers, Divisions and Institutes
Armenise–Harvard Foundation
Center for Integration of Medicine and Innovative Technology
Center of Excellence in Minority Health and Health Disparities at HMS
Dana–Farber/Harvard Cancer Center
Harvard Catalyst: The Harvard Clinical and Translational Science Center
Harvard Center for Immunodeficiency
Harvard Clinical Research Institute
Harvard Division of Health Policy Research and Education
Harvard Humanitarian Initiative
Harvard Mahoney Neuroscience Institute
Harvard Medical School Dubai Center
Harvard–MIT Division of Health Sciences and Technology
Harvard NeuroDiscovery Center
Harvard Skin Disease Research Center
HMS Center for Biomedical Informatics
HMS Center for Health and the Global Environment
HMS Center for Hereditary Deafness
HMS Center for Neurofibromatosis and Allied Disorders
HMS Center for Palliative Care
HMS Division for Research and Education in Complementary and Integrative Medical Therapies
HMS Division of AIDS
HMS Division of Emergency Medicine
HMS Division of Medical Ethics
Harvard Division of Nutrition
HMS Division of Service Learning
HMS Division of Sleep Medicine
HMS Division on Primary Care
HSDM and HMS Center for Craniofacial Tissue Engineering
ICCB-Longwood Screening Facility
Juvenile Diabetes Research Foundation Center on Immunological Tolerance in Type 1 Diabetes at HMS
MIT/HMS Center for Magnetic Resonance
New England Primate Research Center
New England Regional Center of Excellence: Biodefense and Emerging Infectious Diseases
---
Pioneering the Future of Medical Education
An HMS education is one that seeks to create and nurture a community of the best people committed to leadership in alleviating human suffering caused by diseases. This is why, across our ten basic and social science departments and the more than 50 clinical departments of our affiliates, HMS students learn the art of healing from extraordinarily accomplished educators.
HMS employs approximately 3,400 assistant, associate, and full professors and over 5,000 full- or part-time instructors. They are teachers who combine the best of theory and practice, who offer you access to a wealth of knowledge and experience, who encourage you to collaborate with them on their research projects, and who strive to immerse you early—and often—in clinical experiences. They are mentors who ensure that you graduate as a socially-responsive, compassionate physician and role models who may inspire you to dedicate your own professional life towards teaching medicine.
They are also innovators in medical education. From Harvard President Charles Eliot's medical reform of the 1800s, to the establishment of the Harvard-MIT Division of Health Sciences and Technology in 1971, to the New Pathway curriculum of the 1980s, HMS faculty have shaped the way medical education itself has evolved. Today, they continue to design innovative new curriculum in order to successfully bridge teaching and the practice of medicine in a new, complex, and increasingly interconnected world.
---
The Academy
A diverse group of faculty and trainees drawn from 15 Harvard institutions and 25 departments, the Academy exemplifies Harvard Medical School's commitment to providing educational leadership in the changing world of medicine.
Formed in 2001, the mission of the Academy is to renew and reinvigorate the educational mission of Harvard Medical School. A group of distinguished HMS teaching faculty have been designated Academy members and compose a community of educational scholars who work to enhance the status and skills of all teaching faculty and serve as catalysts for educational innovation. Academy members share a demonstrated commitment to and passion for teaching and a desire to improve the educational environment. By bringing together a wealth of experiences from tertiary care, community, and laboratory settings, the Academy membership ensures that HMS will continue to be a leader in curriculum innovation, faculty development, educational evaluation, and educational scholarship.
Our
Mission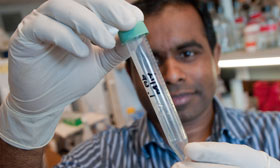 To create and nurture a diverse community
of the best people committed to leadership in alleviating human suffering caused by disease