The Experience
The HMS Academic Experience
Diversity.
You will discover it to be the essence of your academic experience at Harvard Medical School.
At HMS:
 Regardless of your individual interests and goals, you will collaborate with a diverse, vibrant faculty comprised of some of the most talented and passionate medical practitioners in the world.
Throughout your four years, you will study with—and learn from—classmates who come to HMS from many different countries. From the rich diversity of their individual ethnic, cultural, social, and educational experiences, you will learn about the world. The knowledge you gain will help you develop into a socially responsible, ethical, deeply compassionate healer.
You will discover an extraordinary diversity of empowering programs that allow you to take advantage of the many educational and technological resources offered by HMS, the other faculties at Harvard, and our many internationally recognized affiliated institutions. The flexibility inherent in an HMS education will enable you to broaden and substantially enlarge your medical horizons and ambitions.
Regardless of your fields of interest, you will enjoy easy access to the world's leading investigators, and collaborate with them on cutting-edge research projects.
You will also be enriched by diverse service opportunities that allow you to participate in serving underprivileged and underserved communities, both locally and on different continents across the world.
As one of the world's most recognized medical schools, HMS offers an unmatched diversity of opportunities. It is an education designed to create leaders in medicine.
It is an experience unlike any other.
---
The Year I & II Experience
Through classes and lectures held in the Daniel C. Tosteson Medical Education Center (TMEC), through long hours in the library and at various laboratories, through actual patient contact, and through passionate medical discussions with classmates in the TMEC atrium, at the various Society offices and elsewhere, you will spend your first two years at HMS exploring the fundamentals of modern medicine.
Year I focuses on human physiology and the biomedical sciences. You will master concepts in morphology; biochemistry; physiology; pharmacology; developmental and molecular biology; pathology, microbiology, and immunology; and in neurosciences. You will also take courses in behavioral, social, and preventive medicine, including the statistical sciences and epidemiology.
Year II is centered on the study of pathophysiology, where you will investigate and understand the various structural, functional, and clinical dimensions of human disease. You will also prepare to take Step I of the United States Medical Licensing Examination.
For New Pathway students, the first two years are largely self-directed and independent. Adopting an investigative, problem-based team approach, they study basic and clinical science through small, highly interactive tutorials that are complemented by class lectures, laboratory and library work, and conferences. HST students attend courses developed jointly by the faculties of both Harvard and MIT. They also often spend the summer in between these two years collaborating with faculty on various biomedical and health care research projects.
Irrespective of the path you choose, you will always remember these years as an incredible voyage of discovery.
---
The Year III & IV Experience
These are the clinical years when your medical education comes alive, when you learn the practice of medicine by practicing your skills in real-world clinical settings.
During these demanding years, all HMS students immerse themselves in one- to three-month clerkships at the various world-class hospitals affiliated with HMS. They work with real patients and renowned doctors in the different fields of medicine—including surgery, pediatrics, obstetrics and gynecology, neurology, psychiatry, and radiology. They participate in primary care clerkships, working half a day every week at the offices of a primary care internist, pediatrician, or family physician. They also prepare to take Step II of the United States Medical Licensing Examination.
New Pathway students often create their own specialized clinical experiences and clerkships to take advantage of the incredibly diverse opportunities offered by HMS and its affiliated hospitals. They can also examine the many connections between the basic sciences and clinical practice through month-long advanced biomedical science courses.
HST students complement their clinical clerkships with HST-specific clinical electives that allow them to conduct in-depth research into the scientific basis of clinical medicine. They also continue to work on individual research projects, eventually presenting their findings to HMS in the form of a scholarly thesis.
Confronted with the everyday visceral and emotional realities of the practice of medicine, HMS students find these years both challenging and incredibly fulfilling. The HMS Affiliated Hospitals and Institutions:
• Beth Israel Deaconess Medical Center
• Brigham and Women's Hospital
• The Cambridge Hospital
• Children's Hospital Boston
• The Dana-Farber Cancer Institute
• The Forsyth Institute
• Harvard Pilgrim HealthCare
• The Immune Disease Institute
• Joslin Diabetes Center
• Judge Baker Children's Center
• Massachusetts Eye and Ear Infirmary
• Massachusetts General Hospital
• Massachusetts Mental Health Center
• McLean Hospital
• Mount Auburn Hospital
• Schepens Eye Research Institute
• Spaulding Rehabilitation Hospital
• VA Boston Healthcare System
Our
Mission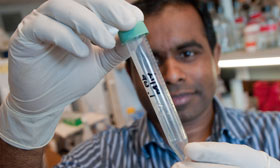 To create and nurture a diverse community
of the best people committed to leadership in alleviating human suffering caused by disease
Sestinas from
the Clinic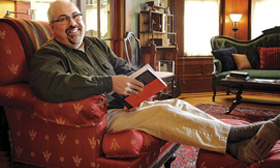 Associate Professor of Medicine, straddles medicine and metonymy. Photo by Stu Rosner
Physicians as
Leaders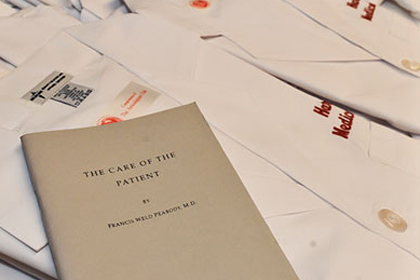 Jessica Hohman writes about her time in Physicians as Leaders with classmates as they are about to begin residency.