Simulation
Simulation
Chair:
James Gordon, MD MPA
Members:
Christian Arbelaez, MD MPH
Laura Avery, MD
Kriti Bhatia, MD
Richard Blum, MD
Debra Boyer, MD
Calvin Brown, MD
James Burns, MD
Jeffrey Cooper, PhD
Steve Dawson, MD
Marc de Moya, MD
Emma Eggleston, MD
Alice Flaherty, MD PhD
Ariel Frey-Vogel, MD
Emily Hayden, MD
John Herman, MD
Daniel Jones, MD MS
B. Price Kerfoot, MD EdM
Kimberly Khoury, MD
Jean Klig, MD
Carolyn Kloek, MD
Brian Labow, MD
Malcolm Mackenzie, MD
Michael Muto, MD
Joshua Nagler, MD
Nancy Oriol, MD
John Pawlowski, MD PhD
Roy Phitayakorn, MD
May Pian-Smith, MD MS
Kate Powis, MD
Charles Pozner, MD
Jan Pruszak, MD
Laura Rock, MD
Celeste Royce, MD
Fidencio Saldana, MD
Shannon Scott-Vernaglia, MD
Gary Setnik, MD
David Sloane, MD
Douglas Smink, MD MPH
Kamen Vlassakov, MD
Kathleen Wittels, MD
Steven Yule, PhD
Summary of Activity for AY13
The HMS Academy Simulation Interest Group continues to serve as a resource to support simulation programming across the HMS community, and to provide a forum for collaboration across affiliated simulation centers.  
This past year (AY13) the interest group sponsored a Simulation Symposium as a major faculty development offering in the fall, organized with leadership from all HMS-affiliated simulation centers/programs.  A simulation Student Interest Group was also developed on-campus, providing faculty-supervised "on-demand" educational sessions at TMEC (offered in addition to course-based simulation programming).  These sessions also provided opportunities for senior students to develop as "teaching assistants" to support tutorial-based simulation sessions in the pre-clerkship curriculum.  
Quarterly meetings continue as part of a city-wide simulation consortium, held in collaboration with CIMIT and the Center for Medical Simulation.  This year also saw renovation of the HMS Simulation Lab, which will provide upgraded simulation resources as part of a comprehensive new OSCE/skills suite.
Into AY14, the role of simulation in pre-clerkship curricular reform will be a particular focus of attention. The Interest Group will continue to serve as a resource for sharing best practices in clerkship-based simulation, and to support new/future skills planning efforts in TMEC.
Our
Mission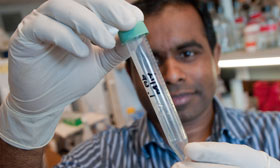 To create and nurture a diverse community
of the best people committed to leadership in alleviating human suffering caused by disease