Critical Thinking
Co Chairs:
Edward Krupat, PhD
Richard Schwartzstein, MD
2015-2016 Members: TBA 
---
---
The Academy Critical Thinking interest group seeks to:
Define strategies, milestones, and assessment techniques for critical thinking

Develop faculty development to support teaching of critical thinking
The Critical Thinking Interest Group continued to be a focal point for vigorous discussion and exploration of many facets of analytical reasoning. Dr. Keith Baker led one session looking at a range of models of thinking and their relationship to fundamental neurobiological principles that relate to learning. Dr. Richard Schwartzstein shared a construct that outlines milestones of critical thinking, which represented the work of a task force emanating from a national conference sponsored by the Shapiro Institute for Education at Harvard Medical School and Beth Israel Deaconess Medical Center. Dr. Ed Krupat discussed results from an ongoing research study examining a new model for assessing critical thinking as it pertains to clinical cases.
The group sponsored a faculty workshop, led by Drs. Schwartzstein and Jeremy Richards, on the use of concept maps to foster inductive reasoning. Finally, the members of the interest group took turns leading journal clubs focused on education literature focused on critical thinking and clinical reasoning.
---
2014-2015 Meeting Agenda and Materials:
1/8/15 Meeting:
Agenda 
2/11/15 Meeting:
Agenda
Article 1
Article 2 
 
---
2013-2014 Meeting Agenda and Materials: 
6/9/14 Meeting
6/9/14 Agenda
Article Norman G, Sherbino J, Dore K, Wood T, Young M, Gaissmaier W, Kreuger S, Monteiro S. The etiology of diagnostic errors: a controlled trial of system 1 versus system 2 reasoning. Acad Med. 2014 Feb; 89(2):277-84. 
3/31/14 Meeting:
3/31/14 Agenda
Journal Article Discussion: 
Article 1: Why do doctors make mistakes? A study of the role of salient distracting clinical features. Mamede S, van Gog T, van den Berge K, van Saase JL, Schmidt HG.Acad Med. 2014 Jan;89(1):114-20. 
Article 2 How can students' diagnostic competence benefit most from practice with clinical cases? The effects of structured reflection on future diagnosis of the same and novel diseases. Mamede S, van Gog T, Sampaio AM, de Faria RM, Maria JP, Schmidt HG. Acad Med. 2014 Jan;89(1):121-7.
6/10/2013 Meeting:
6/10/2013 Agenda
Journal Article Discussion:   Williams, R. G., and D. L. Klamen. "Examining the Diagnostic Justification Abilities of Fourth-Year Medical Students." Academic medicine: Journal of the Association of American Medical Colleges (2012). Discussion led by Dr. Charles Day.
3/18/2013 Meeting:
3/18/2013 Agenda
Journal Article Discussion:  Durning SJ, Artino A, Van der  Vleuten CPM, Schuwirth  LWT. Clarifying Assumptions to Enhance Our Understanding and Assessment of Clinical Reasoning. Academic Medicine. Academic Medicine, Vol. 88, No. 4 / April 2013
12/02/13 Meeting:
12/02/2013 Agenda
Video-based cases disrupt deep critical thinking in problem-based learning
9/23/2013 Meeting:
9/23/2013 Agenda
Custers, Eugène JFM. "Medical education and cognitive continuum theory: An alternative perspective on medical problem solving and clinical reasoning." Academic Medicine 88.8 (2013): 1074-108
---
2010-2012 Meetings Agenda and Materials: 
8/17/2010 Meeting:
8/17/2010 Minutes
1/10/2011 Meeting:
1/10/2011 Agenda
1/10/2011 Minutes
Bowen, Judith L. (2006). Educational Strategies to Promote Clinical Diagnostic Reasoning. Medical Education. 355;21. 2217-25.
Mylopoulos, Maria. Regehr, Glenn. (2007). Cognitive metaphors of expertise and knowledge:prospects and limitations for medical education. Medical Education. 41;12. 1159-1165.
3/31/2011 Meeting:
3/31/2011 Agenda
Learning and Scientific Reasoning - Science 2009
Learning and Scientific Reasoning - SOM
Rogal, Sonya M. Exploring Critical Thinking in Critical Care Nursing Education: A Pilot Study. 2008. Journal of Continuing Education in Nursing. 39; 1.
5/11/2011 Meeting:
5/11/2011 Agenda
9/26/2011 Meeting:
9/26/2011 Agenda
9/26/2011 Minutes
11/17/2011 Meeting:
11/17/2011 Agenda
11/17/2011 Minutes
1/26/2012 Meeting:
1/26/2012 Agenda
1/26/2012 Minutes
FMRI - Xray
3/7/2012 Meeting:
3/7/2012 Minutes
Dr. Andrea Gwosdow biography
4/26/2012 Meeting:
4/26/2012 Agenda
4/26/2012 Minutes
10/3/2012 Meeting:
10/3/2012 Agenda
10/3/2012 Minutes
12/17/2012 Meeting:
12/17/2012 Agenda
Bordage, G. 1999. Why did I miss the diagnosis? Some Cognitive Explanations and Educational Implications. Academic Medicine. Vol 74, No 10.
1/30/2012 Meeting:
1/30/2012 Agenda
Nouh T, Boutros M, Gagnon R, Reid S, Leslie K, Pace D, Pitt D, Walker R, Schiller D, MacLean A, Hameed M, Fata P, Charlin B, Meterissian SH. The script concordance test as a measure of clinical reasoning: a national validation study. Am J Surg. 2012 Apr;203(4):530-4. doi: 10.1016/j.amjsurg.2011.11.006
PowerPoint Slides for Discussion led by Leo Ginns, MD
---
Click here for a full bibliography of Critical Thinking Resources.
Interest Group Resources:
(Please note: In order to view the resources below, you must be logged into eCommons in a separate tab in the same browser window in order to view).
Instructions to view password protected resources
Press CTRL+T to open a new tab
Log into eCommons in that new tab
Return to the Academy website tab and click on the resource you wish to view
If you are logged in as instructed, the article/ resource will pop up. If you are not logged in as instructed, you will receive an error message.
---
Our
Mission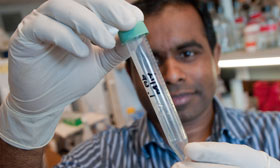 To create and nurture a diverse community
of the best people committed to leadership in alleviating human suffering caused by disease