Critical Thinking
Co Chairs:
Edward Krupat, PhD
Richard Schwartzstein, MD
2015-2016 Members: TBA 
---
---
The Academy Interest Group on Critical Thinking had a busy and successful year. The highlight of the year involved the group's sponsorship of Medical Education Day on Oct. 25, 2011. Planned by Interest Group members David Roberts and Keith Baker, the theme for the day was "Teaching Critical Thinking Skills: From Theory to Practice." Mark Quirk of the University of Massachusetts Medical School, our keynote speaker, gave a very well received presentation on why we should, and how we can, shift the medical education paradigm from knowledge to critical thinking; and workshops were offered on concept mapping, assessment of critical thinking, the utility of failure in learning, and utilizing critical thinking teaching techniques at the bedside, in small groups and in the lecture hall. Many of the interest group members served as workshop leaders and facilitated enthusiastic and insightful discussion.
Meetings of the Interest group subsequent to Medical Education Day focused on proposing ways of building upon the excitement and momentum generated by that program. Discussions and tentative plans focused on several strategies for teaching and enhancing critical thinking, both for experienced and relatively inexperienced faculty. Plans are being made to introduce tutorial faculty into new means of incorporating techniques to encourage critical thinking into all FOM courses, and to initiate peer observation sessions that focus on feedback on instructors' skills in encouraging critical thinking in both large-group and small-group settings. Discussions of the Group also centered on how best to use simulation to encourage critical thinking, how to encourage students to appreciate the distinction between the mere operations of the physical exam vs. using the exam to engage in physical  diagnosis, and how to make best use of and further encourage curiosity among students. Group members heard presentations from faculty both in and beyond the Interest Group about several instructional innovations, in various states of development and implementation, in which Course Directors have revised teaching methods, content, and exams with the goal of getting students to take an active and analytic role in their learning. The challenge for the group in the coming year will be to encourage closer scrutiny of our goals, thereby defining a role for our Group in curriculum reform. In particular, we hope to expand the critical thinking orientation across the curriculum so that students consistently receive the message that we want them to question, to think, and to discover, not simply to absorb information.
---
2013-2014 Meeting Agenda and Materials: 
6/9/14 Meeting
6/9/14 Agenda
Article Norman G, Sherbino J, Dore K, Wood T, Young M, Gaissmaier W, Kreuger S, Monteiro S. The etiology of diagnostic errors: a controlled trial of system 1 versus system 2 reasoning. Acad Med. 2014 Feb; 89(2):277-84. 
3/31/14 Meeting:
3/31/14 Agenda
Journal Article Discussion: 
Article 1: Why do doctors make mistakes? A study of the role of salient distracting clinical features. Mamede S, van Gog T, van den Berge K, van Saase JL, Schmidt HG.Acad Med. 2014 Jan;89(1):114-20. 
Article 2 How can students' diagnostic competence benefit most from practice with clinical cases? The effects of structured reflection on future diagnosis of the same and novel diseases. Mamede S, van Gog T, Sampaio AM, de Faria RM, Maria JP, Schmidt HG. Acad Med. 2014 Jan;89(1):121-7.
6/10/2013 Meeting:
6/10/2013 Agenda
Journal Article Discussion:   Williams, R. G., and D. L. Klamen. "Examining the Diagnostic Justification Abilities of Fourth-Year Medical Students." Academic medicine: Journal of the Association of American Medical Colleges (2012). Discussion led by Dr. Charles Day.
3/18/2013 Meeting:
3/18/2013 Agenda
Journal Article Discussion:  Durning SJ, Artino A, Van der  Vleuten CPM, Schuwirth  LWT. Clarifying Assumptions to Enhance Our Understanding and Assessment of Clinical Reasoning. Academic Medicine. Academic Medicine, Vol. 88, No. 4 / April 2013
12/02/13 Meeting:
12/02/2013 Agenda
Video-based cases disrupt deep critical thinking in problem-based learning
9/23/2013 Meeting:
9/23/2013 Agenda
Custers, Eugène JFM. "Medical education and cognitive continuum theory: An alternative perspective on medical problem solving and clinical reasoning." Academic Medicine 88.8 (2013): 1074-108
---
2010-2012 Meetings Agenda and Materials: 
8/17/2010 Meeting:
8/17/2010 Minutes
1/10/2011 Meeting:
1/10/2011 Agenda
1/10/2011 Minutes
Bowen, Judith L. (2006). Educational Strategies to Promote Clinical Diagnostic Reasoning. Medical Education. 355;21. 2217-25.
Mylopoulos, Maria. Regehr, Glenn. (2007). Cognitive metaphors of expertise and knowledge:prospects and limitations for medical education. Medical Education. 41;12. 1159-1165.
3/31/2011 Meeting:
3/31/2011 Agenda
Learning and Scientific Reasoning - Science 2009
Learning and Scientific Reasoning - SOM
Rogal, Sonya M. Exploring Critical Thinking in Critical Care Nursing Education: A Pilot Study. 2008. Journal of Continuing Education in Nursing. 39; 1.
5/11/2011 Meeting:
5/11/2011 Agenda
9/26/2011 Meeting:
9/26/2011 Agenda
9/26/2011 Minutes
11/17/2011 Meeting:
11/17/2011 Agenda
11/17/2011 Minutes
1/26/2012 Meeting:
1/26/2012 Agenda
1/26/2012 Minutes
FMRI - Xray
3/7/2012 Meeting:
3/7/2012 Minutes
Dr. Andrea Gwosdow biography
4/26/2012 Meeting:
4/26/2012 Agenda
4/26/2012 Minutes
10/3/2012 Meeting:
10/3/2012 Agenda
10/3/2012 Minutes
12/17/2012 Meeting:
12/17/2012 Agenda
Bordage, G. 1999. Why did I miss the diagnosis? Some Cognitive Explanations and Educational Implications. Academic Medicine. Vol 74, No 10.
1/30/2012 Meeting:
1/30/2012 Agenda
Nouh T, Boutros M, Gagnon R, Reid S, Leslie K, Pace D, Pitt D, Walker R, Schiller D, MacLean A, Hameed M, Fata P, Charlin B, Meterissian SH. The script concordance test as a measure of clinical reasoning: a national validation study. Am J Surg. 2012 Apr;203(4):530-4. doi: 10.1016/j.amjsurg.2011.11.006
PowerPoint Slides for Discussion led by Leo Ginns, MD
---
Click here for a full bibliography of Critical Thinking Resources.
Interest Group Resources:
(Please note: In order to view the resources below, you must be logged into eCommons in a separate tab in the same browser window in order to view).
Instructions to view password protected resources
Press CTRL+T to open a new tab
Log into eCommons in that new tab
Return to the Academy website tab and click on the resource you wish to view
If you are logged in as instructed, the article/ resource will pop up. If you are not logged in as instructed, you will receive an error message.
---
Our
Mission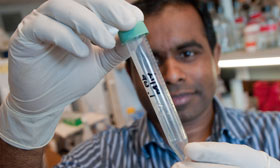 To create and nurture a diverse community
of the best people committed to leadership in alleviating human suffering caused by disease