Educational Research Review Process
Educational Research Review Process
The Academy is responsible for the scientific review and approval of educational research with the following as research subjects: HMS medical students, and faculty who teach medical students.  In both cases, the Academy Scientific Review Committee will review the application to ensure proposals meet acceptable standards of scientific rigor and merit and align with the HMS educational mission, values, and priorities.  All questions related to the Academy approval process can be directed to academy_research@hms.harvard.edu
 
IMPORTANT UPDATE: HMS has transitioned to a paperless IRB system as of March, 2013. ESTR, the Electronic Submission, Tracking, and Reporting System, is a university-wide effort to consolidate and streamline all IRB-related activities. Investigators who are conducting medical education research will still need Academy approval for research that includes students or faculty as research subjects. The requirements and guidelines for Academy review are described below. Please check this website for ongoing updates as we refine our coordination with this new system.
IMPORTANT LINKS
Information and forms for submitting your application are available at irb.harvard.edu
Office of Human Research Administration http://hms.harvard.edu/departments/office-human-research-administration
IRB Investigator Manual: http://hms.harvard.edu/departments/office-human-research-administration/investigator-manual
How do I get started?
Go to irb.harvard.edu, and use your Harvard ID and password to sign on to the system. Click on "create new study," and you will see a blank "SmartForm" that includes a series of questions related to your study (Study Title, Personnel, etc). Depending on your answers, the SmartForm will direct you to fill out additional forms or answer more detailed questions relevant to your study. A research protocol template will also be provided for you to describe the study design, methods, recruitment, and consent process. While you are working on your research protocol document, you can save it on your computer or flash drive, and upload it to your ESTR account when it is completed. Other study documents (such as consent forms, survey instruments, and recruitment material) must also be uploaded to ESTR. When your study documents are ready to go, you will click "submit" and the IRB will begin the intake process. Once the IRB receives your application, all medical education research involving medical students or HMS faculty as research subjects will be forwarded to the HMS Academy for review prior to being reviewed by the IRB. All medical education research with students or faculty as research subjects, even those that receive a determination of "not human subjects research" by the IRB or studies that are exempt from continuing IRB review, require Academy approval.
 
What is the process for review?
Step 1: Electronic Submission
• Study PI submits proposal via the link http://www.irb.harvard.edu as described above.
• Checklist for Proposal Submission  
Step 2: Academy and Deans' review
• An IRB staff member will determine if study meets criteria for Academy review, and if so, forwards the application to the HMS Academy Review Group. The Academy Office will then send investigators a link to a brief online form where they can describe the involvement of students and timing of data collection. This will allow Academy reviewers to assess the potential research burden on students.
• Academy reviewers will review the protocol for scientific merit, alignment with HMS curricular priorities, and student burden. Initial review results will fall into one of three categories: approved, conditional approval, or not approved. There are many requests to conduct research studies with students as participants, so unfortunately not all proposals can be approved. Applicants who receive conditional approval may choose to revise and resubmit their application. Academy reviewers will provide feedback to investigators within one week.
• Studies that are approved by Academy reviewers are forwarded to the Dean for Students (for survey studies) and the Dean for Education (all studies).
Step 3: IRB review
• The Academy will notify the IRB of the outcome of the Academy review. Studies that receive approval from the Academy and the Offices of the Dean for Students and Dean for Medical Education will be reviewed by the IRB. IRB reviewers will work directly with the PI to address any IRB-related concerns or requirements for revision.
FAQs
Where do I learn more about ESTR?
The IRB has information and training related to the new system: http://hms.harvard.edu/departments/office-human-research-administration/...
 
Are there different forms for exempt, expedited, or full board studies?
No – there is the interactive SmartForm in ESTR that will direct you to fill out the information needed for exempt, expedited, or full board studies. Under the 'Study Scope' SmartForm you will have to either upload a Not Human Subjects Research Determination Form or the Research Protocol Template. To read more about submission requirements, please refer to the IRB Investigator Manual: http://hms.harvard.edu/departments/office-human-research-administration/investigator-manual.
 
How do I provide needed signatures for my study?
Medical education research applications require the signature of the Principal Investigator (PI) and the PI's Department Chair. In addition, studies that involve a course or clerkship require all study site course director and/or clerkship director approval. Signatures can be obtained as follows:
• PI and Department Chair: The SmartForm will allow the PI to submit an electronic signature via a "PI Assurance" checkbox on the form, and provides a place to input department chair contact information. The ESTR system will route the proposal to the department chair for his/her electronic signature.
• Course Director/Clerkship Director(s) signatures (as appropriate): If the study involves an HMS Course or Clerkship, it is the responsibility of the PI to obtain letters of support or email approvals from all course or clerkship directors. These approvals can be uploaded as supplementary documents on ESTR. 
 
What about submitting my CV and CITI training documents?
Investigators are no longer required to submit their CVs. CITI documentation needs to be submitted to the IRB only once every three years; this will no longer be required to be submitted with each new study.
 
How does this process work when the Principal Investigator is a medical or dental student?
Students who are conducting research (either as their independent work or as part of their scholarly project) require approval by the Scholars in Medicine Office (SMO) (see their website on MyCourses for details).
Our
Mission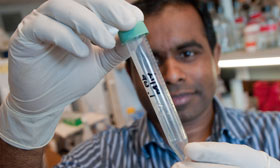 To create and nurture a diverse community
of the best people committed to leadership in alleviating human suffering caused by disease