Academy Insights
Academy Insights
HMS Academy Insights, the Academy's monthly published web-based e-newsletter, promotes and enhances faculty development of a large medical educator community across HMS and its affiliated hospitals. Through publication of the Academy Insights, we link medical educators across institutions, foster collaboration and build community, recognize our members' achievements and highlight academic scholarship in the field of medical education. Academy Insights provides direct links to useful educational resources including journal articles, books, apps, websites, presentations, and other teaching tools
---
Academy Insights: Vol. 7, No. 2
Education Matters Video Series
Now That He Have Found the "Hidden Curriculum", What Do We Do About It? - A Workshop Facilitator's Reflection
Jason Fogler, M.A., Ph.D.,
Staff Psychologist, Developmental Medicine Center Boston Children's Hospital
(Representing the Hidden Curriculum & Cross Cultural Care HMS Academy Interest Groups)

After working together since Fall 2016, the Hidden Curriculum & Cross Cultural Care HMS Academy Special Interest Groups conducted an innovative workshop for HMS faculty, Giving Voice to The "Silent" Curriculum: Cultural Sensitivity, Explicit Reflection, and the Role of the Bystander in Medical Education.  Our workshop, presented at last fall's HMS Medical  Education Day and this March, followed in the tradition of transcultural nursing and cultural competence, which emphasizes practical tools and case-based learning. (1,2) While focusing first on racial bias, and then on broader issues related to cultural bias, it challenges educators in two ways:
1. First, to consider implicit bias in even more widespread areas of our teaching and practice (Where have you encountered such hidden messages?).  Participants were then challenged to turn such experiences into teaching moments - guided by explicit reflection and discussion. 
2. Second, to recognize the disempowering effect of a silent bystander, and empower learners and teachers alike to step forward.  Only by speaking up can we transform the hidden curriculum into a kind, culturally sensitive, up-stander culture.
The cases, provocative but very much "in the grey", were discussed for about 30-40 minutes each.  The first case was derived from a published report and asked the group what they would do if a "family requests a white doctor" (3).  The second case was different at each workshop: One was a videotaped testimonial by one of our faculty education leaders recounting the experience of a medical student of color who felt offended by an attending physician's racially charged analogies during his demonstration of a surgical procedure.  The last exercise was a composite case of implicit bias toward a suicidal transgendered patient.  Participants were challenged to discuss: what do we miss in our own practice and teaching?  How can we find the courage, time, and space to collectively reflect on such implicit biases and how they affect learners, patients, staff, or other members of our health care community?
Central themes were identified:
1. Who are we responsible to when a family "requests a White doctor" - the family, the resident, or the hospital - and how do we balance demands for patient care, creating a safe learning environment, and standing up for higher ethics and values?  
2. Once the superordinate goal of urgent care/saving a child's life is no longer a consideration, we each have a complicated subjective algorithm by which we balance the needs of patients, students, and institutions.  The majority felt less discomfort about trying to accommodate a Muslim patient's request for a same-sex provider than when the patient requesting a White doctor was assumed to be White and Judeo-Christian.  
3​. How do we address a biased remark, informally with a peer, and more importantly with an attending physician - or someone at a perceived higher level of power and seniority?  As a Cognitive-Behavioral Therapist by training, I was impressed by the accumulated toolbox of suggestions offered by the group, ranging from exaggerated, subversive jokes (e.g., "Are you trying to say that all 'those' people should be locked up and denied care?"), to bringing the case to departmental chiefs, to drafting a "Statement of Values".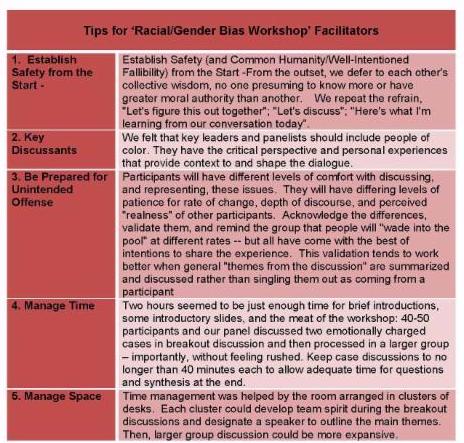 We provide some tips in the sidebar that follows, but it was the group's consensus that we were "preaching to the choir".  There was great interest on the part of the participants to get the message out to "the ones who really need to hear it".  Mirroring the changes in safety culture, it is notable that there has been a shift from attacking or correcting particular bad actors or "apples."  As in the bullying research field, we believe in medicine the focus should also be on empowering bystanders. This is only a start, but we hope that the momentum generated by these workshops will lead to some initiatives from the Academy's special interest groups towards meaningful changes in attitudes, behaviors, and hospital cultures.  Toward this end, on behalf of our SIGs, I would welcome your feedback as an engaged community of educators about ideas and appropriate platforms for disseminating these ideas and carrying them forward.  Please contact me at: Jason.Fogler@childrens.harvard.edu, making sure to include "diversity" or "implicit bias" in your subject line. 
Other Resources & Further Reading:
1. Papadopoulos, I, Shea, S., Taylor, G., Pezzella, A., & Foley, L.  Journal of Compassionate Health Care (2016) 3:2 DOI 10.1186/s40639-016-0019-6
2. Papadopoulos, I., & Pezzella, A. (2015, June).  The IENE3 Tools Report: Learning Tools for Intercultural Education of Healthcare Practitioners in Europe.  UK: Lifelong Learning Programme.
3. Reynolds KL. When a family requests a white doctor. Pediatrics 2015; 136 (2): 381-.
Acknowledgements - Special thanks to Alan Woolf, Sigall Bell, and Jennifer Kesselheim. 
To read more from the April Insights click here 
Our
Mission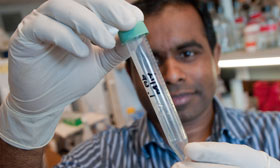 To create and nurture a diverse community of the best people committed to leadership in alleviating human suffering caused by disease