Academy Insights
Academy Insights
HMS Academy Insights, the Academy's monthly published web-based e-newsletter, promotes and enhances faculty development of a large medical educator community across HMS and its affiliated hospitals. Through publication of the Academy Insights, we link medical educators across institutions, foster collaboration and build community, recognize our members' achievements and highlight academic scholarship in the field of medical education. Academy Insights provides direct links to useful educational resources including journal articles, books, apps, websites, presentations, and other teaching tools
---
Academy Insights: Vol. 6, No. 9
---
The Journey of Diversity   


By Gilianne Jawahir
Picture:Andre Churchwell,MD
On December 16th, 2015 The Harvard Medical School Academy was honored to end their Fall 2015 Medical Education Grand Rounds Series with an inspiring presentation by Harvard Medical School alumus, Andre L. Churchwell, M.D., Senior Associate Dean for Diversity Affairs and Professor of Medicine, Cardiology, Radiology and Radiological Sciences and Biomedical Engineering at Vanderbilt University School of Medicine
Dr. Churchwell began with his own poem written to honor his father, "Aging or Twisting Your Life Away." In this poem, Dr. Churchwell used biological analogies to represent the struggles and realities of life, and how one should choose to endure, and enjoy life as much as possible accepting life as a journey. The message behind this poem was a perfect segue to the presentation, "Building Diversity: A Voyage."
During his presentation he explored and illustrated the pressing yet masked topic of diversity-focusing primarily on how to build diversity in the medical education field. One of the points Dr. Churchwell touched on was the diversification of an institution's faculty. There is a significantly low number of underrepresented minority faculty members in Graduate Medical Education. According to Dr. Churchwell, it is crucial to diversify the faculty of an institution because it allows for more innovative thoughts and builds a stronger institution. Faculty diversity also provides a level of support and motivation for underrepresented minority students both current and perspective. Broadening an institution's diversity in this case a medical school will strengthen the end goal of medical education: creating open-minded, well-rounded doctors who administer genuine care and empathy to their patients, and create a trusting patient-doctor relationship.
Dr. Churchwell further emphasize the need for faculty education on the topic of diversity so that faculty can support all students, and especially understand those who are underrepresented. Vanderbilt University of Medicine has interwoven mandatory Unconscious Bias Training into their faculty development. These sessions teach faculty members how to recognize and avoid "unconscious bias, conscious bias, stereotype threat and racial anxiety" in different teaching environments, i.e. wards vs classroom setting. This level of faculty development is crucial in guaranteeing a supportive, positive environment for underrepresented students.
All in all, Dr. Churchwell's Medical Education Grand Round presentation exemplified the significance in creating an all-around diverse medical education community. His message drove home the importance of recognizing the issues for underrepresented students who are lacking support and motivation in many institutions. Once this problem is recognized, it is the institution's duty to find ways not only to build diversity, but to create an environment that is suitable and positive for all. And most importantly, as stated by Dr. Churchwell, we must be aware and accepting that just like life, building diversity is a journey...a voyage.
If you missed Dr. Churchwell's presentation and would like to listen you can find it here!
To read more from this Insights click here 
Our
Mission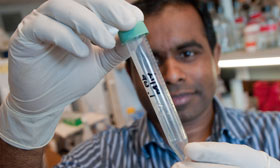 To create and nurture a diverse community of the best people committed to leadership in alleviating human suffering caused by disease