Academy Insights
Academy Insights
HMS Academy Insights, the Academy's monthly published web-based e-newsletter, promotes and enhances faculty development of a large medical educator community across HMS and its affiliated hospitals. Through publication of the Academy Insights, we link medical educators across institutions, foster collaboration and build community, recognize our members' achievements and highlight academic scholarship in the field of medical education. Academy Insights provides direct links to useful educational resources including journal articles, books, apps, websites, presentations, and other teaching tools
---
Academy Insights: Vol. 7, No. 5
About a New Integrated Oral Health and Primary Care Education in the Dental Student Clinic  
Sang E. D.D.S., Associate Dean for Dental Education, HSDM 
 

Harvard School of Dental Medicine (HSDM) implemented a new program that brings primary care medical education into the predoctoral dental curriculum in September 2015. The new primary care clinic rotation called the Foundational Continuity Clinic (FCC) as part of the Practice of Medicine course for the first-year dental students and Leadership in Oral Health and Primary Care (LOHPC) for the fourth-year dental students began in HSDM's Student Teaching Practice clinic. An article about the program was recently published in the Winter 2016 Journal of the Massachusetts Dental Society. See "A New Integrated Oral Health and Primary Care Education Program in the Dental Student Clinic" by Sang Park, MMSc01, PD01, Fidencio Saldana, MD01, MPH05, and Bruce Donoff, DMD67, MD73.  The aims of this article are to include the perspectives of other dental school Deans on the need for primary care medicine in dental education and describe the development and implementation process of a new integrated oral health and primary care education model in the dental student clinic for change in our approach to patient care.
The HSDM Office for Dental Education conducted a survey of sixty-five accredited dental school Deans in the U.S. to gauge whether the incorporation of primary care into dental education was perceived as important to, as well as appropriate for, dental curricula in other schools.  
A majority of dental schools already had interprofessional collaborative practices at their schools, with collaborations with physicians and nurse practitioners being most common. Ninety-six percent of responders were supportive of integrating oral health and primary care to improve patient care and regarded primary care training for dental students as a potential method of improving patient care in dental education.
Points of interest included comments in favor of the inclusion of primary care in student dental clinics, including one opinion that "medical students should be better trained in dental diagnosis".  One commenter expressed wariness that "we seem to be training our colleagues much better than they are training our students", one mentioned a wellness clinic being established in the dental school for risk assessment and overall health screening, and one clarified that their Neutral or Disagreeing responses reflected current conditions, but could be more on the Strongly or Somewhat Agree side if more primary care collaboration programs existed.
The future direction for this program involves further developing the oral health and primary care topics throughout the curriculum and an increase in the collaborative learning experience.  Expanding the integrated teaching clinic to include social workers, nurses, and other health professionals are in the works. This project could have a significant effect on overall patient care outcomes and appropriate assessment measures will be incorporated as a follow up study. A dental professional who is aware of the link between oral and systemic health and mindful of the societal and biological consequences of poor oral health can provide a higher level of care to patients. 
An integrated oral health and primary care education program is an important initiative to further develop educational collaboration between health professions, and incorporate curricular content on the interaction of oral and systemic conditions.  Programs that integrate primary care medicine into the dental curricula will most likely expand as the dental educators more widely accept a need to link the oral health and overall health in dental education.
To read more from the July Insights click here 
Our
Mission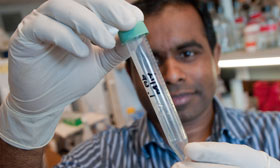 To create and nurture a diverse community of the best people committed to leadership in alleviating human suffering caused by disease