Symposium on the Science of Learning
Symposium on the Science of Learning
Bouncing Back: The Science of Resiliency
Thursday, April 28, 2016 –9:00 AM  to 12:00 PM
Armenise Amphitheater in the Warren Alpert Building 
Life is full of challenges. We all experience successes and failures. Unfortunately, everyone is touched at some time by death in their family, an unexpected accident, a disappointment. Some people, when faced with adverse circumstances are able to assess the situation, see the "silver lining" in the clouds on the horizon and move into the future with hope; others are mired in seeming tragedy of the moment. What is the difference between these individuals? Are there predictors of how a person will react to the inevitable difficulties of life?
Within medicine today, we hear increasingly about burnout and depression among our students, trainees and practicing physicians. There have been reports of increasing numbers of suicides. All of this has occurred despite the implementation of duty hours and more attention to safe learning environments. In this context, the 2016 Symposium on the Science of Learning will focus on the way the brain responds to stress and the impact of research findings on our understanding of the behavioral responses which enhance or degrade our ability to deal with stress. We will examine the development of resilience in the face of failure or adversity while exploring ways in which faculty can support students to aspire to high achievement.
Prospection 1.0
Daniel Gilbert, Ph.D.
Edgar Pierce Professor of Psychology
Department of Psychology
Harvard University
Most animals achieve pleasure and avoid pain by learning from their experience in the world. Human beings have the unique ability to mentally simulate future events and thereby learn from experiences without actually having them. This ability is powerful and important, but evolutionarily speaking, it is still in beta testing. Research shows that when people simulate future events, they make a series of systematic errors that lead them to mispredict how they will feel when those events happen.
Resilience: The Science of Mastering Life's Greatest Challenges
Dennis S. Charney, M.D.
Anne and Joel Ehrenkranz Dean of the Icahn School of Medicine at Mount Sinai
President for Academic Affairs for the Mount Sinai Health System
Many of us will be struck by one or more major traumas sometime in our lives. Perhaps you have been a victim of sexual abuse, domestic violence, or assault. Perhaps you were involved in a serious car accident. Perhaps you are a combat veteran. Or maybe you are among the millions who have suffered a debilitating disease, lost a loved one, or lost a job. Based upon work discussed in my book, Resilience: The Science of Mastering Life's Greatest Challenges, I will present how new research into the psychological, biological and social impact of trauma can help us manage our own stressors and tragedies.
Drawing on two decades of work with trauma survivors, I along with my co-author, Dr. Steven Southwick, have woven the latest scientific findings together with extraordinary stories of people who have overcome seemingly impossible situations. The question that is frequently asked is "How did you do it?" I will present the ten "resilience factors" that we found survivors use to cope, and how individuals can learn to become stronger and more resilient. This can provide a vital roadmap for overcoming and potentially growing from the adversities we all face at some point in our lives.
---
For the video click here
For the podcast click here 
---
Accreditation
Harvard Medical School is accredited by the Accreditation Council for Continuing Medical Education (ACCME) to provide continuing medical education for physicians. Harvard Medical School designates this live activity for a maximum of 2.00 AMA PRA Category 1 Credit(s)™. Physicians should only claim credit commensurate with the extent of their participation in the activity.
---
Past Symposia
Our
Mission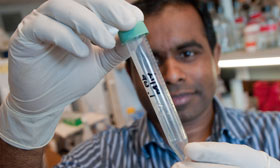 To create and nurture a diverse community of the best people committed to leadership in alleviating human suffering caused by disease