Medical Education Grand Rounds
Medical Education Grand Rounds
---
Creating a Hybrid Clerkship Curriculum that Blends Traditional Block and Longitudinal Integrated Clerkship Features
Wednesday, January 21,2014 4-5:30PM Rm. TMEC 227
Sarah K. Wood, MD, FAAP, Assistant Dean for Curriculum, Year Three Curriculum Director, Integrated Clerkship Director, Assistant Professor of Clinical Biomedical Science Charles E. Schmidt College of Medicine Florida Atlantic University
The Charles E. Schmidt College of Medicine at Florida Atlantic University is a new medical school that had the unique opportunity to create an innovative clerkship curriculum with 7 partner hospitals in South Florida for its class of 64 medical students. Given the challenge of creating the best clinical educational experience in the local medical landscape from the ground up, Dr. Sarah Wood incorporated features from both longitudinal integrated clerkships and traditional block rotations as she faced the realities of clinical resource constraints. Rationale for how the clerkships were designed and implemented, as well as lessons learned, will be presented.
Assessment and Evaluation in the Pathways Curriculum: Aiming to Get it Right
Wednesday, February 4 2015 4-5:30PM TMEC 227 
Edward Krupat, PhD, Director, HMS Center for Evaluation
Although most of the focus of the HMS curricular change has been on changes in content and pedagogy, student assessment and program evaluation are elements which are equally important and must be done well. In this presentation, I will present both a conceptual justification for our approach to these as well as plans for implementing an organized system of assessment and a comprehensive program for evaluation. Since much of this is at a stage that would best be described as less than final, feedback and discussion will be sought from the audience.
Medical Education Grand Rounds: A Pathway to Culture Change in Medical Schools- RSVP
Friday, March 6 2015 7:30AM-9AM TMEC 227 
Linda Pololi, MBBS, FRCP
Senior Scientist, Brandeis University
Director, National Initiative on Gender, Culture and Leadership in Medicine: C - Change
The National Initiative on Gender, Culture and Leadership in Medicine, known as C - Change (for culture change) is dedicated to improving the culture of academic medicine through research and action. C - Change aims to promote an inclusive, humanistic, relational and energizing working environment for all medical school faculty and physicians in training, at the same time increasing the diversity of leadership in academic medicine. In this interactive session, participants will discuss some of the national qualitative and quantitative data generated by C - Change. 
Medical Education Grand Rounds: Designing a Post-Clerkship Curriculum for Pathways: Creative Ideas and Best Practices- RSVP
Friday, May 1 2015 7:30AM-9AM TMEC 227 
Edward M. Hundert, M.D, Dean for Medical Education, Harvard Medical School
Bonnie M. Miller, M.D., Senior Associate Dean for Health Sciences Education and Associate Vice-Chancellor for Health Affairs, Vanderbilt School of Medicine
The launch of the Pathways curriculum this summer will make possible a completely new approach to the post-clerkship curriculum at HMS.  With 19 months between the end of the PCE and graduation, novel opportunities can be considered for integrated science courses as well as new approaches to clinical electives and sub-internships, scholarly research, and more.  In this session, Dr. Hundert will introduce some ideas for discussion about how HMS might consider the planning for the post-clerkship curriculum, and Dr. Miller will describe the approach that Vanderbilt School of Medicine has taken, having moved their core clerkships to year two to create this same opportunity.  Participants will be encouraged to ask Dr. Miller about details of the Vanderbilt experience and to give Dr. Hundert input on how HMS should move forward in designing years three and four of Pathways 
Medical Education Grand Rounds: For Modern Pedagogy, Do We Lecture or "Flip"? And How? An Exercise and Analysis of Animating the Classroom- RSVP
Friday, June 5 2015 7:30AM-9AM TMEC 227 
David Hirsh, MD, Associate Professor of Medicine, Associate Director of the HMS Academy
What can moral philosophy teach about modern pedagogy? As education planners increasingly design time in class to be active, participant-oriented, iterative, developmentally-aligned and effective, the requirements of teachers are changing. To stretch participants' pedagogic abilities and orientation, this session will engage the participants in a dynamic live-exercise in moral philosophy. Thereby, learners will take part in, consider, and assess aspects of dynamic pedagogy that they might apply in their contexts. Just as serving patients is ultimately a "moral practice," so, too, will be this session…
---
Upcoming Medical Education Ground Rounds 
Wednesday, April 1, 2015 - 4:00-5:30 pm
---
Past 2014 Medical Education Ground Rounds:
Myths and Realities of Learning and Teaching- Click here for more information 
Friday, September 5, 2014 - 7:30-9:00 am - TMEC 250
Samuel T. Moulton, Ph.D., Director of Educational Research, Harvard Initiative for Learning and Teaching (HILT)
Squeezing Four Years of Medical School into Three: Creating Time to be Creative- Click here for more information
Wednesday, October 1, 2014 - 4:00-5:30 pm - TMEC 250
Edward G. Buckley, M.D., Vice Dean for Education, Duke University School of Medicine 
At a time when knowledge is exploding, technology is enabling us to learn more in less time. The paradigm of "knowing" is shifting to "acquiring". Our task as medical educators is to provide the infrastructure for our students to be lifelong "learners" instead of "knowers". Duke's innovative 2 year required curriculum gives endless opportunities while providing the necessary foundation to be successful. How it happened, lessons learned, and future directions will be presented.
Critical Thinking: Use of concept maps to teach and assess reasoning skills- click here for more information 
Wednesday, November 12, 2014 – 4:00-5:30 pm – TMEC 250
Richard M. Schwartzstein, MD and Jeremy Richards, MD
Continuous Improvement of the MD Curriculum- Click here for more information 
Friday, December 5, 2014 - 7:30-9:00 am -

 

TMEC

 

250
Edward M. Hundert, M.D., Dean of Medical Education at Harvard Medical School 
Our
Mission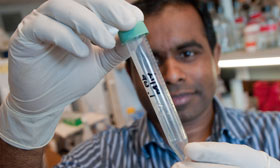 To create and nurture a diverse community of the best people committed to leadership in alleviating human suffering caused by disease