Medical Education Grand Rounds
Medical Education Grand Rounds
Creating a Hybrid Clerkship Curriculum that Blends Traditional Block and Longitudinal Integrated Clerkship Features
Wednesday, January 21,2014 4-5:30PM Rm. TBA -RSVP 
Sarah K. Wood, MD, FAAP, Assistant Dean for Curriculum, Year Three Curriculum Director, Integrated Clerkship Director, Assistant Professor of Clinical Biomedical Science Charles E. Schmidt College of Medicine Florida Atlantic University
The Charles E. Schmidt College of Medicine at Florida Atlantic University is a new medical school that had the unique opportunity to create an innovative clerkship curriculum with 7 partner hospitals in South Florida for its class of 64 medical students. Given the challenge of creating the best clinical educational experience in the local medical landscape from the ground up, Dr. Sarah Wood incorporated features from both longitudinal integrated clerkships and traditional block rotations as she faced the realities of clinical resource constraints. Rationale for how the clerkships were designed and implemented, as well as lessons learned, will be presented.
---
Upcoming Medical Education Ground Rounds 
Wednesday, February 4, 2015 - 4:00-5:30 pm

Friday, March 6, 2015 - 7:30-9:00 am
Wednesday, April 1, 2015 - 4:00-5:30 pm
Friday, May 1, 2015 - 7:30-9:00 am
Friday, June 5, 2015 - 7:30-9:00 am
---
Past 2014 Medical Education Ground Rounds:
Myths and Realities of Learning and Teaching- Click here for more information 
Friday, September 5, 2014 - 7:30-9:00 am - TMEC 250
Samuel T. Moulton, Ph.D., Director of Educational Research, Harvard Initiative for Learning and Teaching (HILT)
Squeezing Four Years of Medical School into Three: Creating Time to be Creative- Click here for more information
Wednesday, October 1, 2014 - 4:00-5:30 pm - TMEC 250
Edward G. Buckley, M.D., Vice Dean for Education, Duke University School of Medicine 
At a time when knowledge is exploding, technology is enabling us to learn more in less time. The paradigm of "knowing" is shifting to "acquiring". Our task as medical educators is to provide the infrastructure for our students to be lifelong "learners" instead of "knowers". Duke's innovative 2 year required curriculum gives endless opportunities while providing the necessary foundation to be successful. How it happened, lessons learned, and future directions will be presented.
Critical Thinking: Use of concept maps to teach and assess reasoning skills- click here for more information 
Wednesday, November 12, 2014 – 4:00-5:30 pm – TMEC 250
Richard M. Schwartzstein, MD and Jeremy Richards, MD
Continuous Improvement of the MD Curriculum- Click here for more information 
Friday, December 5, 2014 - 7:30-9:00 am -

 

TMEC

 

250
Edward M. Hundert, M.D., Dean of Medical Education at Harvard Medical School 
Our
Mission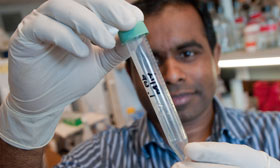 To create and nurture a diverse community
of the best people committed to leadership in alleviating human suffering caused by disease