Medical Education Grand Rounds
Medical Education Grand Rounds

HMS Preclerkship Curriculum Reform: The Faculty Development Agenda Video Recording
Friday, Sept. 6, 2013 – 7:30-9:00 AM
Randall W. King, M.D., Ph.D., Co-Chair, Content and Organization Subcommittee
Graham McMahon, M.D., M.M.Sc., Co-Chair, Milestones/Assessment Subcommittee
Fidencio Saldana, M.D., Co-Chair, Clinical Skills Subcommittee
Richard M. Schwartzstein, M.D., Co-Chair, Pedagogy Subcommittee
As HMS embarks on a major curriculum reform for the entering class of 2015, four subcommittees have been charged to develop broad guidelines for content and organization, milestones and assessment, clinical skills, and pedagogy.  As we open an academic year of Medical Education Grand Rounds focused on topics related to the needs of the new curriculum, this session will be a group discussion of the areas in which we will need to focus faculty development.  Each presenter will briefly summarize the current plans for that area of the new curriculum, and participants will be asked to brainstorm about faculty development programs that should be instituted over the coming months and years in order to ensure successful outcomes.

What Students Bring to the Table: How Student Background Impacts Learning Video Recording
Wednesday, Oct. 2, 2013 – 4:00-5:30 PM
Lori Breslow, Ph.D., Director of MIT Teaching and Learning Lab
The individual characteristics that students bring to their educational experiences have long been known to influence their learning.  These factors can range from their socio-economic background to their sense of self-confidence to their preferences for how they master difficult concepts or skills.  Using research in the field as a jumping off point, this talk will describe a study comparing HST medical school students with the engineering Ph.D. students.  It will also briefly touch on what we discovered about the influence of student background when courses go worldwide based on an analysis of  the first MOOC MIT developed for edX.

Curriculum Reform in U.S. Medical Schools: Lessons Learned about the Ingredients for Success or Failure
Friday, Nov. 8, 2013 – 7:30-9:00 AM
Lindsey C. Henson, M.D., Ph.D., Vice Dean for Medical Education and Student Affairs, Charles E. Schmidt College of Medicine at Florida Atlantic University
In this interactive talk, Dr. Henson will discuss lessons learned from a number of case studies of medical schools that have attempted major curriculum reforms with varying degrees of success or failure.  Cases will be drawn both from the literature and from Dr. Henson's experience as medical education dean at several schools engaged in curriculum reform over the course of her career.  Discussion will be encouraged of how these lessons can help HMS with our current curriculum reform efforts.

Lessons Learned from Seven Years of an Integrated Ultrasound Curriculum
Friday, Dec. 6, 2013 – 7:30-9:00 AM
Richard A. Hoppmann, M.D., Dean, University of South Carolina School of Medicine
University of South Carolina School of Medicine has been an innovator in integrating ultrasound across all four years of the medical school curriculum -- into both the basic and clinical sciences.  The Dean will present lessons learned from seven years of experience in the use of this educational technology.  Particular focus will be given to the roles of e-learning, ultrasound simulation, a student-image review portal, and ultrasound OSCEs. Also included will be a competency-based model of ultrasound education.

A Pathway to Culture Change in Medical Schools
Wednesday, Feb. 5, 2014 – 4:00-5:30 PM
Linda Pololi, MB.BS., Senior Scientist and Director, National Initiative on Gender, Culture and Leadership in Medicine, Brandeis University
The National Initiative on Gender, Culture and Leadership in Medicine, known as C - Change (for culture change) is dedicated to improving the culture of academic medicine through research and action. C - Change aims to promote an inclusive, humanistic, relational and energizing working environment for all medical school faculty and physicians in training, at the same time increasing the diversity of leadership in academic medicine. In this interactive session, participants will discuss some of the national qualitative and quantitative data generated by C - Change.

How People Learn and How We Can Learn Better
Friday, March 7, 2014 – 7:30-9:00 AM
Keith H. Baker, M.D., Ph.D., Vice Chair for Education and Anesthesia Residency Program Director, Department of Anesthesia, Critical Care and Pain Medicine, Massachusetts General Hospital
This session will review key experimental evidence on how people learn and what leads to better and worse learning in adults.  This evidence-based approach to improving our learning naturally leads to opportunities for better teaching. This evidence likely applies to medical students too.  Discussion of the material will enhance our understanding of how this evidence can be used in the effort to reform the curriculum at HMS.

Medical Education Grand Rounds – TBA
Wednesday, Apr. 9, 2014 – 4:00-5:30 PM

Team-based Learning: Re-thinking the Concept of Small Group Instruction
Friday, May 2, 2014 – 7:30-9:00 AM
Richard M. Schwartzstein, M.D., Director of the Academy, Harvard Medical School
Edward Krupat, Ph.D., Director of Evaluation, Program in Medical Education, Harvard Medical School
Amy M. Sullivan, Ed.D., Associate Director of Education Research, the Academy, Harvard Medical School
Medical educators who have sought new methods of active learning for students have turned to Team-based learning (TBL) as an alternative to Problem-based Learning (PBL). In this session the logic and methods of TBL will be reviewed, and outcomes data will be presented based on modifications of the TBL model used in the Human Physiology course at HMS.

Medical Education Grand Rounds – TBA
Friday, June 6, 2014 – 7:30-9:00 AM
Our
Mission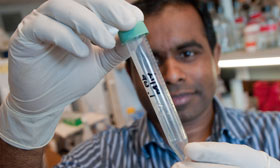 To create and nurture a diverse community
of the best people committed to leadership in alleviating human suffering caused by disease