Inter-hospital Collaborative
Medical Education Inter-Hospital Collaborative AY 16 (2015-2016) 
Resident Initiatives in Medical Education  - RSVP 
Wednesday, March 16, 2016
4:15-5:30 PM
TMEC 106 
 
Cultural and Language Gaps: Overcoming Communication Barriers on the Pediatric Ward 
Zeena Audi, MD, Resident in Pediatrics, Boston Children's Hospital 

Overview: Novel program using  interpreters to teach residents how to work with interpreters to communicate effectively with non-English speaking patients and families, and to understand cultural issues around communication.
 

Radiology Imaging 3.0 with Medicine Department
Dong Kim, MD, Radiology Resident, Mt. Auburn Hospital
Aftab Iqbal, MD, Chief Medical Resident, Mt. Auburn Hospital
Radha Mehta, MD, Chief Medical Resident, Mt. Auburn Hospital

Overview: The overview of this presentation speaks to an ongoing program at the Mount Auburn which finds Dr. Kim in daily attendance at Medicine Morning Report which involves all housestaff. There, he not only provides additional interpretation of imaging for new admissions but is a 'real-time' consultant about the judicious use of subsequent radiologic studies that may be needed. The initiative, which is to become incorporated into the MAH radiology program, facilitates dialogue between radiology and medicine, fosters interdepartmental resident relationships and fits within the national 'Choosing Wisely' initiative for appropriate testing utilization. 
Overall Program Objectives: 
Upon completion of this session, participants will be able to: 
Identify the opportunities and challenges for trainee participation in medical education projects
Develop multidisciplinary and inter-professional hospital-based projects
Develop plans for mentoring trainees interested in medical education
Our
Mission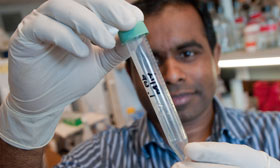 To create and nurture a diverse community of the best people committed to leadership in alleviating human suffering caused by disease