Academy Interest Group Symposia
Upcoming Academy Interest Group Symposia and Workshops
Academy Faculty Development Workshop: From Minefields to Learning Opportunities: Managing Sensitive Issues about Culture, Race, Ethnicity, Sexual orientation and Gender Identity in the New Pathways Curriculum
Friday October 9, 2015 from 4:00 PM to 5:30 PM TMEC 328
Alexander R. Green, MD, Associate Professor of Medicine and Co-chair, Academy Interest Group on Cross Cultural Care, HMS
Lidia Schapira, MD, Associate Professor of Medicine and Co-Chair Academy Interest Group on Cross Cultural Care, HMS
The practice of medicine takes place in the context of the social, political and cultural environment of our times, and the teaching of medicine must take that into account. Generational differences and deeply held opinions may lead to tension and even conflict between students and faculty around issues of culture, race/ethnicity, sexual orientation, gender identity, and other factors. These issues can interfere with our ability to create an inclusive and stimulating learning environment for students. In this workshop, we will use case studies of real and composite situations that have occurred at HMS to explore how faculty can best handle sensitive issues that arise in medical school courses. We will convene a group of experts and address techniques for avoiding and resolving conflict that will provide faculty with the necessary tools to handle these issues empathetically and strategically and to take a proactive approach.
Break out groups:
Option 1:
Sexual Orientation and Gender Identity 
Jennifer E. Potter, MD
Fidencio Saldaña, MD, MPH 
Option 2:
Communication and Conflict
Lidia Schapira, MD 
Darshan H. Mehta, MD 
Option 3:
Race and Ethnicity
Martha Cesena, MD
Augustus A. White III, MD, PhD
Option 4:
Socio-demographic Identifies in Case Studies
Alexander Green, MD
Karen M. Winkfield, MD, PhD
Helen Marie Shields, MD 
Click here for more detailed information 
---
Writing for Scholarship Symposium- video link 
Thursday, May 14, 2015 1:00-3:30PM TMEC Amphitheater and 2nd. Fl. Atrium
Jonathan Borus, MD 
Susan Pories, MD
This mini-symposium by the HMS Academy Workgroup on Writing for Scholarship will discuss multiple avenues that are available for scholarly medical writing in addition to writing scientific articles for peer-reviewed journals. The symposium will feature a Keynote Address by Dr. Atul Gawande who will discuss his career in medical writing and the approaches physician-writers take to writing for general audiences. The Keynote will be followed by four concurrent workshops on 1) writing and editing textbooks, 2) common ethical issues in medical/scientific writing; 3) practical ways to overcome common writing challenges to develop a successful writing strategy, and 4) writing grant proposals.
Keynote Address:The Doctor as a Writer
Atul Gawande, MD, MPH, Professor of Surgery, HMS, Professor of Health Policy and Management, HSPH
Dr. Gawande will discuss his career in medical writing and the approaches physician-writers take when writing for general audiences.
Workshops:
Option 1:
So, You Want to Publish a Medical Textbook...   
Sunil Sabharwal, MD, Assistant Professor of Physical Medicine & Rehabilitation, HMS
Dara Brodsky, MD, Assistant Professor of Pediatrics, HMS
Option 2: 
Case Studies in Ethics and Conflicts in Writing 
Terry R. Bard, DD, Lecturer, Pastoral Counseling, HMS
Stuart F. Quan, MD, Gerald E. McGinnis Professor of Sleep Medicine, HMS
Option 3:
Finding the Writer Within: Just Do It! 
Subha Ramani, MBBS, MMed, MPH, Assistant Professor of Medicine, HMS
Jean E. Klig, MD, Assistant Professor of Emergency Medicine and Pediatrics, HMS
Option 4:
What Grants are Right for You and How to Write Them  
Julie R. Ingelfinger, MD, Professor of Pediatrics, HMS
Susan Pories, MD, Associate Professor of Surgery, HMS
Click here for more detailed information
---
Past Symposia
Our
Mission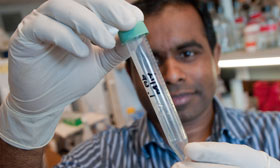 To create and nurture a diverse community of the best people committed to leadership in alleviating human suffering caused by disease