Academy Interest Group Symposia
Upcoming Academy Interest Group Symposia 
Writing for Scholarship Symposium- video link 
Thursday, May 14, 2015 1:00-3:30PM TMEC Amphitheater and 2nd. Fl. Atrium
This mini-symposium by the HMS Academy Workgroup on Writing for Scholarship will discuss multiple avenues that are available for scholarly medical writing in addition to writing scientific articles for peer-reviewed journals. The symposium will feature a Keynote Address by Dr. Atul Gawande who will discuss his career in medical writing and the approaches physician-writers take to writing for general audiences. The Keynote will be followed by four concurrent workshops on 1) writing and editing textbooks, 2) common ethical issues in medical/scientific writing; 3) practical ways to overcome common writing challenges to develop a successful writing strategy, and 4) writing grant proposals.
Keynote Address:
The Doctor as a Writer
Atul Gawande, MD, MPH, Professor of Surgery, HMS, Professor of Health Policy and Management, HSPH
Dr. Gawande will discuss his career in medical writing and the approaches physician-writers take when writing for general audiences.
Workshops:
Option 1:
So, You Want to Publish a Medical Textbook...   
Sunil Sabharwal, MD, Assistant Professor of Physical Medicine & Rehabilitation, HMS
Dara Brodsky, MD, Assistant Professor of Pediatrics, HMS
As educators, many of us are often interested in writing or editing a medical textbook.   However, this task often seems overwhelming and there are limited resources available.  In this workshop we will present a step-by-step approach to publishing a textbook starting from an initial idea and concluding with marketing strategies for your published book.  We will also discuss the pros/cons of self-publishing.   
Option 2:
Case Studies in Ethics and Conflicts in Writing 
 Terry R. Bard, DD, Lecturer, Pastoral Counseling, HMS
Stuart F. Quan, MD, Gerald E. McGinnis Professor of Sleep Medicine, HMS
This workshop will use case studies to focus on common ethical concerns and conflicts encountered in the writing of scholarly manuscripts.
Option 3:
Finding the Writer Within: Just Do It! 
Subha Ramani, MBBS, MMed, MPH, Assistant Professor of Medicine, HMS
Jean E. Klig, MD, Assistant Professor of Emergency Medicine and Pediatrics, HMS
Medical educators often need to juggle multiple professional obligations with scholarship, and the latter is frequently postponed or abandoned altogether.  Our goal is to discuss methods to overcome writer's block and establish effective writing strategies.  In our discussion, we will examine the uphill road to successful scholarship that includes: choosing a topic that interests the medical education community; knowing the anatomy of the intended publication; choosing an attractive and optimal style for writing; and incorporating successful writing habits amidst busy professional obligations.
Option 4:
What Grants are Right for You and How to Write Them  
Julie R. Ingelfinger, MD, Professor of Pediatrics, HMS
Susan Pories, MD, Associate Professor of Surgery, HMS
This workshop will first discuss types of grants and funding bodies and then focus on the elements of effective grant writing, providing concrete steps for developing and submitting grants. We will provide a resource syllabus for funding bodies and for grant writing (two separate things).
Past Symposia
Our
Mission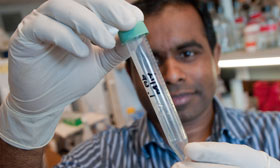 To create and nurture a diverse community of the best people committed to leadership in alleviating human suffering caused by disease