Academy Interest Group Symposia
Interest Group Symposia
Upcoming Symposia
HMS Academy Interest Group Symposium – Resident as Teacher
Resident/Fellow as Teacher Curriculum Showcase 
Wednesday, September 17, 2014 – 3:00-5:00 pm
Chairs: Hope Ricciotti, M.D., and Tracey Cho, M.D.
The Resident as Teacher Interest Group from the Academy at Harvard Medical School (HMS) is sponsoring a showcase to highlight and share Resident/Fellow as Teacher programs and curricula from the Harvard training programs. HMS faculty and trainees will present some of their best offerings in Resident/Fellow as Teacher trainings, curricula, assessments, and other programming in order to share ideas. 
At the end of this presentation, attendees will be able to:
Apply novel curricular offerings and approaches in the clinical environment for training house staff as teachers
Give examples of effective Trainee as Teacher programs by becoming familiar with varied approaches to teaching skills development
Develop a multifaceted approach to the evaluation of trainee teaching skills curricula
Foster collaboration among residency and fellowship training programs with similar goals
3:00-3:10 PM- Welcome: Richard Schwartzstein MD, Tracey Cho MD, and Hope Ricciotti MD
3:10-4:10 PM- Oral Presentations and presentation of certificates of recognition
| | | |
| --- | --- | --- |
| Presenter: | Abstract Title: | Authors: |
| Susan Burgin, M.D. | THE HARVARD DERMATOLOGY RESIDENT-AS-TEACHER PROGRAM | Susan Burgin, M.D., Lori Newman M.Ed. |
| Eli Miloslavsky, M.D. | THE FELLOW AS CLINICAL TEACHER CURRICULUM (FACT): MAXIMIZING TEACHING AND LEARNING ON THE WARDS | E Miloslavsky M.D.; J McSparron M.D.; A Puig M.D. Ph.D.; M Bolster M.D. |
| Lori Newman, M.Ed. | BIDMC RESIDENT-AS-TEACHER MULTIDISCIPLINARY DVD SERIES CURRICULUM | L. Newman, MEd; C. Tibbles, MD; K. M. Atkins, MD; S. Burgin, MD; L. Fisher, DO; T. Kent, MD; C.C. Smith, MD; A. Aluko; H. Ricciotti, MD |
| Zaven Sargsyan, M.D. | A Resident as Teacher Program Embedded in a High-Fidelity Simulation Curriculum in Internal Medicine | Z. Sargsyan, M.D.; J. Heath, M.D.; R. Kohn, M.D.; G Alba, M.D.; P.F. Currier, M.D.; EM Miloslavsky, M.D. |
| Ariel Winn, M.D. | THE MEDICAL EDUCATION ACADEMY: A SCHOLARLY HOME FOR TRAINEES TO DEVELOP SKILLS AS TEACHERS, EDUCATORS AND LEADERS | A. Winn M.D.; C. Distler M.D.; K. Cecala M.D.; E. Zwemer M.D.; A. Leichtner M.D., MSHPEd; D. Schumacher M.D., MEd |
4:10- 5:00 PM- Poster Presentations (TMEC 2nd Fl. Atrium)
HMS Academy Interest Group Symposium – Feedback and Evaluation
Feedback and Evaluation Symposium
Late January/Early February 2015
Chairs: Eugene Beresin, M.D., and Keith Baker, M.D., Ph.D.
(Complete Information Coming Soon)
HMS Academy Interest Group Symposium – Writing for Scholarship
Writing for Scholarship Symposium
Thursday, May 14, 2015
Chairs: Jonathan Borus, M.D., and Susan Pories, M.D.
(Complete Information Coming Soon)
Past Symposia
Our
Mission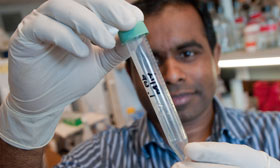 To create and nurture a diverse community
of the best people committed to leadership in alleviating human suffering caused by disease