Academy Events
Academy Events
SPRING 2015
Inter-Hospital Collaborative Studies to Improve Transition of Care and Readmission Rates  in Academic Hospitals- MGH & BWH
Wednesday, January 14, 2015 - 4:15-5:30 pm TMEC 250- RSVP 
Dr. Jocelyn Carter, MD, MPH, Inpatient Unit Director/White 11, Academic Hospitalist Service, MGH Hospital Medicine Unit, Physician in Medicine,  Division of Medicine, Manager of Trainee Affairs/ Multicultural Affairs Office, Massachusetts General Hospital Instructor in Medicine, Harvard Medical School.  
Clinicians and hospital systems are under significant pressure to deliver optimal care in competitive markets with new emphasis on not only successful outcomes, but also benchmarks of quality, safety and cost.  Value-added care is a broad term which encompasses these concepts and the teaching of value-added care has become important in academic medical centers across the country.  This IHC session focuses on early innovations in the teaching of value-added care and seeks to provide a forum for discussion of the opportunities and challenges in this vital curricular area. During this session, participants will learn about and discuss innovative curricular efforts to teach value-added care to our HMS trainees.
Medical Education Grand Rounds: Creating a hybrid clerkship curriculum that blends traditional block and longitudinal integrated clerkship features- video link 
Sarah K. Wood, MD, FAAP, Assistant Dean for Curriculum, Year Three Curriculum Director, Integrated Clerkship Director, Assistant Professor of Clinical Biomedical Science Charles E. Schmidt College of Medicine Florida Atlantic University
Wednesday, January 21, 2015 4-5:30PM TMEC 227 - RSVP
The Charles E. Schmidt College of Medicine at Florida Atlantic University is a new medical school that had the unique opportunity to create an innovative clerkship curriculum with 7 partner hospitals in South Florida for its class of 64 medical students. Given the challenge of creating the best clinical educational experience in the local medical landscape from the ground up, Dr. Sarah Wood incorporated features from both longitudinal integrated clerkships and traditional block rotations as she faced the realities of clinical resource constraints. Rationale for how the clerkships were designed and implemented, as well as lessons learned, will be presented.
Faculty Development Workshop: Teaching and Learning with Mechanism Maps: A Window into the Learner's Mind - video link 
Richard Schwartzstein, MD and Jeremy Richards, MD
Thursday, January 22,2015 3:30-5:00 PM- TMEC 130 RSVP
Mechanism maps, a form of concept map are visual representations of knowledge that learners create to graphically depict their understanding of a set of mechanisms or concepts. Like concept maps, mechanism maps are used in teaching encounters and offer educators an opportunity to share, discuss, and revise learners' understanding of new or existing knowledge. Traditional concept maps are hierarchical, arranging information from most general to most specific for a particular topic. In contrast, mechanism maps tend to focus on a symptom or laboratory or physical exam finding and then link the different elements of a case by the underlying biological mechanisms.   Mechanism maps are a flexible educational tool; they can be used in a variety of educational settings, from small to large groups, and from formal to informal encounters.
In this workshop, we will review the theory supporting the use of mechanism maps as pedagogic and assessment tools and provide participants the skills to develop and use mechanism maps when teaching. Specifically, upon completion of this Workshop, participants will have practiced creating concept maps regarding topics reflecting their clinical or experiential knowledge. Additionally, participants will develop strategies for using mechanism maps for teaching in formal and informal educational settings. Participants will discuss some strategies to use mechanism maps for assessment of learners' knowledge and understanding of specific topics and concepts. Finally, in this Workshop we will discuss the literature supporting how mechanism maps may reflect, and be used to assess, learners' critical thinking skills. Participants' knowledge and skills will be assessed during session, as facilitators observe and support the group in developing their own mechanism map as they play the role of learners in a small group setting.
Medical Education Grand Rounds: Assessment and Evaluation in the Pathways Curriculum: Aiming to Get it Right- video link
Edward Krupat, PhD
Director, HMS Center for Evaluation
Wednesday, February 4 2015 4-5:30PM TMEC 227 - RSVP
Although most of the focus of the HMS curricular change has been on changes in content and pedagogy, student assessment and program evaluation are elements which are equally important and must be done well. In this presentation, I will present both a conceptual justification for our approach to these as well as plans for implementing an organized system of assessment and a comprehensive program for evaluation. Since much of this is at a stage that would best be described as less than final, feedback and discussion will be sought from the audience.
Inter-Hospital Collaborative: Research in Medical Simulation, can we make simulation more accessible?- 
Emily Grover, MD Fellow in Medical Simulation and Education, Brigham and Women's Hospital, Harvard Medical School 
Shannon Manzi, PharmD, MREMT Director, Clinical Pharacogenomics Service, Team Lead Emergency Services, Boston Children's Hospital 
Wednesday, February 18, 2015 - 4:15-5:30 pm TMEC 104
Academy Symposium- Barriers to Effective Evaluation and Feedback- PowerPoint Slides--- video link 
Keith Baker MD, PhD, Gene Beresin MD MA, Mary Ellen Goldhamer MD, MPH
Wednesday February 25, 2015 - 3:30-5:30 pm TMEC 227
The Feedback and Evaluation Academy Interest Group is sponsoring this 2 hour session which will utilize lecture, audience response and small group discussion techniques to address elements of effective evaluation and feedback as well as barriers to delivering effective feedback.  The plenary lecture will provide an overview of evaluation and feedback and will address the factors that determine whether an individual perceives feedback as either threatening or helpful.  The importance of holding a learning orientation to construe feedback as helpful will be demonstrated.  In addition, strategies to enhance an  individual's learning orientation will be discussed. 
The second part of the symposium will address barriers to delivering effective evaluation and feedback.  Participants will offer examples of the barriers that they encounter and these barriers will be compared to those found in the literature.  The participants will then discuss a series of real cases from our medical education system, which demonstrate various barriers to effective feedback and evaluation.  Finally, the participants will be educated on two specific strategies (mental contrasting and implementation intentions) for overcoming a barrier.  Each participant will have an opportunity to create their own custom version of these strategies to overcome the single largest barrier that they encounter when giving feedback. 
Medical Education Grand Rounds: A Pathway to Culture Change in Medical Schools- RSVP
Linda Pololi, MBBS, FRCP
Senior Scientist, Brandeis University
Director, National Initiative on Gender, Culture and Leadership in Medicine: C - Change
Friday, March 6, 2015 7:30AM- 9AM TMEC 227
The National Initiative on Gender, Culture and Leadership in Medicine, known as C - Change (for culture change) is dedicated to improving the culture of academic medicine through research and action. C - Change aims to promote an inclusive, humanistic, relational and energizing working environment for all medical school faculty and physicians in training, at the same time increasing the diversity of leadership in academic medicine. In this interactive session, participants will discuss some of the national qualitative and quantitative data generated by C - Change. 
Inter-Hospital Collaborative: The Impact of Fellowships in Medical Education- RSVP
Charles J. Hatem, MD, Professor of Medicine, Mount Auburn Hospital
Beth A. Lown, MD, Associate Professor of Medicine, Mount Auburn Hospital
Lori R. Newman, MEd,  Principal Associate in Medicine, Beth Israel Deaconess Medical Center
Wednesday, March11, 2015 - 4:15-5:30 pm TMEC 250
This will be an interactive presentation of the history, curriculum development, implementation, teaching strategies, and evaluation of two well-established, yearlong HMS medical education fellowship programs that have run concurrently for 16 years.  
 We'll begin by having the participants "experience" the fellowship by engaging the group in a core fellowship activity.  We will go on to describe the history, principles, and curricular methods of the fellowships. We will then discuss the mix-method evaluation methods we have used to assess the fellowship programs. First we will describe the use of qualitative methods to study the personal and professional impact of the fellowships. Next, using "Kirkpatrick's education evaluation framework" we will present findings from our quantitative CV analysis study. This will include a description of the fellowships' impact on our graduates' academic careers, their learners, and affiliated organizations.  
Medical Education Careers Night
Monday, March 23 2015 6:00-8:00PM
Join the Medical Education Student Interest Group for an evening of conversation about careers in Med. Ed. All Faculty attendees will be invited to introduce themselves by sharing WHAT they teach and WHY they teach.
Medical Education Grand Rounds: Designing a Post-Clerkship Curriculum for Pathways: Creative Ideas and Best Practices- RSVP
Edward M. Hundert, M.D, Dean for Medical Education, Harvard Medical School
Bonnie M. Miller, M.D., Senior Associate Dean for Health Sciences Education and Associate Vice-Chancellor for Health Affairs, Vanderbilt School of Medicine
Friday, May 1, 2015- 7:30-9:00AM TMEC 227
The launch of the Pathways curriculum this summer will make possible a completely new approach to the post-clerkship curriculum at HMS.  With 19 months between the end of the PCE and graduation, novel opportunities can be considered for integrated science courses as well as new approaches to clinical electives and sub-internships, scholarly research, and more.  In this session, Dr. Hundert will introduce some ideas for discussion about how HMS might consider the planning for the post-clerkship curriculum, and Dr. Miller will describe the approach that Vanderbilt School of Medicine has taken, having moved their core clerkships to year two to create this same opportunity.  Participants will be encouraged to ask Dr. Miller about details of the Vanderbilt experience and to give Dr. Hundert input on how HMS should move forward in designing years three and four of Pathways 
Academy Symposium: The Many Flavors of Scholarly Writing: Possibilities and Practicalities- RSVP
Thursday, May 14, 2015 1:00-3:30PM
This mini-symposium by the HMS Academy Workgroup on Writing for Scholarship will discuss multiple avenues that are available for scholarly medical writing in addition to writing scientific articles for peer-reviewed journals. The symposium will feature a Keynote Address by Dr. Atul Gawande who will discuss his career in medical writing and the approaches physician-writers take to writing for general audiences. The Keynote will be followed by four concurrent workshops on 1) writing and editing textbooks, 2) common ethical issues in medical/scientific writing; 3) practical ways to overcome common writing challenges to develop a successful writing strategy, and 4) writing grant proposals.
Academy Spring Social
Tuesday, June 2, 2015 4-5:30PM Alumni Atrium- 3rd Fl. Gordon Hall 
Medical Education Grand Rounds: For Modern Pedagogy, Do We Lecture or "Flip"? And How? An Exercise and Analysis of Animating the Classroom- RSVP
David Hirsh, MD, Associate Professor of Medicine, Associate Director of the HMS Academy
Friday, June 5, 2015- 7:30-9:00AM TMEC 227
What can moral philosophy teach about modern pedagogy? As education planners increasingly design time in class to be active, participant-oriented, iterative, developmentally-aligned and effective, the requirements of teachers are changing. To stretch participants' pedagogic abilities and orientation, this session will engage the participants in a dynamic live-exercise in moral philosophy. Thereby, learners will take part in, consider, and assess aspects of dynamic pedagogy that they might apply in their contexts. Just as serving patients is ultimately a "moral practice," so, too, will be this session…
---
Medical Education Grand Rounds
Wednesday, April 1, 2015 - 4:00-5:30 pm
Inter-hospital Collaborative
Wednesday, April 15, 2015 - 4:15-5:30 pm

Wednesday, May 13, 2015 - 4:15-5:30 pm
Annual Symposium on the Science of Learning
---
Links:
Our
Mission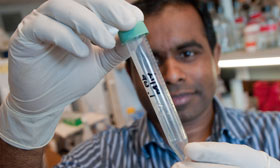 To create and nurture a diverse community
of the best people committed to leadership in alleviating human suffering caused by disease