Academy Events
Academy Events
All individuals within the HMS community who teach in classroom or clinical settings are invited to participate in Center activities.
---
Links:
Faculty Development Workshops
Interest Group Symposia
Inter-hospital Collaborative
Medical Education Ground Rounds
Annual Symposium on the Science of Learning
---
Medical Education Grand Rounds: Innovations in External Education: Teaching New Learners in New Ways 
Friday September 11, 2015 TMEC RM 250 
David H. Roberts, MD 
Dean for External Education 
Harvard Medical School
Created in 2014, the Office of External Education has extended the reach of HMS in several aspects of medical education for new and existing populations of learners including lay individuals, students considering medical school, and physicians in practice worldwide.  As the inaugural Dean for External Education, Dr. David Roberts has brought together educators from across the HMS community to design and implement novel programming in medical education leveraging new technologies and new venues for learning.  In the kick-off session of the HMS Academy's 2015-2016 Medical Education Grand Rounds series, Dr. Roberts will share his vision for HMS External Education and describe examples of the insights being gained from new External Education content and programs.
Click here for video 
Click here for podcast 
Faculty Interest Form for HMX hospital-based videos
---
Medical Education Grand Rounds: Medical Education's Global Transformation and Reach: Opportunities for Research Translation and Social Accountability- RSVP 
Friday, October 2, 2015 7:30-9:00AM 
Paul Worley, MD 
Dean of Medicine
School of Medicine, Flinders University,
Adelaide, Australia
The first global wave of reform to modern medical education occurred early in the 20th century following the Flexner report. The second wave arose in the latter half of the last century driven by problem based learning and community orientation. Recently, the Lancet Commission called for a third wave of reform to create transformative system-based medical education. This is an excellent aspiration...but is it possible?
How can we translate new understandings from neuroscience, sociology, and the sciences of learning to meet this calling? Will we be able to transform from eminence-based medical education to evidence-based medical education, and in doing so, what will be the impact on addressing learners needs, institutional priorities, and societal imperatives? How accountable are we prepared to be for the results of our efforts? 
Drawing on evidence from medical schools around the world, we will explore these critical questions and others. We should plan to leave Medical Education Grand Round more curious, informed, and motivated to apply the same level of rigor, passion and creativity to our medical education as we do to our medical practice and our research.
Click here for video
Click here for podcast 
---
Academy Faculty Development Workshop: From Minefields to Learning Opportunities: Managing Sensitive Issues about Culture, Race, Ethnicity, Sexual orientation and Gender Identity in the New Pathways Curriculum
Friday October 9, 2015 from 4:00 PM to 5:30 PM TMEC 328
Alexander R. Green, MD, Associate Professor of Medicine and Co-chair, Academy Interest Group on Cross Cultural Care, HMS
Lidia Schapira, MD, Associate Professor of Medicine and Co-Chair Academy Interest Group on Cross Cultural Care, HMS
The practice of medicine takes place in the context of the social, political and cultural environment of our times, and the teaching of medicine must take that into account. Generational differences and deeply held opinions may lead to tension and even conflict between students and faculty around issues of culture, race/ethnicity, sexual orientation, gender identity, and other factors. These issues can interfere with our ability to create an inclusive and stimulating learning environment for students. In this workshop, we will use case studies of real and composite situations that have occurred at HMS to explore how faculty can best handle sensitive issues that arise in medical school courses. We will convene a group of experts and address techniques for avoiding and resolving conflict that will provide faculty with the necessary tools to handle these issues empathically and strategically and to take a proactive approach.
Click here for more information 
---
Medical Education Day - Taking the New Curriculum to the Clinical Realm
Tuesday, October 27, 2015 11:30- 5:30pm 
On August 3, 2015 the Pathways curriculum was unveiled for our new first year class at Harvard Medical School. Courses have been redesigned and faculty have been busy learning and practicing new interactive teaching formats, developing exciting visual resource materials, and pushing the boundaries of their skills as educators. But there is much to be done as students embark on early clinical experiences and we work to ensure that the new emphasis on clinical reasoning/critical thinking and problem solving, along with seamless integration of empathy, science, and clinical medicine are successful and continue on to our GME programs. In the end, any curriculum is only as good as the faculty who teach it.
Come join us for Medical Education Day 2015 on Tuesday, October 27 as we work together to take the educational philosophy embedded in Pathways to the clinical realm and consider its implications for residency and fellowship training. In addition to a keynote address by Dr. Thomas Viggiano, Associate Dean for Faculty Affairs at Mayo Medical School, there will be two sets of concurrent workshops, which have been designed to provide you with key skills to enhance your work as a teacher in this changing education environment.
(Please note: In order to view the resources below, you must be logged into eCommons in a separate tab in the same browser window in order to view).
Click here for Power Point Slides: Keynote Address: Optimizing Clinical Education: Forming Critical Thinkers in a Culture of Caring
Thomas R. Viggiano, MD- Associate Dean for Faculty Affairs- Mayo Medical School 
Click here for more information
Click here for abstract booklet 
Click here for article on Medical Education Day 2015
Instructions to view password protected resources
Press CTRL+T to open a new tab
Log into eCommons in that new tab
Return to the Academy website tab and click on the resource you wish to view
If you are logged in as instructed, the article/ resource will pop up. If you are not logged in as instructed, you will receive an error message.
---
Medical Education Grand Rounds: Operationalizing a Program of Assessment for Medical Learners - RSVP
Wednesday, November, 4, 2015 4:00-5:30PM​ - TMEC 250
Eric Warm, MD 
Richard W. & Sue P. Vilter Professor of Medicine Director, Internal Medicine Training Program 
University of Cincinnati College of Medicine  
Medical educators are in the assessment business. Nationally, across institutions, undergraduate medical educators struggle to find the best means to assess students. In graduate medical education, the struggle continues--we must choose the right applicants for our programs, and once chosen, we must assess their progress toward competence. Unfortunately, in each phase of the education continuum, assessment is often of poor quality and put to suboptimal use. This presentation will review the evidence behind these assertions, and detail several models from the literature designed to produce high quality assessment. Two novel programs of assessment will be presented in depth, with an analysis of the successes and failures of each. Participants will then discuss potential next steps in this work. 
Click here for video 
Click here for podcast 
Click here for slides 
---
Faculty Development Series: A Fulbright Specialist Project in Rural Australia - RSVP
Thursday, November, 12, 2015 4:00-5:30PM​ 
Lisa Gruenberg, MD 
Assistant Professor of Medicine, Harvard Medical School, Division of Global Health Equity
Dr. Lisa Gruenberg recently completed a Fulbright Specialist Project  through the University of Melbourne Medical School and their Rural Academic Center at Shepparton.  She will discuss the details of her visit, with a primary focus on applying the concepts of current learning theory to improve didactics in the Murray to the Mountains Rural Internship Program.  As a grant evaluator for the Fulbright Specialist program, she will also discuss application to the Fulbright Specialist Roster, and routes for developing a successful grant proposal.
---
Medical Education Grand Rounds: Building Diversity: A Voyage - RSVP 
Wednesday, December 16, 2015 4:00-5:30PM​
Andre Churchwell, MD
Professor of Medicine (Cardiology), Professor of Radiology and Radiological Sciences, Professor of Biomedical Engineering, and Senior Associate Dean for Diversity Affairs
Vanderbilt University School of Medicine
Diversity and inclusion reside among the central  values of medical education institutions. In this session, HMS alumnus ('79), André L. Churchwell, MD, Senior Associate Dean for Diversity Affairs of Vanderbilt University School of Medicine, reflects upon the voyage undertaken at VUSM to build the climate and structures to best support diversity and inclusion. Dr. Churchwell will use the theme of an evolution of diversity into VUSM's culture, characterizing how the institution went form a "diversity 1.0 " conceptual framework to a "diversity 3.0" framework. Dr. Churchwell will share the successes and challenges along the way and how VUSM hard-wired diversity and inclusion into institutional culture.
---
Annual Symposium on Science of Learning: Bouncing Back: The Science of Resiliency- RSVP 
Thursday, April 28, 2015 –9:30 AM  to 12:00 PM
Tosteson Medical Education Center- 2nd Fl Atrium
Life is full of challenges. We all experience successes and failures. Unfortunately, everyone is touched at some time by death in their family, an unexpected accident, a disappointment. Some people, when faced with adverse circumstances are able to assess the situation, see the "silver lining" in the clouds on the horizon and move into the future with hope; others are mired in seeming tragedy of the moment. What is the difference between these individuals? Are there predictors of how a person will react to the inevitable difficulties of life?
Within medicine today, we hear increasingly about burnout and depression among our students, trainees and practicing physicians.  There have been reports of increasing numbers of suicides among trainees. All of this has occurred despite the implementation of duty hours and more attention to safe learning environments.  In this context, the 2016 Symposium on the Science of Learning will focus on the way the brain responds to stress and the impact of research findings for the behavioral responses which ensue. We will examine the development of resilience in the face of failure or adversity while exploring ways in which faculty can support students to aspire to high achievement.
Click here for more information
Our
Mission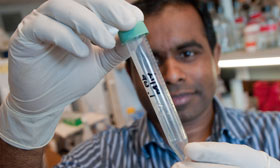 To create and nurture a diverse community of the best people committed to leadership in alleviating human suffering caused by disease