Academy Events
Academy Events
SPRING 2015
Upcoming Faculty Development Programs 
Inter-Hospital Collaborative: Advancing consultative medicine through teaching-  RSVP
Eli Miloslavsky MD, Instructor in Medicine, Massachusetts General Hospital
Jakob McSparron MD, Instructor in Medicine, Beth Israel Deaconess Medical Center
Wednesday, May 13, 2015 - 4:15-5:30 pm TMEC 250
The presenters will explore the teaching interaction between residents and fellows in Internal Medicine and describe interventions to improve this interaction.
Academy Symposium: The Many Flavors of Scholarly Writing: Possibilities and Practicalities- video link
Thursday, May 14, 2015 1:00-3:30PM- TMEC 2nd Fl Atrium and Amphitheater 
This mini-symposium by the HMS Academy Workgroup on Writing for Scholarship will discuss multiple avenues that are available for scholarly medical writing in addition to writing scientific articles for peer-reviewed journals. The symposium will feature a Keynote Address by Dr. Atul Gawande who will discuss his career in medical writing and the approaches physician-writers take to writing for general audiences. The Keynote will be followed by four concurrent workshops on 1) writing and editing textbooks, 2) common ethical issues in medical/scientific writing; 3) practical ways to overcome common writing challenges to develop a successful writing strategy, and 4) writing grant proposals.
For more information click here 
Academy Spring Social and Membership Meeting- Invite Only 
Tuesday, June 2, 2015 4-5:30PM- TMEC 2nd Fl. Atrium 
Medical Education Grand Rounds: For Modern Pedagogy, Do We Lecture or "Flip"? And How? An Exercise and Analysis of Animating the Classroom- RSVP
David Hirsh, MD, Associate Professor of Medicine, Associate Director of the HMS Academy
Friday, June 5, 2015- 7:30-9:00AM TMEC 227
What can moral philosophy teach about modern pedagogy? As education planners increasingly design time in class to be active, participant-oriented, iterative, developmentally-aligned and effective, the requirements of teachers are changing. To stretch participants' pedagogic abilities and orientation, this session will engage the participants in a dynamic live-exercise in moral philosophy. Thereby, learners will take part in, consider, and assess aspects of dynamic pedagogy that they might apply in their contexts. Just as serving patients is ultimately a "moral practice," so, too, will be this session…
---
Links:
Our
Mission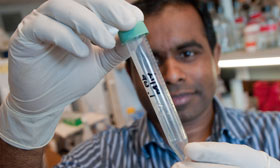 To create and nurture a diverse community of the best people committed to leadership in alleviating human suffering caused by disease