Academy Events
Academy Events
All individuals within the HMS community who teach in classroom or clinical settings are invited to participate in Center activities.
---
Links:
Faculty Development Workshops
Interest Group Symposia
Inter-Hospital Collaborative
Medical Education Grand Rounds
Annual Symposium on the Science of Learning
---
Medical Education Grand Rounds: Best of the Best: Society of General Internal Medicine's Review of Academic Papers Most Likely to Impact Medical Education- RSVP
Friday, June 10, 2016
7:30-9:00 AM
​TMEC RM 250 
Carol K. Bates, MD, Associate Professor of Medicine, Associate Dean of Faculty Affairs, Beth Israel Deaconess Medical Center, Harvard Medical School 
Advances in medical education are published every year in a wide range of journals. A group of seven general internists and one librarian in the Society of General Internal Medicine distill by consensus the prior year's articles, selecting those with new insights that might change educational practice. Articles are then grouped into themes; these themes vary from year to year depending upon the year's best literature.
Themes from this review of the 2015 medical education literature are: trainee mental health; trainee evaluation; implicit bias in our learners; education interventions; and the primary care clinic.  In this medical education grand rounds, 11 articles will be presented with time for audience reflection and discussion following each section.
---
Simulation Academy Interest Group Symposium: Modern Simulation: A New Frontier for Performance Assessment in Medicine - RSVP
Thursday, June 16, 2016
3:00-5:00 PM
TMEC RM 209  
While Simulation-Based training and assessment are commonly coupled as professional development tools in high-risk industries, its use as a clinical performance evaluation tool across heath care has been relatively limited.  Over recent years, however, Core Competency and Maintenance of Certification frameworks have provided increasing opportunities to consider an expanded role for modern simulation as a clinical performance assessment tool.  This session will explore the unique opportunities and challenges of using simulation to inform our evaluation of training milestones and practice benchmarks in medicine.
Click here for more information   
---
Our
Mission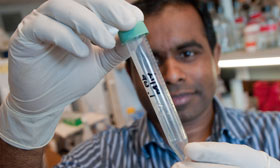 To create and nurture a diverse community of the best people committed to leadership in alleviating human suffering caused by disease