W
Debra Weiner, MD PhD
Assistant Professor
Dr. Weiner is an Emergency Medicine attending and Director of the HMS Pediatric Emergency Medicine Clerkship at Children's Hospital Boston (CHB). Her major education pursuits focus on integration of technology into medical education. As well as leveraging existing state of the art technology, she has developed novel hardware and software to provide user driven, on-the-go, just-in-time resources that enhance education and quality and safety of patient care. She is editor of the pediatric section of Elsevier's Procedures Consult, a web based resource for procedure education.
Her educational activities include medical education committee and organization memberships that span all levels of trainees. Dr. Weiner serves as the CHB faculty director for the HMS Pediatric Interest Group, and has created and directs physician shadowing programs at CHB for HMS year I, II medical students and MIT undergraduates. She is a member of the HMS Emergency Medicine Clerkship Committee that initiated a requirement for scholarly projects to earn high honors in HMS emergency medicine clerkships and has conducted several collaborative education research projects. She is a charter member and board member of the CHB Academy. In addition, she is a member of the CHB Patient Safety and Quality Education Committee.
Dr. Weiner earned her MD from the University of Southern California and her PHD in Human Genetics from the Medical College of Virginia. Following Pediatric residency training at University of Colorado Health Sciences Center, Dr. Weiner completed Pediatric Emergency Medicine fellowship training at CHB. Her translational research combines her training in genetics and pediatric emergency medicine to study emergent presentation and novel treatment. Dr. Weiner is a member of the National Disaster Medical System's International Medical and Surgical Response Team, and in addition to deploying to disasters world wide, she is active in educating providers about pediatric considerations in disaster response.
Debra Weinstein, MD
Assistant Professor of Medicine
Dr. Debra Weinstein is Vice President for Graduate Medical Education at the Partners Healthcare System. In this role she is responsible for overseeing more than 200 graduate medical education (GME) programs with 2000 residents and fellows. Dr. Weinstein is a graduate of Wellesley College, where she majored in Music. After receiving her M.D. from Harvard Medical School, she completed clinical training in Internal Medicine and Gastroenterology at Massachusetts General Hospital, where she served as Chief Resident and later as Associate Chief/Program Director in Internal Medicine. She is an Assistant Professor of Medicine at Harvard Medical School and maintains a limited practice in gastroenterology.
Dr. Weinstein serves on the Board of Directors of the Accreditation Council on Graduate Medical Education (ACGME) and Chairs the Journal Oversight Committee for the ACGME's recently launched Journal of GME. She is also on the Board of the MGH Institute for Health Professions, an independent graduate school affiliated with the MGH. Dr. Weinstein is Chair of the Massachusetts Medical Society's Committee on Publications, and is a past chair of the Association of American Medical Colleges' Group on Resident Affairs. She has led or served on several national task forces related to graduate medical education. Dr. Weinstein was a 2006-7 Fellow of the American Council on Education and is a recipient of the ACGME's "Parker Palmer Courage to Lead Award."
Kathleen Wittels, MD
Instructor in Medicine
Kathleen Wittels is the Director of Student Programs for the Department of Emergency Medicine at Brigham and Women's Hospital.  She is also Assistant Medical Director for Emergency Medicine in the Neil and Elise Wallace STRATUS Center for Medical Simulation.  Kathleen was awarded the HMS Academy Fellowship in Medical Education from 2011-2012.  During this fellowship, she worked on a project to develop a simulation based assessment tool for measuring emergency medicine resident competency.  Before coming to Boston, Kathleen received her medical degree from Brown Medical School. She is a graduate of the Harvard Affiliated Emergency Medicine Residency at BWH/MGH, and was selected as a chief resident her final year.
Beverly Woo, MD
Associate Professor of Medicine
Dr. Woo, a general internist and Associate Master of Peabody Society, graduated from Harvard College and Stanford Medical School and trained in internal medicine at Mass General Hospital. Dr. Woo has been teaching medical students and residents since 1977 and has been director of Patient/Doctor I since 1989. She has been nominated for numerous teaching awards and received the Class Day Award for Clinical Teaching in 1990 and was named Best Tutor in Patient/Doctor I by the Class of 2003. Dr. Woo was one of the first HMS faculty members to be promoted on the Teacher-Clinician track in 1988.
Karen Wood, MD
Assistant Clinical Professor of Population Medicine
Karen Wood, MD, Assistant Clinical Professor of Medicine, is a primary care internist at Harvard Vanguard Medical Associates where she has practiced since 2000. She has worked in community practices and the Brockton VA Hospital where she has been actively involved in the clinical training of medical students for over 20 years. She serves on the Primary Care Clerkshp Steering Committe as Associate Director for Harvard Vanguard and on the steering committee for the Internal Medicine PCE Ambulatory Block month.
In 2011-2012 she was a Curtis Prout Fellow at the HMS Academy where she developed an "Ambulatory Patient Safety Curriculum" for 3rd year medical students; she has been conducting this curriculum at BWH and BIDMC.
Dr. Wood is committed to promoting awareness and interest in the practice of primary care. She completed medical school at Albany Medical College and completed an internal medicine primary care residency affiliated with Johns Hopkins School of Medicine
Alan Woolf, MD, MPH
Associate Professor
Dr. Alan Woolf is a pediatrician, educator, and medical toxicologist. He received a BS degree in biology from Stanford University, his MD from the University of Chicago and an MPH in maternal health & child Health from the University of North Carolina. He did his pediatric residency and a Robert Wood Johnson fellowship in general academic pediatrics at Duke University Medical Center. Dr. Woolf is a professor of pediatrics at Harvard Medical School and a member of both the Academy at HMS and the Teaching Academy at Boston's Children's Hospital. He is director of the Pediatric Environmental Health Center at Children's Hospital, co-director of its fellowship training program in pediatric environmental health, and co-director of Region 1 Pediatric Environmental Health Specialty Unit. Dr. Woolf is a member of the HMS Committee on Continuing Education and he is a site director for pediatric segment of the HMS Patient-Doctor II course for 2nd year Harvard medical and dental students.
Dr. Woolf is the ACGME Designated Institutional Official for Children's Hospital. He is a past-president of the American Association of Poison Control Centers, and he is the current president-elect of the American Academy of Clinical Toxicology. A member of Environmental Protection Agency's National Advisory Committee for Acute Exposure Guideline Levels for Hazardous Substances, Dr. Woolf has also served as external consultant to the World Health Organization's International Program in Chemical Safety. His research interests include childhood metals poisoning, the safety of herbs and dietary supplements, and the epidemiology of toxic exposures. He has authored over 250 original reports, scientific reviews, chapters, and other publications, and is medical editor of the book: The Children's Hospital Guide to Your Child's Health & Development (Perseus Press, Cambridge, 2001).
Our
Mission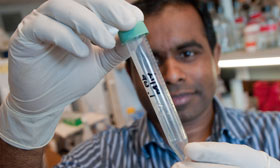 To create and nurture a diverse community
of the best people committed to leadership in alleviating human suffering caused by disease