V
Trudy van Houten, PhD
Clinical Instructor
Dr. Van Houten directs, co-directs, or serves as associate director for all anatomy courses at Harvard Medical School. Dr. Van Houten's innovations in anatomical education include redesigning and restructuring the first-year New Pathway anatomy course to include more clinical anatomy and more clinicians as instructors. First-year medical students learn clinical skills in the gross anatomy laboratory and many of the dissection approaches are based on surgical procedures and surgical approaches. Dr. Van Houten also designed and implemented three clinical anatomy electives, the Continuing Study in Anatomy elective, the Introduction to Surgery elective, and the advanced Clinical Applications of Anatomy elective. She also teaches the advanced Clinical Applications of Anatomy course at Boston University School of Medicine and she co-directs the Comparative Anatomy of the Non-Domestic Species course at Tufts University School of Veterinary Medicine. Dr. Van Houten also conducts anatomy reviews for medical students in their third-year clinical rotations and for surgical residents at the Harvard affiliated hospitals. In addition to research on anatomical education, Dr. Van Houten studies the clinical anatomy of the pelvic floor. She holds a PhD in anthropology from the University of Pennsylvania and has conducted field work in Africa, southern France, and the badlands of Alberta Canada.
Kamen Vlassakov, MD
Instructor
Kamen Vlassakov M.D. is Director of the Division of Regional and Orthopedic Anesthesia, and Director of the Regional Anesthesia Fellowship at the Brigham and Women's Hospital/Instructor in Anaesthesia at the Harvard Medical School, Boston. He is Board Certified in Anesthesiology in the USA (1998) and Anesthesiology and Intensive Care in Bulgaria, Europe (2006).
After graduating from the Medical University in Varna, Bulgaria (1992), Dr. Vlassakov completed his anesthesiology residency training at Penn State College of Medicine in Hershey, Pennsylvania (1997), followed with a combined Regional Anesthesia/Clinical Research Fellowship at the Brigham and Women's Hospital/Harvard Medical School, Boston (1997-99). Since then, he has dedicated his professional career to clinical work and teaching in Boston and internationally. His professional interests focus on education and clinical innovation in the fields of regional anesthesia and postoperative pain management.
Our
Mission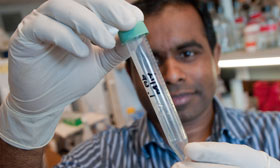 To create and nurture a diverse community
of the best people committed to leadership in alleviating human suffering caused by disease