P
Kerri Palamara, MD
Instructor in Medicine
Dr. Kerri Palamara is a primary care physician at Massachusetts General Hospital and an Associate Program Director for Ambulatory Training at MGH, where she also trained as a primary care resident and served as Ambulatory Chief Resident.  She is a graduate of New York Medical College.  Dr. Palamara McGrath has been a faculty member at HMS since 2009 and her academic work focuses on ambulatory subspecialty education, improving the quality of resident ambulatory training, curriculum development, precepting residents, and most recently, creating a Physician Development Coaching Program for Internal Medicine residents at MGH. She also serves as the co-Director of Internship Selection at MGH for the Department of Medicine.
 
Roy Phitayakorn, MD MEd
Instructor in Surgery
Dr. Roy Phitayakorn is a general and endocrine surgeon at the Massachusetts General Hospital in Boston, Massachusetts and is an Instructor for Surgery. Dr. Phitayakorn graduated from Allegheny College in Meadville, Pennsylvania and went to medical school at the University Of Pittsburgh School Of Medicine. While a medical student, he won both the Healthcare Foundation of New Jersey Humanism in Medicine Student Award and the Sheehan/Cheke Memorial Prize for Exemplifying the Patient-Physician Relationship in 2002. Dr. Phitayakorn completed his residency training in general surgery at Case Western Reserve University in Cleveland, Ohio and also has a Masters degree in Medical Education (MHPE) from the University of Illinois at Chicago. Dr. Phitayakorn completed his endocrine surgery fellowship at the Massachusetts General Hospital.  He is the MGH Department of Surgery Director of Surgical Education Research, the Faculty Co-Lead for Clinical and Academic Operations at the MGH Learning Laboratory, and a Medical Educational Specialist for the Partners Office of Graduate Medical Education.  Finally, Dr. Phitayakorn has faculty positions with the Harvard Macy Institute, the Center for Medical Simulation, and the American College of Surgeons' Surgeons as Educators course.  He and his wife Angel, very much enjoy exploring the world, being foodies, and antiquing.
May Pian-Smith, MD MS
Associate Professor
Dr. Pian-Smith received her AB from Harvard, MS in Pharmacology from Cornell, and MD from SUNY Stony Brook. Upon graduating from her residency in Anesthesiology at Brigham and Women's Hospital, she joined the faculty at MGH in 1994. She has been both a Rabkin Fellow and Advanced Rabkin Fellow in Medical Education. A founding member of the OB Anesthesia service at MGH, she has established clinical practice guidelines, promoted interdisciplinary collaboration, and championed educational programs. Her clinical research has focused on women's health issues and simulation. For many of these projects, she has mentored residents and fellows such that they have co-authored abstracts, chapters or manuscripts and presented at national meetings. She is also co-editor of Obstetric Anesthesia, featuring chapters written by anesthesia residents with one-on-one faculty mentors. At HMS, she serves on the Dean's Faculty Council, the Joint Committee on the Status of Women, and the LCME Review Committee.
Susan Pories, MD
Assistant Professor of Surgery
Dr. Susan Pories graduated from the University of Vermont College of Medicine, completed her internship and residency at the University of Vermont College of Medicine and a Surgical Oncology Research Fellowship at the New England Deaconess Hospital at Harvard Medical School. Dr. Pories is a breast surgeon at the Mount Auburn Hospital and Beth Israel Deaconess Medical Center with a particular interest and expertise in complex breast cancer cases. Dr. Pories is a dedicated surgical educator and completed the Rabkin Fellowship in Medical Education at the Mount Auburn Hospital.
She has been a tutor in the Patient-Doctor III course, teaches in the HMS Core Clerkship in surgery and is the Faculty Advisor for the HMS Writer's Group. She was named a Scholar in the Academy at Harvard Medical School in 2003. Dr. Pories has mentored many premedical students, medical students, residents and colleagues both formally as a member of the Center for Faculty Development Mentoring Program at the BIDMC and informally. She is often contacted for advice about difficult situations, especially by women in surgery. She was recently honored with the 2009-10 A. Clifford Barger Excellence in Mentoring Award by Harvard Medical School. On a national level Dr. Pories has often been invited to teach other surgeons and clinicians at both regional and national courses on a wide range of topics in breast surgery. Dr. Pories is also the Deputy Editor of Surgery for UpToDate, one of the most respected online resources for physicians worldwide.
Charles Pozner, MD
Assistant Professor
Dr. Pozner is an attending physician, Medical Director of the STRATUS Center for Medical Simulation, and Director of Prehospital Care for the Department of Emergency Medicine at Brigham and Women's Hospital and an Assistant Professor of Medicine in the Division of Emergency Medicine at Harvard Medical School. He attended Tufts University School of Medicine in Boston, Massachusetts. Dr. Pozner completed a residency in Internal Medicine at Beth Israel Hospital in Boston, and a residency in Emergency Medicine at the UCLA Medical Center in Los Angeles, California. Board certified in both Internal Medicine and Emergency Medicine, he became a founding faculty member in the Department of Emergency Medicine at Beth Israel Deaconess Medical Center in Boston where he served as the Director of Prehospital Care.
Dr. Pozner also holds numerous key appointments at the regional and national level. These include, at the regional level, Regional Medical Director for the Metropolitan Boston EMS Council for Region IV, Regional Faculty for the American Heart Association, Medical Director for the City of Newton EMS System, and Chairman of the Mayor's Subcommittee on Emergency Medical Services. Dr. Pozner's national appointments include being a past-Councilor for the EMS Section of the American College of Emergency Physicians. He is the President of the Founders Affiliate of the American Heart Association (NJ, NY, MA, RI, CT, NH, VT, ME). He is also Editor-in-Chief of PEPID EMS, a palm-based curriculum for prehospital providers.
Alberto Puig, MD PhD
Assistant Professor
Dr. Puig is a member of the Inpatient Clinician Educator (ICE) Service in the Department of Medicine at MGH and Assistant Professor of Medicine at HMS. In his role as an educator, he spends the majority of his time attending as teaching faculty in the inpatient medicine and consultation services supervising house staff and medical students. Dr. Puig also serves as the Associate Director of the Principal Clinical Experience (PCE) at MGH for the HMS students and directs their longitudinal case conference. He enjoys his time teaching and tutoring pathophysiology to the second year students and when not doing any of the above, he collaborates with his colleagues in the ICE Service on faculty development projects related to bedside teaching, peer observation, innovations in clinical education and curricular design and development. He has been a member of the HMS Academy since 2010 and forms part of the Peer Observation of Teaching and Resident as Teacher groups.
Our
Mission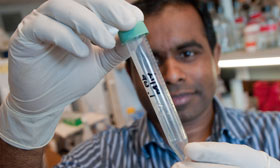 To create and nurture a diverse community
of the best people committed to leadership in alleviating human suffering caused by disease