N
Joshua Nagler, MD
Instructor in Pediatrics
Dr. Nagler graduated from Brown University and Cornell Medical College, and completed his residency and chief residency in pediatrics, and Pediatric Emergency Medicine fellowship at Children's. He was the associate director of the Core Clerkship in Pediatrics and Director of Medical Student Electives at Children's through 2008. He led the Resident at Teacher Program at Children's Hospital through 2009. He is currently the Program Director for the Pediatric Emergency Fellowship at Children's Hospital Boston.
Jane Neil
Associate Dean for Medical Education Planning and Administration
Harvard Medical School
Lori Newman, EdM
Associate in Medicine
Ms. Lori Newman is an associate in medicine at Harvard Medical School. She serves as the acting director of faculty programs in medical education for the Shapiro Institute for Education and Research at Harvard Medical School and Beth Israel Deaconess Medical Center, and is co-director of the Rabkin Fellowship in Medical Education. Lori received her B.A. magna cum laude in English and education from the University of Vermont and a Master of Arts degree in education from Tufts University. She subsequently taught at the secondary and post-secondary levels in the United States and abroad. Lori has been with Beth Israel Deaconess Medical Center since 1989. From 2000-2005, she served in dual roles in both the Shapiro Institute and the Division of General Medicine and Primary Care, for which she developed educational programs, curricula, and instructional material for Harvard Medical School students, residents, fellows, and faculty. In her current role, Lori oversees professional development in medical education for the Shapiro Institute and is instrumental in designing and evaluating innovative curricula and faculty development in clinical teaching. She conducts medical education research and is currently leading a study on the peer review of medical lecturing for which she received an HMS Commendation Award for Scholarship in Medical Education. She serves as co-director of two, national HMS CME Courses focusing on the principles of medical education, and is co-chair of the Shapiro Institute's National Millennium Conference. Lori is a Harvard Macy Scholar and has written articles relating to clinical teaching published in the Academic Medicine, Medical Teacher, and Teaching and Learning in Medicine. She is a recipient of Harvard Medical School's Jim Wiczai Award for Leadership, Excellence, and Innovation in Medical Education.
Our
Mission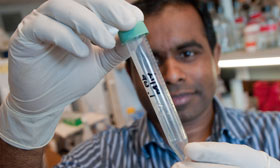 To create and nurture a diverse community
of the best people committed to leadership in alleviating human suffering caused by disease