M
Malcolm Mackenzie, MD
Instructor in Obstetrics, Gynecology and Reproductive Biology
In his life prior to medicine, Dr. Malcolm (Kip) Mackenzie was a schoolteacher. Following his degree at Dartmouth Medical School in 1990, ObGyn Residency at Maine Medical Center, and a year's fellowship in Maternal Fetal Medicince at Brigham and Women's  Hospital, he was for fourteen years Chair of the Department of Obstetrics and Gynecology at Dartmouth  Hitchcock/Keene and Associate Clinical Professor at Dartmouth Medical School. Joining Mount Auburn in 2009, he works as a generalist with particular interest in minimally invasive gynecologic surgery. As Assistant Clerkship Director at BIDMC, and Clerkship Director at Mount Auburn, he splits his time between precepting HMS third year students through BIDMC and organizing the Boston UniversitySchool of Medicine ObGyn clerkship at Mount Auburn. As preceptor in the BIDMC ObGyn Residency, he is active in surgical and outpatient clinical teaching.
Passionate about teaching minimally invasive gynecologic surgical technique, he has developed innovative biologic tissue gynecologic surgical simulation models, designed comprehensive training curricula and organized intensive surgical training and simulation courses. Interested in the problem of skill development in younger trainees, he is focused as well on the problem of training and skill assessment for mid-career physicians.
 
Melissa Mattison, MD
Instructor
Melissa L.P. Mattison, MD, FHM is a hospitaliist and geriatrician at the Beth Israel Deaconess Medical Center. After graduating from Tufts Medical School, she completed her internal medicine residency and chief residency at the BIDMC, and her fellowship in Gerontology at the Harvard Division on Aging. Her clinical, research and educational focus is optimizing the care of hospitalized elderly patients.
Alexander McAdam, MD PhD
Assistant Professor
Dr McAdam is Codirector of the Immunology, Microbiology and Pathology (IMP) course for medical students in the New Pathway at HMS. He has primary responsibility for the microbiology section of IMP. He also teaches in the Human Pathology and Principles of Pharmacology courses in the Health Sciences and Technology program. He is an author of chapters in Robbins and Cotran Pathologic Basis of Disease, Pediatric Practice: Infectious Diseases and the online version of Harrison's Principles of Internal Medicine.
Dr. McAdam is a clinical pathologist who specializes in clinical microbiology. He is the Medical Director of the Infectious Diseases Diagnostic Division at Children's Hospital Boston. His research interests are diagnostic testing for infectious diseases in children and respiratory virus infections of children.
Graham McMahon, M.D., M.M.Sc.
Associate Professor of Medicine
Graham McMahon M.D., M.M.Sc. is an Associate Professor of Medicine and member of the Academy at Harvard Medical School. He is the fellowship Program Director and member of the faculty in the division of endocrinology, diabetes and hypertension at the Brigham & Women's Hospital in Boston where he completed his postgraduate training. More recently, he was appointed Associate Dean for continuing education at Harvard Medical School. Dr. McMahon received his medical education at the Royal College of Surgeons in Ireland, a Master's Degree in clinical research from Harvard Medical School, and his doctorate in education from the National University of Ireland. He is the Chief Editor for medical education at the New England Journal of Medicine and executive editor for NEJM Knowledge + a novel, adaptive and personalized learning system for physicians. Dr. McMahon is the co-director of center for expertise in medical education. Additionally, he directs the endocrinology course at Harvard Medical School and the tutorial program for "Introduction to the Profession." Dr. McMahon has also directed a new integrated teaching unit at the Faulkner Hospital. He has received local and national awards for his teaching and his work in medical education and diabetes research. His work has been published in the New England Journal of Medicine, Diabetes Care, the Archives of Internal Medicine, the Journal of General Internal Medicine, and Medical Education. His research interests include systems of care for patients with diabetes, cardiovascular disease in diabetes, and medical education. 
Jennifer McSweeney, MD
Instructor in Anaesthesia
Jennifer M. McSweeney, M.D. is the Director of Medical Student Education in the Department of Anesthesiology at Brigham and Women's Hospital.  In this role, she coordinates the 3rd year Anesthesiology Clerkship, as well as a popular 4th year elective. In addition to medical student education, she also has a strong interest in resident and fellow education.  As a native Bostonian, she graduated from Tufts University School of Medicine.  She completed her Anesthesiology Residency and Cardiothoracic Anesthesiology Fellowship training at Brigham and Women's Hospital.
Katherine Miller, MD
 Clinical Instructor in Population Medicine
Dr Kathe Miller came to Massachusetts in 2000, after returning from Argentina where she had spent 5 months teaching about medical education under the auspices of the Fulbright International Exchange of Scholars.  She was educated at the University of Arizona in Tucson, from her university studies in electrical engineering all the way through a family medicine residency.  During her training she completed a rotation in rural Argentina, and on seeing the paucity of support for residency education, sought to return there to support the residents and faculty of the Argentine interior, and also to work with some of the leading training programs in Buenos Aires.  Fulbright allowed her to realize this dream in 1999.   Since her arrival in Massachusetts she has been on the faculty of the Tufts Family Medicine Residency (which became a Cambridge Health Alliance affiliate several years ago), and also spent 3 years as the Family Medicine predoctoral director at Tufts University.  She has been teaching HMS students since 2003, through the PCC, PD 2, the summer Medical Spanish course, and also as the Family Medicine advisor for HMS - a title which became officially affiliated with (and supported by) the Center for Primary Care in July of 2012.  She currently spends 85% of her time as a family physician at the Windsor Street Health Center in Cambridge.  Starting in October of 2012 she will officially join the Center for Primary Care Innovations Fellowship, where she was awarded a grant to develop a family-based treatment program for pediatric and adult obesity at her health center.
Rebecca Minehart, MD
Instructor
Dr. Minehart is an Anesthesiologist at Massachusetts General Hospital, where she divides her clinical time between the Labor and Delivery floor as well as the Main OR.  She is a graduate of the University of Michigan Medical School, and completed her anesthesia residency at University of Michigan Health System, and her obstetric anesthesia fellowship at a combined Brigham and Women's Hospital/Massachusetts General Hospital program.  She has been a faculty member at MGH since 2007, and is an Assistant Program Director for the anesthesia residency as well as the Program Director for the MGH's obstetric anesthesia fellowship.  As a teaching faculty member of the Center for Medical Simulation in Cambridge, Massachusetts, as well as the Learning Lab at MGH, she has a strong background and interest in using simulation for enhancing education, as well as researching how clinicians interact in stressful or crisis situations.  She currently serves as a Co-Chair for the Society for Simulation in Healthcare's Anesthesia Special Interest Group.  Her other interests include promoting interprofessional educational opportunities and residents-as-teachers curricula.
John Mitchell, MD
Assistant Professor of Anaesthesia
Dr. John Mitchell is Residency Program Director for the Department of Anesthesia, Critical Care, and Pain Medicine at Beth Israel Deaconess Medical Center.  Nationally, he is Chair and a founding member of the Website Committee for the Society for Education in Anesthesia and Chair for their 2014 annual meeting program. He is an Assistant Professor of Anaesthesia at Harvard Medical School.
He was selected as Departmental Teacher of the Year by residents three times, and received the S. Robert Stone award for medical student teaching from BIDMC and HMS in 2011.   He was a Rabkin Fellow in medical education in 2009-2010 and received several research grants to pursue research in feedback, and enhancing professionalism and communication skills in residents.  He speaks nationally on resident education issues and implementing technology in education.
Colleen Monaghan, MD
Instructor in Pediatrics
Dr. Colleen Monaghan graduated Summa cum Laude from Dartmouth College in 1992 and completed medical school at the University of Pennsylvania in 1998. She complete her Medicine-Pediatric residency at the Harvard Combined Residency in Medicine and Pediatrics in 2002. Dr. Monaghan is the Associate Program Director for the Harvard Brigham and Women's/Children's Hospital Internal Medicine-Pediatric Residency. She is a primary care pediatrician and internist at Martha Eliot Health Center. She precepts residents in their continuity clinic and serves as a mentor for medical students interested in primary care. She was a tutorial leader for several years in the Primary Care Clerkship at Harvard Medical School. As a resident and recent graduate, she developed the Resident as Teacher Curriculum at Brigham and Women's Hospital for the Internal Medicine Residents. She continues to teach in the Resident as Teacher Curriculum and Humanistic Curriculum for interns. She was awarded the John J.W. Fangman award for excellence in mentoring from the medicine-pediatric residents in 2009.
Our
Mission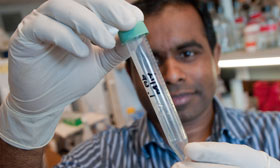 To create and nurture a diverse community
of the best people committed to leadership in alleviating human suffering caused by disease