K
Martin J. Kafina, MD
Clinical Instuctor In Medicine
Dr. Kafina received his Medical Degree from the State University of New York Downstate College of Medicine in Brooklyn. He trained in Internal Medicine at Kings County Hospital, and then at St. Vincent's Hospital and Medical Center in Manhattan. He completed an Immunology and Rheumatology Fellowship at Yale.  Between 1987 and 1991 he did Immunology research on Scleroderma at the Mt. Sinai Hospital in Manhattan. He moved to Longwood Avenue in 1991 and has been affiliated with Beth Israel Deaconess Medical Center and New England Baptist Hospital since that time. He moved and expanded his practice to Emerson Hospital in 1994 in Concord, Massachusetts. Clinical interests include  how the immune system, musculoskeletal system and central nervous system are integrated and interconnected.  How the immune system can contribute to "late Lyme disease" and lupus-like syndromes; specifically from up-regulated immune-reaction against dead spirochetal molecular debris is an area he specializes in.  Research has included looking at antibodies directed against topoisomerase enzymes in Scleroderma, and possible enzyme-inhibition therapies. In his Mt. Sinai lab, Dr. Kafina studied tight skin mouse and human Scleroderma anti-topoisomerase antibodies. He also worked in an enzyme biochemistry lab at Wisconsin where he studied the active site of enzymes using Resonance Raman spectroscopy and Bio-Organic techniques.  Additionally, apoptosis and clinical Lupus are one of his favorite topics.  He has been an invited speaker for the Arthritis Foundation in Newton.  Recent television appearances include discussion of Lyme disease, Systemic Lupus, and other Rheumatologic topics.  He is interested in seeing patients with arthropathy, colitis, anxiety, musculoskeletal, and sleep disorders; and in examining the nervous system's relationship to the immune system.  
Joel Katz, MD
Assistant Professor of Medicine
A graduate of Earlham College and the Johns Hopkins University School of Medicine, Joel T. Katz, M.D. is an infectious diseases consultant, Director of the Internal Medicine Residency program, and Vice Chair for Education at Brigham and Women's Hospital. He is an Assistant Professor of Medicine at the Harvard Medical School. He also holds the Marshall A. Wolf Chair in Medical Education. Academic interests include curriculum innovation, including in areas of physical skills and utilizing fine arts to improve medical care.
Tara Kent, MD MS
Instructor in Surgery
Dr. Kent is a general and pancreaticobiliary surgeon at Beth Israel Deaconess Medical Center. She serves as the Program Director of the General Surgery Residency at BIDMC and as the Associate Clerkship Director for the 3rd year HMS core surgical clerkship. She serves on the Education and Training Committee of the Americas Hepato-Pancreato-Biliary Association, where she is chair of the HPB-SCORE subcommittee. She is also a member of the Continuing Education Committee of the Society for Surgery of the Alimentary Tract, and a member of the Association for Surgical Education.
 
B. Price Kerfoot, III, MD EdM
Instructor in Surgery
Dr. B. Price Kerfoot is an Associate Professor of Surgery (Urology) at the VA Boston Healthcare System. His research over the last six years has focused on utilizing rigorous clinical trial methodologies to assess the efficacy and acceptability of online educational methods. Through this educational research, Dr. Kerfoot has developed a new form of online learning termed 'Spaced Education'. In over ten large randomized trials to date, spaced education has been shown to improve knowledge acquisition, boost knowledge retention, improve students' ability to self-assess their performance, and change clinician behavior. His work recently received the William Felch / Wyeth Research in Education Award from the Alliance for Continuing Medical Education. Dr. Kerfoot is the recipient of the Rising Star in Urology Research Award from the American Urological Association Foundation and a K08 Mentored Clinical Scientist Award from the Agency for Healthcare Research and Quality (AHRQ).
Jennifer Kesselheim, MD, M.Ed, Mbioethics
Instructor in Pediatrics
Dr. Kesselheim attended the University of Wisconsin-Madison and received her medical degree from the University of Pennsylvania School of Medicine. During medical school she also earned a Masters degree in Bioethics from the Center for Bioethics at Penn. She did her residency in pediatrics at Children's Hospital Boston and completed fellowship training in pediatric hematology-oncology at Children's Hospital Boston and the Dana-Farber Cancer Institute. While finishing her fellowship, she also earned a second Masters degree in Education from the Harvard Graduate School in Education. During residency and fellowship training she developed two curricula for the Boston Combined Residency Program in Pediatrics: one in medical ethics and another in humanism and professionalism. Her research has been on assessment of professionalism and other competencies and optimizing methods and outcomes of ethics education for pediatric residents. She has published numerous articles in peer-reviewed journals including Archives of Pediatrics and Adolescent Medicine and Pediatrics. Dr. Kesselheim maintains an active clinical practice in pediatric hematology and oncology. She serves as Associate Fellowship Director for Education in the Division of Hematology-Oncology at Children's Hospital and as a medical education specialist for the Office of Graduate Medical Education.
Holly Khachadoorian-Elia, MD MBA
Instructor in Obstetrics, Gynecology and Reproductive Biology
I have been Associate Clerkship Director for the Core Harvard Medical School Ob/Gyn Clerkship at Massachusetts General Hospital (MGH) since 2007.  I am a general Obstetrician/Gynecologist in the faculty group practice at MGH where I have been since graduation from my residency program at BIDMC in 2006.  I have been fortunate to have had the opportunity to serve on the Course and Clerkship Review and Evaluation Committee (CCREC) since 2010 and will join the HMS Admissions Committee beginning this Fall 2012.  I also have had the honor to participate in the APGO Scholars & Leaders program (Jan 2012 to Mar 2013) which has furthered my own faculty development in educational theories, practice, research and leadership.  My educational research projects include the role of residents as teachers as well as the importance that letters of recommendation play in assessment of residency applicants.
 
Randall King, MD PhD
Associate Professor
Dr. King is a faculty member in the Department of Cell Biology at HMS, where he studies control of cell division. He graduated from Carleton College, and received his PhD from UCSF and his MD degree from Harvard. He currently serves as course director for the first year New Pathway course, Molecular and Cellular Basis of Medicine. In 2005 he received a Faculty Prize for Excellence in Teaching.
Carolyn Kloek, MD
Instructor
Dr. Carolyn Kloek is a comprehensive ophthalmologist at the Massachusetts Eye and Ear Infirmary and serves as the Associate Residency Program Director of the Harvard Medical School Residency Program in Ophthalmology.
Dr. Kloek received her M.D. from Harvard Medical School after which she interned in Internal Medicine at Brigham and Women's Hospital. She completed her ophthalmology residency and chief residency at the Harvard Medical School Residency Program in Ophthalmology.
Dr. Kloek is dedicated to medical student and resident education. She routinely serves as a preceptor to medical students rotating in ophthalmology at MEEI and is a lecturer in ophthalmology to Harvard Medical Students. She teaches ophthalmology residents in both the clinic and operating room and is actively involved in the oversight and organization of the residency in her capacity as Associate Residency Program Director.
Edward Krupat, PhD
Associate Professor of Psychology
Dr. Krupat graduated from New York University and received his PhD in Social Psychology from the University of Michigan. He has taught Psychology at Rutgers University, Boston College, and the Massachusetts College of Pharmacy and Health Sciences where has was the founder and Director of the Health Psychology Program. He has co-authored two textbooks and edited another in the fields of Social and Health Psychology, and has taught communication skills to students and physicians alike. He currently serves as the Director of the HMS Center for Evaluation where he is involved in several projects assessing the role of curricular innovation.
Our
Mission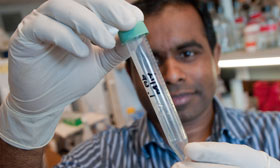 To create and nurture a diverse community
of the best people committed to leadership in alleviating human suffering caused by disease