J
Vicki Jackson, MD
Instructor in Medicine
Dr. Jackson serves as the director of the Harvard Palliative Medicine Fellowship and Associate Director of the Palliative Care Service at MGH. She completed residency and chief residency in Internal Medicine at The Cambridge Hospital and completed training in research methods through the Harvard General Medicine Fellowship and in the Program for Cancer Outcomes Training. She trained in pain and palliative care at DFCI/BWH and joined the staff at MGH in 2002. Her work in education focuses on the development of end-of-life medical and communication curriculum for trainees. Currently she is a fellow in the Rabkin Medical Education Fellowship at BIDMC and is studying the impact of advanced communication curriculum for palliative medicine trainees. Nationally she serves as Co-Chair for an innovative 3 year academic leadership training program for junior palliative medicine faculty.
Deborah Jacobs, MD
Assistant Clinical Professor of Ophthalmology
Deborah S. Jacobs, M.D., is an ophthalmologist specializing in cornea and ocular surface disease.  Dr. Jacobs earned an undergraduate A.B. degree in Biology, summa cum laude, from Harvard and Radcliffe Colleges in 1981. She was awarded a Rhodes Scholarship to Oxford University in the U.K., where she earned an M.Sc.in Physiological Sciences in 1983.   She attended Harvard Medical School, receiving the M.D. degree in 1987.  She trained as aResident in Ophthalmology and then as a Fellow in Cornea and External Diseases at Massachusetts Eye & Ear Infirmary. From 1992-2006, she was Director of the Cornea Service at Beth Israel Deaconess Medical Center in Boston.
Since 2006, Dr. Jacobs has served as the Medical Director at Boston Foundation for Sight, in Needham, MA.  She is Assistant Clinical Professor of Ophthalmology at Harvard Medical School, where she directs the Core Medicine Clerkship in Ophthalmology, and she serves as Faculty at the Massachusetts Eye & Ear Cornea Service.  She is Chair of Scientific Programs for CLAO, the Contact Lens Association of Ophthalmologists, has Chaired the AAO Ophthalmology Technology Assessment Committee for Anterior Segment and Cornea, and she currently sits on the AAO Preferred Practice Patterns  Refractive Management/Intervention Panel.
 
Natasha R. Johnson, MD
Assistant Professor of Obstetrics, Gynecology and Reproductive Biology
Katherine T. Johnston, MD, MA, MSc
Instructor
Dr. Katherine Johnston received a B.S. degree in biology and M.A. in philosophy at Loyola University Chicago prior to completing an M.D. degree at Loyola University Stritch School of Medicine in 2003. She trained in internal medicine at Beth Israel Deaconess and then pursued a fellowship in general internal medicine, women's health, and preventive medicine at Boston University, where she received a M.Sc. degree in Health Services Research at the Boston University School of Public Health. During her fellowship, she completed research projects and a master's thesis examining formative feedback and clinical skill development in medical students. She is currently on faculty at Beth Israel Deaconess at Health Care Associates with a clinical focus in women's health, breast health, and cancer survivorship care. She has been invited to speak on these topics at multiple CME conferences. Dr. Johnston continues in her interest of student teaching as a third year medical student's case conference leader, and patient-doctor 3 group facilitator. She also works with students through the primary care clerkship and core medicine I, and precepts internal medicine residents. Her research involves refining the use of structured formative assessment tools, and creating faculty education seminars to promote and assess the use of formative feedback to improve clinical skills in medical students and residents.
Daniel Jones, MD MS
Professor
Dr. Jones received his medical degree from Cornell University Medical College, New York, New York. He is Chief of Minimally Invasive Surgical Services, Beth Israel Deaconess Medical Center, Boston, Massachusetts, and Associate Professor of Surgery, Harvard Medical School, Boston, Massachusetts. He founded the Southwestern Center for Minimally Invasive Surgery in Dallas and the Carl J Shapiro Skills and Simulation Center in Boston. Dr. Jones completed the Rabkin Fellowship in Medical Education, Harvard Medical School.
Dr. Jones is past Chair, Education Committee of Society Surgery Alimentary Tract (SSAT) and currently serves on Nominating Cmmittee. He also is Chair of Simulation Committee of the Association of Surgical Education (ASE); and Chair SAGES Quality, Outcomes and Patient Safety. He serves on the Board of Directors for ASE and Board of Governors for SAGES.
An internationally recognized leader in the field, he is the author of over 150 professional publications.
Stephanie Jones, MD
Associate Professor
Stephanie B. Jones, MD is Residency Program Director and Vice Chair for Education, Department of Anesthesia, Critical Care and Pain Medicine, Beth Israel Deaconess Medical Center. She received her undergraduate degree from Cornell University and completed her medical school and anesthesia residency at Washington University, St. Louis. After six years on the anesthesia faculty at University of Texas Southwestern Medical Center, Dallas, she joined the staff at Beth Israel Deaconess in 2003 where she holds the rank of Associate Professor, Harvard Medical School. Her clinical interests include the anesthetic implications of obesity and bariatric surgery. She has served as a member of the statewide Weight Loss Surgery Expert Panel and Anesthesia Task Force, Betsy Lehman Center for Patient Safety and is on the editorial board of Obesity Surgery. A 2009 graduate of the Harvard Macy Institute Program for Educators in Health Professions, Dr. Jones serves on the Board of Directors of the Society for Education in Anesthesia and is committed to exploring best practices in teaching, feedback, and evaluation to provide the finest training for her residents.
Our
Mission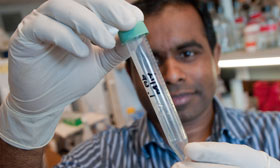 To create and nurture a diverse community
of the best people committed to leadership in alleviating human suffering caused by disease