H
Richard Haspel, MD PhD
Instructor
Richard Haspel completed a residency in Clinical Pathology at Brigham and Women's Hospital and a fellowship in Transfusion Medicine at Massachusetts General Hospital. He is currently the Medical Director of the Stem Cell Processing Laboratory as well as the Director of the Laboratory Medicine Residency Training Program at Beth Israel Deaconess Medical Center. He has completed two, year-long Harvard University Rabkin Fellowships in Medical Education and has an interest in curricular design on both the undergraduate and graduate levels. Current projects involve integrating Pathology into 3rd year medical student training and developing a genomics curriculum for Pathology residents.
Joaquim Havens, MD
Instructor in Surgery
Dr. Joaquim Havens is an Associate Program Director for the General Surgery Residency at Brigham and Women's Hospital.  He is a member of the Resident Research Council and Resident advisory Committee.   He is an associate surgeon in the division of Trauma, Burns and Surgical Critical Care at BWH.  Dr. Havens received his BA in Microbiology and Molecular Genetics from the University of California, Los Angeles and his MD from Harvard Medical School.  He then completed residency in general surgery and fellowships in surgical critical care and trauma and emergency surgery at Brigham and Women's Hospital.  Dr. Havens' clinical research is focused on identifying factors that affect morbidity and mortality from trauma and in identifying ways to modify those factors to improve trauma outcomes.
Emily Hayden, MD
Instructor
Emily Hayden is a graduate of Indiana University School of Medicine. She completed post-graduate training in Emergency Medicine at Indiana University. Dr. Hayden completed a 2-year fellowship in Medical Simulation at the Gilbert Program in Medical Simulation at Harvard Medical School and Massachusetts General Hospital. She currently is a candidate for a Master's in Health Profession Education at University of Illinois-Chicago. For her Master's thesis, she is developing an instrument to detect clinical reasoning ability in preclinical medical students in the simulation laboratory. She currently is the Assistant Fellowship Director for the Gilbert Program in Medical Simulation, as well as and attending physician and the Assistant Director of Simulation in the Department of Emergency Medicine as Massachusetts General Hospital. Dr. Hayden coordinates simulation activities at the Gilbert Program at Harvard Medical School. Along with her thesis work on clinical reasoning, she also studies the use of technology in medical education.
Harley Haynes, MD
Professor of Dermatology
Dr. Haynes is a Professor of Dermatology at Harvard Medical School and Vice Chairman of the Department of Dermatology at Brigham and Women's Hospital. He graduated from Harvard Medical School in 1963. He finished his dermatology residency in the Harvard program and was Chief of the Clinic at the Massachusetts General Hospital for six years prior to being recruited to Peter Bent Brigham Hospital as Director of the Dermatology Division, which eventually became the Department of Dermatology, of which he is currently the Vice Chairman.
Dr. Haynes has been heavily involved in the teaching of medical students and residents since his initial faculty appointment in 1970. He has been the Director of the Clinical Clerkship in Dermatology and the Co-Director of the Dermatology part of the Human Systems course for over three decades. He designed the dermatology curriculum for the Core I clerkship, in which he also lectures weekly during the ambulatory months, eight months per year. Dr. Haynes is the recipient of several awards for excellence in teaching from the Harvard Medical School and the Department of Dermatology, an award for mentorship from the Department of Dermatology, the Lifetime Achievement award from the Medical Dermatology Society, the Lifetime Career Educator Award from the Dermatology Foundation, the Harvard Medical School Class of 2010 awarded him the "Best Clinical Instructor at the Brigham and Women's Hospital," at Class day in 2010.
Simon Helfgott, MD
Associate Professor of Medicine
Simon Helfgott MD is an Associate Professor of Medicine and serves as Director of Education and Fellowship Training in the Division of Rheumatology at Brigham and Women's Hospital. Dr. Helfgott directs the Year II HST Introduction to Clinical Medicine/Rheumatology @ BWH and is co-director of the HMS Year II Human Systems: Rheumatology section. He is a lecturer in the HST 350 Pharmacology and Clinical Therapeutics course and is a speaker at many of the HMS sponsored CME review courses. His interests include the bedside teaching of rheumatology to students and housestaff. He is currently the physician editor of The Rheumatologist, a monthly publication of the American College of Rheumatology.
Lisa Hirschhorn, MD MPA
Assistant Clinical Professor of Medicine
Lisa Hirschhorn, MD, MPH is Assistant Professor of Clinical Medicine in the Department of Global Health and Social Medicine at Harvard Medical School and Director for Monitoring, Evaluation and Quality at Partners in Health. Dr. Hirschhorn has is trained in infectious diseases, public health and worked in the area of evaluation and implementation research in the US and internationally for over 25 years. She serves as a developer and co-Director and tutor for the 1st year course, Pursuing Inquiry in Medicine as well as a lecturer for selected courses at HMS and HSPH. She also serves as a mentor for multiple HMS students as well as residents and fellows and junior faculty focusing on quality and evaluation of care and education. She is also the Program Director for the International Clinical Research Fellowships funded by the Doris Duke Charitable Foundation. Her areas of focus in education includes developing effective approaches to evaluate educational strategies in the US and in Africa and innovative approaches to build skills and capacity in data utilization and quality improvement.  
 
David Hirsh, MD
Instructor in Medicine
Among a variety of clinical, administrative, and other educational duties, David A. Hirsh, M.D. is the co-creator and co-director of the Harvard Medical School-Cambridge Integrated Clerkship. After graduating summa cum laude with a B.A. in History from Dartmouth College, he attended the University of Virginia, School of Medicine and completed his residency at the University of Michigan. Following his chief residency, he joined the Department of Medicine of Cambridge Hospital and joined the faculty of Harvard Medical School where he is an Instructor.
In his clinical work, Dr. Hirsh served from 1995-2009, as Medical Director of the City of Cambridge Healthcare for the Homeless Program. In 1997, in neighboring Somerville, Massachusetts, he helped found Union Square Family Health. In recent years, Dr. Hirsh has developed a full practice providing primary care women's health in Cambridge.
Melanie Hoenig, MD
Assistant Professor
Melanie Hoenig is a nephrologist at Beth Israel Deaconess Medical Center and the Joslin Clinic. She attended Brown University and Albert Einstein College of Medicine. She completed her residency and fellowship at Beth Israel Deaconess Medical Center where she also served as Chief Medical Resident.
Dr. Hoenig is the course director for renal pathophysiology at Harvard Medical School. Her clinical interests include transition to adult care for young people with kidney disease and HIV related renal disorders.
Robert S. Holzman, MD
Associate Professor of Anaesthesia
Robert S. Holzman, M.D. is currently an Associate Professor of Anaesthesia at Harvard Medical School and Senior Associate in Perioperative Anesthesiology at Children's Hospital Boston. He graduated from the City College of City University of New York in 1971 with a Bachelor of Science and Special Graduation Honors in Psychology and from The George Washington University School of Medicine (M.D. with Honors, Alpha Omega Alpha) in 1978. He completed his categorical internship and residency in Anesthesiology and fellowships in Cardiothoracic Anesthesiology at Walter Reed Army Medical Center and Pediatric Anesthesiology at The Children's Hospital National Medical Center in Washington, D.C., followed by a tour of duty as Chief of Anesthesia at Madigan Army Hospital in Tacoma, Washington. He joined the staff at Children's Hospital Boston in 1985 and was Clinical Director of the Department of Anesthesiology from 1986-8.
Dr. Holzman has been the recipient of awards and honors including several Teacher of the Year awards from the Children's Hospital Boston Department of Anesthesiology, the International Anesthesia Research Society, and memberships in the Harvard Medical School and Children's Hospital Academies.
Grace Huang, MD
Instructor in Medicine
Grace Huang, MD, is an assistant professor of medicine at Harvard Medical School (HMS) and a hospitalist at Beth Israel Deaconess Medical Center (BIDMC). She has spent a number of years designing computer-based modules on clinical skills, including physical diagnosis tutorials, interactive diagrams, procedure-based instruction and virtual patients. In her current role as Director of Assessment at the Shapiro Institute for Education and Research, she provides faculty development and consultation in survey design and educational measurement. Her research interests are in competence assessment, procedural training and cognitive error. She is a consultant for the Association of American Medical Colleges (AAMC), an associate editor for MedEdPORTAL, an editorial board member for Simulation in Healthcare, and an associate editor for Hospital Medicine Journal Watch.
Edward Hundert, MD
Senior Lecturer in Medical Ethics
Dr. Hundert is Senior Lecturer in Medical Ethics in the Department of Global Health and Social Medicine at Harvard Medical School, where he serves as co-director of the first year course, Medical Ethics and Professionalism, as well as teaching ethics in the Patient-Doctor III sequence in the third year clerkships. An HMS alumnus, he is an internationally known academic leader, scholar, educator, psychiatrist, and medical ethicist. Over the past 20 years, he has served as President of Case Western Reserve University, Dean of the University of Rochester School of Medicine and Dentistry, and Associate Dean for Student Affairs at Harvard Medical School. He has held professorial appointments in psychiatry, medical ethics, cognitive science, and medical humanities, with a particular focus on developing innovative institutional affiliations and curricula in medical schools and across all levels of higher education.
Dr. Hundert earned his bachelor's degree in mathematics and the history of science and medicine, summa cum laude, from Yale University, where he received Yale's Chittenden Prize "to the graduating senior with highest standing in mathematics or the natural sciences." He attended Oxford University as a Marshall Scholar, receiving the Batterby Prize from Hertford College for "highest first class honours in philosophy, politics and economics." Four years later he earned the M.D. from Harvard Medical School, receiving the Sanger Prize for "excellence in psychiatric research." He completed his psychiatric residency at McLean Hospital, where he served as chief resident.
Our
Mission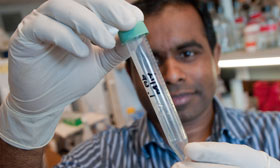 To create and nurture a diverse community
of the best people committed to leadership in alleviating human suffering caused by disease