G
Joseph Garfield, MD
Associate Professor of Anesthesia
Dr. Garfield is the senior consultant in anesthesia at Brigham and Women's Hospital and associate professor at Harvard Medical School. His research interests are: outcomes research, research in medical education and professionalism, and computer-assisted instruction.
 
Elizabeth Gaufberg, MD MPH
Assistant Professor of Medicine & Psychiatry
Elizabeth Gaufberg is a double-boarded internist-psychiatrist at The Cambridge Health Alliance (CHA) and an Assistant Professor of Medicine and Psychiatry at HMS. She holds an Arnold P. Gold Foundation Humanism Professorship. As Director of the Social Science Curriculum for the Cambridge Integrated Clerkship, Director of Psychosocial Training for the CHA Internal Medicine Residency, and Director of Professional Development for the CHA Department of Medicine, Liz is involved in medical education across the developmental spectrum. Liz has a special interest in applications for the arts in medical education, and is founding editor of Auscultations, the award-winning CHA Employee Literary Arts Journal.
Leo Ginns, MD
Associate Professor of Medicine
Dr. Ginns received his BA from the University of Massachusetts Amherst, and his MD from the University of Vermont College of Medicine. After his medical residency at Barnes Hospital, Washington University in St. Louis, Missouri, he trained in the Laboratory of Dr. Herman Eisen in tumor immunology of the Center for Cancer Research at the Massachusetts Institute of Technology. He joined Massachusetts General Hospital (MGH) and Harvard Medical School (HMS) as a Clinical and Research Fellow in 1977. Since then, he has been part of the staff of the Department of Medicine at MGH and is currently Associate Professor of Medicine at HMS.
Dr. Ginns has conducted basic research in immunology of lung disease as well as clinical research in lung transplantation and advanced lung disease. In 1990, he became Medical Director of the MGH Lung Transplantation Program. Dr. Ginns is author and coauthor of over 100 professional publications as well as co-editor of Transplantation, an authoritative and comprehensive textbook in the field of clinical transplantation.
Stuart Goldman MD
Assistant Professor
Dr. Goldman is the Director of the Mood Disorders Clinic and a Senior Associate at Children's Hospital Boston. He is a graduate of MIT and Tufts Medical School and did both his general and child and adolescent training at New England Medical Center. A career long medical educator, he directed the training program in child and adolescent psychiatry at Children's Hospital Boston, for over twenty years and continues as its senior educator. He has worked in curriculum design at all levels of medical education. Currently his focus is on integrating adult learning theory and quality management into the assessment process.
Kristen Goodell, MD
Director for Innovation in Medical Education
Kristen H Goodell MD is the first Family Physician to join the leadership team at the Center for Primary Care, as the Director for Innovation in Medical Education.  In this role she aims to enhance primary care education at Harvard Medical School and its affiliated institutions.  She will be working on the redesign of the Patient-Doctor I and II course, strengthening the inclusion of medical students and residents in practice transformation projects, developing new courses and learning opportunities in primary care, and conducting educational research.  She has been practicing family medicine in Medford Square since 2007, and in addition serves as the school physician for the City of Medford.  
Dr. Goodell is a 2001 graduate of Columbia University College of Physicians and Surgeons.  She completed family medicine residency training at Tufts University Family Medicine Residency in 2007 and the Tufts Master Teacher Fellowship in 2009. She is currently working on a master's degree in medical education from the University of Dundee in Scotland.  She has presented at the institutional, local, and national levels on Information Mastery, reflective medical practice, and competency-based curricula among other topics. Her presentation "Teaching Information Mastery to the Google Generation" was rated one of the top 3 (of over 400) presentations at the national meeting of the Society of Teachers of Family Medicine in 2010.    Before coming to Harvard, Dr. Goodell was an Assistant Professor of Family Medicine at Tufts University School of Medicine, where she was the assistant course director for the Family Medicine Clerkship, chair of the curriculum committee, and was the co-creator and course director for the required year 1-2 clinical skills course, the Competency-based Apprenticeship in Primary Care (CAP).  Dr. Goodell received the Emerging Leader award from the Family Medicine Education Consortium in 2011, and she is a member of the American Academy of Family Physicians and has served on the board of the Society of Teachers of Family Medicine.
Holly Gooding, MD, MSc
Instructor
Dr. Holly Gooding is an internist and adolescent medicine physician in the Division of Adolescent and Young Adult Medicine at Boston Children's Hospital.   She received her MS from the UC Berkeley School of Public Health and her MD from the UC San Francisco School of Medicine with an area of concentration in medical education.  She has studied the integration of ethics concepts into problem-based learning curricula and the use of teen advocates to teach preventive health counseling skills in the ambulatory environment.  She teaches principles of teaching and learning in the BCH Leadership and Education in Adolescent Health (LEAH) multidisciplinary fellowship as well as a variety of clinical topics related to adolescent health to trainees rotating at BCH.  She is interested in ambulatory education, the intersection of quality improvement and medical education, and improving the teaching skills of clinicians and trainees.
James Gordon, MD MPA
Assistant Professor of Medicine
Dr. Gordan graduated from Princeton, University of Virginia Medical School, and University of Michigan School of Public Policy and trained in emergency medicine at University of Michigan Medical Center. As Director of the MEC Program in Medical Simulation for medical students, he precepts simulation exercises for numerous HMS courses, including IHP, Human Systems, Pt/Dr II and III, Transition to the Wards, and the surgery and emergency medicine clerkships. He has completed the Harvard Macy Physician Educator and Leadership Programs. In 2001, he was awarded a Morgan-Zinsser Fellowship in the Academy at HMS.
Barbara Gottlieb, MD MPH
Associate Professor of Medicine
Barbara Gottlieb, MD, MPH is a primary care internist at Brookside Community Health Center, where she has worked since 1981. In addition to her patient care responsibilities, she is responsible for developing clinical and public health programs and coordinates teaching activities at the health center.
She is also a member of the Division of General Medicine and Primary Care and the Division of Women's Health at Brigham and Women's Hospital and teaches regularly on the in-patient service and lectures on topics related to community health and underserved populations.She is Associate Professor at Harvard Medical School where she teaches in pre-clinical and clinical courses, including Patient-Doctor 1 since 1987, the Primary Care Clerkship and the Mentored Clinical Casebook. She is a member of the Division of Service Learning and Chair of the Community Service Committee, and is one of the core faculty members for the Physician in the Community Course. She has a joint appointment at the Harvard School of Public Health, where she teaches in the interdisciplinary program in Women, Gender and Health. She also directs the practicum course for MPH students. She serves as advisor and mentor to medical and public health students on domestic and international community service and research projects.
Stacey Tutt Gray, MD
Assistant Professor of Otology and Laryngology
Stacey Gray is an otolaryngologist at Massachusetts Eye and Ear Infirmary with subspecialty training in Rhinology and Endoscopic Skull Base Surgery.  She is currently the Co-Director of the MEEI Sinus Center and is also the Residency Director for the Harvard Otolaryngology Training Program.  She graduated from Georgetown University School of Medicine and then completed her residency training in Otolaryngology – Head and Neck Surgery at Harvard before pursuing fellowship training in Rhinology at MEEI.
Alexander Green, MD MPH
Assistant Professor
Dr. Green is Senior Scientist at the Institute for Health Policy, Associate Director of the Disparities Solutions Center at Massachusetts General Hospital, and Chair of the Cross-Cultural Care Committee at Harvard Medical School. He received his bachelors and medical degree from the University of California, San Diego, and completed residency in internal medicine at New York Hospital—Cornell Medical Center, where he later served as Associate Director of the Primary Care Internal Medicine Residency Program. He was a National Health Services Corps fellow in Queens, New York, and later completed a research fellowship and Masters degree in Public Health at Harvard School of Public Health. His research focuses on culturally competent health care systems and medical education, clinician biases as root causes of racial/ethnic disparities in health care, and practical approaches toward the elimination of disparities in health care.
Lisa Gruenberg, MD
Assistant Professor
Dr. Lisa Gruenberg graduated from Williams College in 1976, Albany Medical College in 1982 and completed her Ob-Gyn residency at Boston's Beth Israel Hospital in 1986. She is currently a member of the Ob-Gyn department at Brigham and Women's Hospital and sees patients in the Pediatric and Adolescent Gynecology unit at Children's Hospital. She volunteers for the Metrowest Free Medical Program and has worked on several international projects in Bangladesh and South Africa. She is a Gross Anatomy lab instructor in the first year Human Body course and a tutor in the second year Neuroanatomy course at HMS. Over the past five years she has been a tutor and Histology instructor in Human Body and a tutor in Physiology, Patient-Doctor I and III, and Genetics and Reproductive Biology courses at HMS. She received an MFA in creative writing from Lesley University in 2007, is a member of the Boston Writer's Room and writes a column on medical volunteerism for the Massachusetts Medical Society.
Anita Gupta, MD
Instructor
Dr. Anita Gupta is a pediatrician at Cambridge Hospital working in the newborn nursery as a hospitalist. She is a graduate of Vanderbilt University School of Medicine, and completed her residency at Children's Hospital Los Angeles. She is currently the Residency Site Co-Director for Massachusetts General Hospital for Children and teaches newborn medicine to Harvard Medical School 3rd year students. She is also a co-facilitator of Patient Doctor III for the Cambridge Integrated Clerkship students. She completed the Harvard Macy Program for Educators, and plans to continue working with residents and medical students around issues related to quality improvement and career development.
 
Our
Mission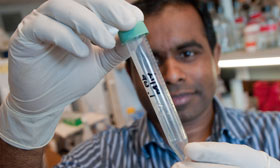 To create and nurture a diverse community
of the best people committed to leadership in alleviating human suffering caused by disease