A
Erik Alexander MD
Assistant Professor of Medicine Dr. Erik Alexander is the Director of Medical Student Education at the Brigham & Women's Hospital. In that role, he directs the BWH Principal Clinical Experience. Separately, Dr. Alexander is the clerkship director for the Core I 3rd-year Clerkship in Internal Medicine, and the Core II subinternship in Internal Medicine. He is an internist and endocrinologist by training, with an interest in thyroid disorders.
Jonathan Alpert, MD PhD
Associate Professor of Psychiatry
Dr. Jonathan Alpert is an Associate Chief of the Department of Psychiatry at Massachusetts General Hospital and Associate Director of the MGH Depression Clinical and Research Program. He is Associate Professor of Psychiatry and Co-Director of Medical Student Education in Psychiatry at Harvard Medical School. In this capacity, he serves as Chair of the HMS Psychiatry Clerkship Committee. He is also Co-Chair of the Subcommittee on Assessment, a Holmes Society faculty liaison and an MGH PCE senior mentor, and a member of a number of HMS committees including the Curriculum Committee, OSCE Committee, Year 3 Steering Committee, and LCME Subcommittee on Education. He lectures in the Introduction to Psychopathology and Clinical Psychiatry courses in the fall and spring. He also serves on the Executive Committee for the MGH-McLean Adult Psychiatry Residency Training Program and participates in post-graduate medical education programs through the MGH Psychiatry Academy. He is a member of the Task Force on Educator Interactions with Pharma and the Awards Committee of the Association of Directors of Medical Student Education in Psychiatry. He received his BA and MD from Yale University and his PhD in behavioral pharmacology from the University of Cambridge (UK), where he was a Marshall Scholar. He completed residencies at Boston Children's Hospital and at McLean Hospital.
Katherine Andriole, PhD
Associate Professor
Dr. Andriole has been involved in biomedical imaging informatics for more than 15 years carrying out research, teaching, and clinical service and administrative activities. She received a B.S.E. degree in Biomedical Engineering from Duke University where she was an Angier B. Duke Scholar, and a Ph.D. degree in Electrical Engineering from Yale University, specializing in medical image processing. Dr. Andriole did her postdoctoral training at the University of California at Los Angeles School of Medicine, and at the University of California at San Francisco (UCSF) where she was one of the core members forming the Laboratory for Radiological Informatics. She was instrumental in designing, building and implementing clinical picture archiving and communication systems at UCSF, as well as one of the early adopters of computed radiography. Her research has involved both technical as well as clinically-relevant developments in medical imaging informatics. Dr. Andriole was an Associate Professor in the Department of Radiology at UCSF and in the Department of Bioengineering at the University of California at Berkeley, and is currently an Associate Professor of Radiology at Harvard Medical School. She is the Assistant Medical Director of Imaging Information Technologies for the Department of Radiology at the Brigham and Women's Hospital (BWH), and the Director of Imaging Informatics at the Center for Evidence-Based Imaging where she is responsible for informatics research and educational activities in the Department of Radiology. Dr. Andriole has developed and taught several formal courses and fellowship rotations in biomedical imaging and informatics at UCSF, UC Berkeley and now at BWH. She is a member of the BWH and Partners Radiology Education Committees. Dr. Andriole has been honored by being inducted into the Society of Imaging Informatics in Medicine College of Fellows, and noted for her teaching skills and innovations.
Ronald Arky, MD
Daniel D. Federman Professor of Medicine and Medical Education
Dr. Arky is the Daniel D. Federman Professor of Medicine and Medical Education and the Master of the Francis Weld Peabody Society at the Harvard Medical School. Formerly, he was chairman of the Department of Medicine at the Mount Auburn Hospital and director of the training program in Internal Medicine at that Hospital. He has been President of the American Diabetes Association, the Association of Program Directors of Internal Medicine, the Medical Staff at the Mount Auburn and the Aesculapian Society. He has had an HMS appointment for over 50 years, been course director of the Endocrine Pathophysiology courses of both HMS and HST. He has been an active member of the Massachusetts Medical Society and served as chairman of its committees on Education, Publications and currently Ethics, Grievances and Professional Standards. At HMS, he has overseen the Patient-Doctor sequence of courses since their initiation with the New Pathway (1987) and served as tutor in Patient Doctor 3. With Dr. William Silen, Dr. Arky designed the format that became the Cambridge Integrated Clerkship. His prime educational interests are with medical student education, the integration of the basic sciences with clinical practice and the adaptation of clinical training of medical students into the ongoing changes in medical practice. He has worked closely with the Center for Evaluation and been an active participant in the design of OSCE's and the evaluation of clinical performances.
 
Ayse A. Atasoylu, MD MPH
Instructor
Dr. Ayse Atasoylu is a general internist at Harvard University Health where she divides her clinical time between primary care and urgent care. She is a graduate of the Medical College of Wisconsin, completed her internal medicine training at Georgetown University, and General Internal Medicine Fellowship and Public Health education at Johns Hopkins University. She has been a faculty member at HMS since 1999, involved in teaching medical students and residents. For 6 years she served as director of the transitional year internship program at Cambridge Hospital. She has experience in curriculum development and faculty development. Her interests include teaching at the bedside and in small groups, teaching physical diagnosis, and tailoring teaching to meet individual learning needs. She emphasizes mindfulness in the practice of medicine and the preserving of self during the rigors of medical training.
Katharyn Atkins, MD
Instructor in Obstetrics, Gynecology and Reproductive Biology
Dr. Atkins is an Obstetrician Gynecologist at Beth Israel Deaconess Medical Center (BIDMC) and a Clinical Instructor at Harvard Medical School (HMS).  She received her medical degree from Dartmouth Medical School in 1998.  While a medical student she worked on curriculum reform and helped to create an elective in Women's Health for second year medical students.  She completed her residency in Obstetrics and Gynecology at BIDMC in 2002 and remained on staff.  Her full time clinical practice is a general Obstetrics and Gynecology practice.  She currently is the Director of the Core HMS OBGYN Clerkship at BIDMC and the Assistant Director of the core third year Principle Clinical Experience at BIDMC.  She is a graduate of the Association of Professors of Obstetrics and Gynecology Scholars and Leaders Program and is currently a fellow in the HMS Academy Fellowship in Medical Education.
Our
Mission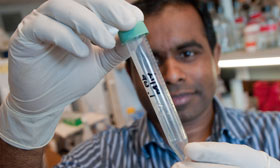 To create and nurture a diverse community
of the best people committed to leadership in alleviating human suffering caused by disease