Photo by Steve Lipofsky
The Academy is established to advance the education of physicians and scientists throughout the Harvard Medical School community by:
Creating and supporting a community of leaders in education and a culture of excellence in teaching and learning.
Fostering the careers of educators in medicine and science.
Providing programming to improve the skills of teachers.
Stimulating and supporting the creation and implementation of innovative approaches to learning and assessment.
Supporting educational research and scholarship in medical and graduate education
---
Highlights from the Academy...
---
 David A. Hirsh, MD is New Director of Academy Fellowship in Medical Education 
Dr. David A. Hirsh graduated summa cum laude with a B.A. in History from Dartmouth College in 1988 and an MD from the University of Virginia in 1992. He is Associate Professor in Medicine at Harvard Medical School and Director and co-founder of the Harvard Medical School-Cambridge Integrated Clerkship. His scholarship and academic contributions span diverse areas including "educational continuity," medical education transformation, longitudinal integrated clerkships, OSCEs, East Asian constructs of professionalism, and humanism in medicine. He has received local, national, and international honors for his teaching, academic work, clinical practice, and public service. With colleagues, he co-founded the international Consortium of Longitudinal Integrated Clerkships. He serves as a visiting professor of education and educational consultant nationally and internationally. He served from 1995-2009, as Medical Director of the City of Cambridge Healthcare for the Homeless Program. He continues to practice primary care women's health in Cambridge, to mentor student and faculty research, and to teach courses in all four years of the Harvard Medical School curriculum. 
---
Just off the Press: Academy Insights, Vol. 5, No. 7!
**Click HERE to access the PDF version**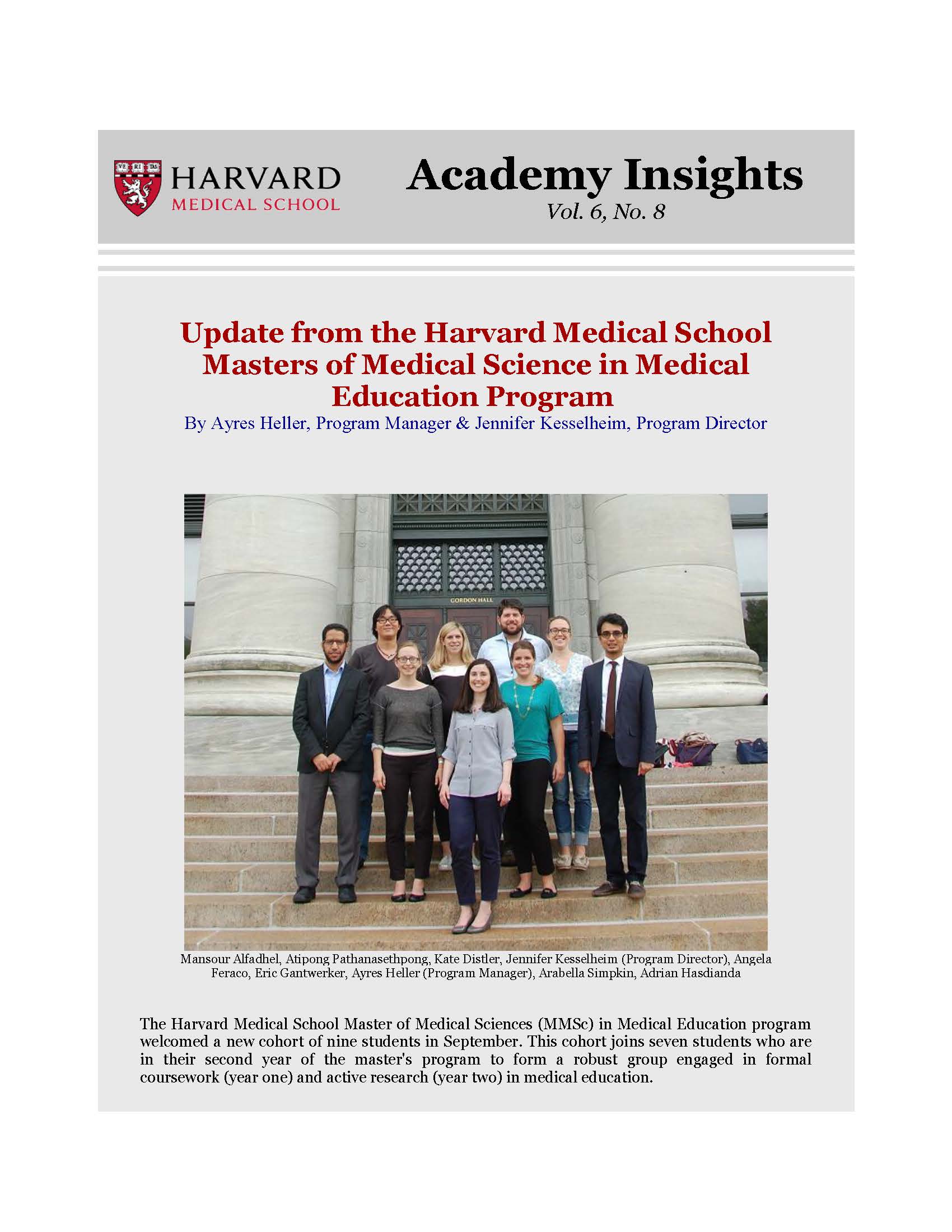 ---
Congratulations to the 2014 Excellence in Tutoring Award and Certificate Recipients!
The Certificate for Excellence in Tutoring is awarded to HMS faculty who serve as tutors in required New Pathway courses in Years I and II and receive a score of 1.25 and above. The score is also based on evaluations by students in their tutorial group, with a minimum of 6 evaluations received, 6 minimum teaching sessions in the specified course.  Recipients of the 2014 Certificate of Excellence in Tutoring taught in Fundamentals of Medicine courses held during March 2013 - June 2013 and August 2013 – January 2014.
2014 is the first year we will be awarding the Excellence in Tutoring Award. The award recognizes those tutors who have received a Certificate for Excellence in Tutoring for three consecutive years. Recipients of the 2014 Award of Excellence in Tutoring taught in Fundamentals of Medicine courses held during academic years 2011, 2012, and 2013.
Click the links below to see the list of recipients for each award:
---