Photo by Steve Lipofsky
The Academy is established to advance the education of physicians and scientists throughout the Harvard Medical School community by:
Creating and supporting a community of leaders in education and a culture of excellence in teaching and learning.
Fostering the careers of educators in medicine and science.
Providing programming to improve the skills of teachers.
Stimulating and supporting the creation and implementation of innovative approaches to learning and assessment.
Supporting educational research and scholarship in medical and graduate education
---
Highlights from the Academy...
---
TUESDAY, OCTOBER 28, 2014, 12:15-6:00 pm 
The Academy at Harvard Medical School and the Program in Medical Education are sponsoring the annual Harvard Medical Education Day on Tuesday, October 28, 2014 in the Tosteson Medical Education Center, noon-6:00pm. All HMS faculty are invited to attend and are eligible to participate. The day will feature poster and technology presentations of both completed projects and works-in-progress related to the education of medical students, house staff, or faculty in the areas of curriculum development, assessment, faculty development, education research, or use of technology to enhance education. The afternoon will also feature workshops/seminars, a plenary session and a keynote address. Harvard Medical School and the Dean for Medical Education will recognize the top three abstracts at the award ceremony during Medical Education Day's Plenary Session.
For complete information, please click here. 
---
Just off the Press: Academy Insights, Vol. 5, No. 6!
**Click HERE to access the PDF version**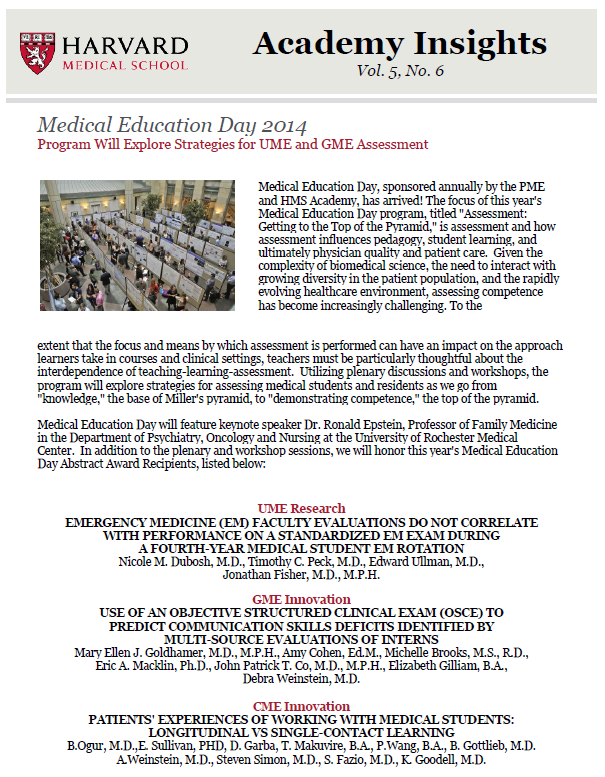 ---
Congratulations to the 2014 Excellence in Tutoring Award and Certificate Recipients!
The Certificate for Excellence in Tutoring is awarded to HMS faculty who serve as tutors in required New Pathway courses in Years I and II and receive a score of 1.25 and above. The score is also based on evaluations by students in their tutorial group, with a minimum of 6 evaluations received, 6 minimum teaching sessions in the specified course.  Recipients of the 2014 Certificate of Excellence in Tutoring taught in Fundamentals of Medicine courses held during March 2013 - June 2013 and August 2013 – January 2014.
2014 is the first year we will be awarding the Excellence in Tutoring Award. The award recognizes those tutors who have received a Certificate for Excellence in Tutoring for three consecutive years. Recipients of the 2014 Award of Excellence in Tutoring taught in Fundamentals of Medicine courses held during academic years 2011, 2012, and 2013.
Click the links below to see the list of recipients for each award:
---