Cheryl Gorelick
Cheryl Gorelick gift brings together literature and medicine

Gorelick died in 2009 after a two-year battle with brain cancer. In his memory, his wife, Cheryl, has made a gift of $500,000 in the forms of a charitable gift annuity and a charitable remainder unitrust to support an eventual professorship in their names in medicine and the literary arts. She quotes these words from a poem Gorelick wrote after his diagnosis:
"I am in a generous leisurely mood with myself
Filled with gratitude and awe for what has been, the gifts, the luck, the love."
"Harvard has been one of those gifts," says Cheryl. "We are so fortunate for HMS."
Our
Mission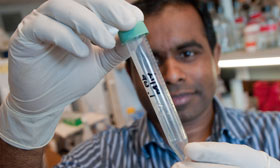 To create and nurture a diverse community
of the best people committed to leadership in alleviating human suffering caused by disease