Regional Events
The Office of Alumni Relations hosts alumni events around the country.
Alumni Open Houses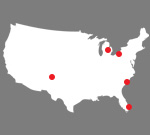 Invitations will be emailed to alumni living within a certain radius of each open house. If you are interested in attending, you can rsvp here. To host a future event, contact hmsalum@hms.harvard.edu.
March 1 at 4:30 p.m.
Ann Arbor, MI
Hosted by Gil Omenn, MD '65
March 22 at 3 p.m.
Wilmington, NC
Hosted by Burt Johnson, MD '67
April 12 at 3 p.m.
Orlando, FL
Hosted by John Schott, MD '66
April 19 at 3 p.m.
Chagrin Falls, OH
Hosted by Russell Hardy, MD '65
April 26 at 3 p.m.
Santa Fe, NM
Hosted by Scott Nelson, MD '66
Click here to rsvp to an Alumni Open House!
Longwood Seminars
The Longwood Seminars are a free series geared toward the general public and features faculty from HMS and its affiliate hospitals presenting on a wide variety of timely topics. At the end of the seminar series, participants who attend three out of the four sessions receive a certificate of completion.
Shared Interest Group Events
In conjunction with the National Hispanic Medical Association, the Harvard Medical School Office of Diversity Involvement and Community Partnership is hosting an Alumni Reception at the NHMA Annual Conference.
Friday, March 27 from 5-6:30 p.m.
Washington Marriott Wardman Park Hotel
The Stone's Throw Restaurant
2660 Woodley Road, N.W.
Washington, D.C.
2015 Reunion:
Classes ending in 0 or 5
May 28–29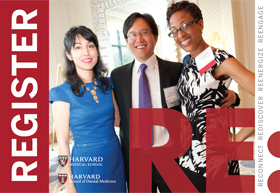 Reignite

the curiosity you enjoyed as a student. Start planning to

Reconnect

with your classmates and

Rediscover

the campus during your Reunion.