Regional Events
The Office of Alumni Relations hosts alumni events around the country.
Alumni Open Houses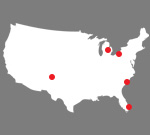 Invitations will be emailed to alumni living within a certain radius of each open house. If you are interested in attending or hosting contact hmsalum@hms.harvard.edu.
March 1 at 4:30 p.m.
Ann Arbor, MI
Hosted by Gil Omenn, MD '65
April 12 at 3 p.m.
Boca Raton, FL
Hosted by John Schott, MD '66
April 19 at 3 p.m.
Chagrin Falls, OH
Hosted by Russell Hardy, MD '65
April 26 at 3 p.m.
Santa Fe, NM
Hosted by Scott Nelson, MD '66
Coming soon... check back for details:
Wilmington, NC
Hosted by Burt Johnson, MD '67
Longwood Seminars
The Longwood Seminars are a free series geared toward the general public and features faculty from HMS and its affiliate hospitals presenting on a wide variety of timely topics. At the end of the seminar series, participants who attend three out of the four sessions receive a certificate of completion.
2015 Reunion
May 28–29
Classes ending in 0 or 5,
Reignite

the curiosity you enjoyed as a student. Start planning to

Reconnect

with your classmates and

Rediscover

the campus during your Reunion next May.

The majority of Reunion information will be provided electronically. To ensure you receive important announcements, please update your email address at alumni.harvard.edu.